The Ever Changing Face of Beauty
East, West, boy, girl, and everything in between collide in images exploring the transformation of the human figure.
---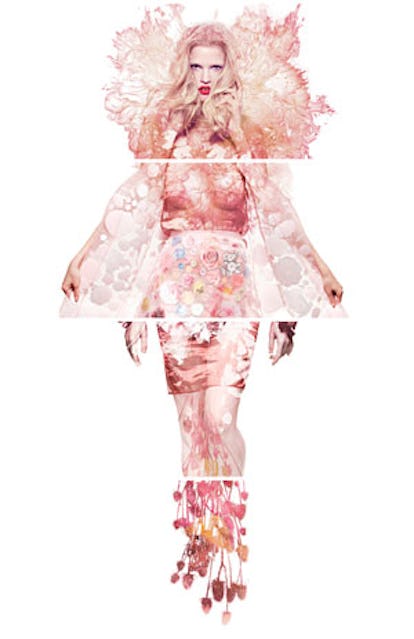 Photography by Sølve Sundsbø Styled by Marie Chaix
Beauty is a fickle thing.
One minute, Lara Stone's buxom, gap-toothed blondeness is the gold standard; the next, it's Andrej Pejic's gender-bending look or Liu Wen's sleek silhouette. To explore these many shifts—from cultural perceptions to gender lines—photographer Sølve Sundsbø, creative consultant Jerry Stafford, and stylist Marie Chaix teamed up and made a film (view it on Wmagazine.com) of a figure who is in a constant state of transformation.
The stills seen here—taken from that video—encapsulate an unlikely combination of not just looks but also races, genders, and other elements that make up the forever evolving world of beauty.
"Beauty is an interesting melting pot," says Sumit Bhasin, the director of global research and development and innovation for Procter & Gamble, one of the world's largest beauty conglomerates. "You've seen skincare move from east to west. The West traditionally had a very basic skincare routine, which was to cleanse and moisturize. But now we are adopting more of the rituals ingrained in Asia and a step-by-step approach to beauty."
Conversely, the East has more and more looked to the West for beauty tips. "They love Hollywood and luxury goods," says hair guru Frédéric Fekkai. "They differentiate themselves through fashion, nail art, even changing their hair texture. In the U.S., people use an average of two hair products. In China it's three, and in Japan, it's four." For the Japanese, wearing a fragrance was once considered a rude infringement on others' personal space—but that's no longer the case. In fact, when it comes to perfume, even gender lines get blurry. Bhasin says that Dolce & Gabbana's Light Blue for men and Light Blue for women are frequently worn by the opposite sex around the world. Apparently, men respond to the dry, woodsy note in Light Blue for women, and women like what Bhasin refers to as the "cologne-y freshness" of Light Blue for men.
East meets West. Boy meets girl. Even the ancient mixes with the modern. "The ayurvedic routine has become much more mainstream," ­Bhasin says. "But then, Indian companies have improved their packaging—they used to work on the philosophy that if it smelled bad, it was effective. Now it has to do good and smell good. That's very much a Western influence." However, as our notions of beauty expand across borders, across genders, and across history, there still seem to be some universal truths. "The dimensions of beauty, the ratio of your eyes to nose and nose to ears and ears to mouth—it's global," Bhasin says. "You know, I've seen pictures of Kim ­Kardashian in Thailand!"