Hugh Jackman Has the Singing-Dancing Time of His Life in The Greatest Showman's First Trailer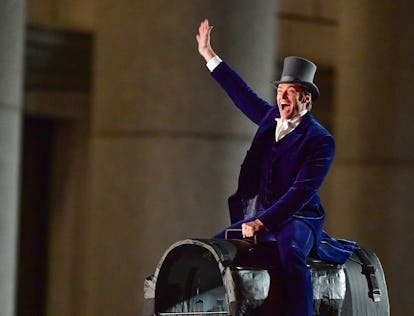 James Devaney/GC Images/Getty Images
Hugh Jackman's most famous role may be a gritty, brooding superhero, but everyone knows the real Jackman has quite the thing for the razzle dazzle of good ol' fashioned show business (see: his multiple Tonys host stints) and he's found quite the role to kick off what may or may not be his post-Wolverine career: a musical about the man who practically invented show business. Yes, the first trailer for The Greatest Showman has finally dropped.
Based on the life of P. T. Barnum, the original musical-biographical drama chronicles how the famous Ringling Bros. and Barnum & Bailey Circus birthed modern show business as we know it, through the visionary mind of Barnum. (No need to think about how the circus permanently closed down earlier this year due to dwindling ticket sales. Stop ruining the magic!)
Realizing that he wants to make a more fulfilling life for his family after getting laid off from his boring job crunching numbers at an office, the trailer outlines how Barnum decides to pursue the idea of developing the first spectacle of its kind — a traveling circus. "Everyone is special. And nobody is like anyone else," he explains in a clichéd but cute line of dialogue. "That's the point of my show." Soon enough, a bearded lady, an agile dwarf, a pink-haired trapeze performer (Zendaya!), and a strong dude (Zac Efron!) are recruited to be Barnum's shining stars, and the circus immediately skyrockets in popularity as it travels around the country, packing tents left and right wherever it goes. Nobody has never seen anything like it before, and the mania officially begins. Basically, it's sort of like American Horror Story: Freak Show, but based on real life, and no one gets there legs cut off in a German snuff film.
The Greatest Showman — which also costars Michelle Williams and Rebecca Ferguson — is scheduled to be released on Christmas Day to make your holidays even more uplifting.
Related: Good Time Trailer: Robert Pattinson Arrives as an Actor to Take Seriously
Here's Zendaya on her favorite birthday: