The Handmaid's Tale Season 2 Primer: Everything to Know Before Returning to Gilead
An extra-chilling refresher before you rejoin Elisabeth Moss in (on-screen) dystopia.
---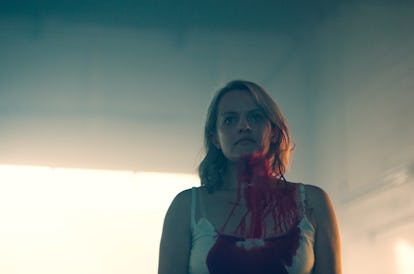 Take Five/Hulu
Even if you didn't watch all 10 episodes of Hulu's adaptation of Margaret Atwood's 1985 dystopian novel, The Handmaid's Tale, which time and time again featured women in bright red robes and white bonnets going through hell and back, you can probably guess that the show's first season did not have the happiest ending. Instead—spoiler alert!—things come to a close with Offred, played by Elisabeth Moss, aka TV's queen of men, climbing aboard an unmarked black van. She's off to who knows where, effectively summing up her season 1 storyline with a voiceover that concludes, "I have no choice."
Before Hulu got involved, for the last three decades since the book's publication, that's where Offred's story ended, too (Atwood never wrote a follow-up to the novel). After the all too timely TV adaptation became a runaway success, though, a season 2 only seemed like the next logical step—at which point Atwood, now in her late 70s, got back to work, helping craft 13 more episodes for a new season that premieres on Wednesday, April 25. With all the plot's eerie parallels to the real world, though, it's understandable if the goings-on in Gilead have gotten a bit fuzzy in the past year. Here's an extra-chilling refresher on everything you need to know for the season 2 premiere on Wednesday, April 25.
Offred is pregnant.
Praise be! Well, sort of. This is great news for Commander Fred (played by Joseph Fiennes) and his wife, Serena Joy (played by Yvonne Strahovski.) The latter is the one who first learns of the results, by way of hitting Offred until she bleeds and then forcing her to take a pregnancy test in front of her. After all, given the way things work between couples in Gilead—forced love triangles involving handmaids being raped—it's "her" baby rather than Offred's. Never mind that Offred will, of course, be the one (unwillingly) carrying it.
Nick, not Commander Fred, is actually the baby's father.
When Serena Joy, having just found out about her husband and Offred's frequent late-night rendezvous, storms into Commander Fred's office to tell him that Offred is pregnant, she takes care to add: "It isn't yours. You're weak and God would never let you pass on that weakness. You can't father a child because you're not worthy." That knowledge is in fact firsthand, since she was the one who orchestrated Offred's pregnancy, secretly and illegally pairing her up with Nick, Commander Fred's driver, who's just hot and young enough for her to think he might be more virile. (It doesn't hurt, of course, that Nick and Offred had already had a fling.)
Offred's husband, Luke, isn't actually dead.
It turns out that Offred's husband, Luke (from the days when she was June), is actually alive and living in Canada, and was not shot dead when she and their daughter were captured, as Offred previously believed.
Offred's daughter, Hannah, is also alive.
In true villainous fashion, Serena Joy lets Offred in on the fact that her daughter Hannah is in fact still alive and well—and will stay that way as long as Offred makes sure the same will be true for her next child. Already completely fixated on Hannah, Offred practically loses it when the child is revealed to her, begging Serena Joy for the chance to see Hannah as Serena Joy gives the order to drive away—and inadvertently drives Offred even further to finding a way to escape.
The colonies still loom large.
We lost sight of Offred's friend Ofglen/Emily, played by Alexis Bledel, just halfway through the season, when she left with a bang by taking off in a car (and running over a few men in the process, for good measure). Since the powers that be have already cut off her clitoris for being a so-called gender traitor, the only other likely options for her fate are death or—perhaps worse—heading to the colonies, aka the leftover environmental wastelands whose toxicity led to mass infertility, and therefore the institution of "handmaids" in the first place. It's what's up next, anyway, for those Offred sees on a daily basis, whose hands have been cut off and eyes dug out for daring to stand out in any way.
On the other hand, so is the chance of escape.
Ofglen's whereabouts may be unknown, but those of Offred's friend dating back to pre-Gilead times, Moira (played by Samira Wiley), are confirmed—and much, much happier. After trudging all the way there on foot, she makes it to Canada, and even into the arms of Luke, when he picks her up at the refugee station, having marked her down as his family. Maybe, just maybe, Offred's unmarked van is heading north also; the poster for this season does, after all, feature her burning a bonnet. (Though there's no use ignoring the flash in one of the teasers, of her also standing in front of a noose.)
Related: In Conversation With Margaret Atwood, Elisabeth Moss, and the Women Behind the Disquietingly Vital The Handmaid's Tale