The Jewel of Palm Beach
My typical weekend routine of casual relaxation was put to an end this past Saturday when I was lovingly invited to House of Lavande's Centennial Celebration in the warm (well, warmer than New York) glossy...
---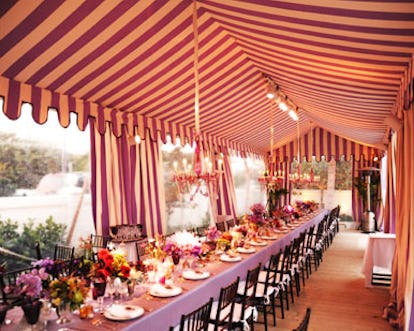 In a girls dream come true, we were able to pick out a few select pieces to wear to the evening's celebration at Tracy's beachside bungalow. While meeting the Lavande team and sipping champagne, I was overwhelmed by the choices in the endless number of drawers (a scene best illustrated by fashion blogger and downtown casting agent Natalie Joos on her website, Tales of Endearment.) I finally opted for a Cartier-esque jaguar bracelet, Art Deco style crystal earrings and a 70's gold chocker necklace to pair with my black and white Thakoon dress.
The evening was wonderfully orchestrated by brand consultant Kate Schelter and produced by Mimi Van Wyck, who decorated the bungalow with chic seaside décor and beautiful arrangements of violet flowers that lit up after the sun went down. The night ended with hours of dancing to DJ Chelsea Leyland's crazy yet wonderful mix of beats — everything from Coolio to Talking Heads — and everyone joined in dancing (including the waiters), making it a fun night to remember.
Photos: Billy Farrell Agency