The Latest in Beauty Fads? Centrifuging
The maker of the "Vampire Facial" mixes patient's own blood into their moisturizer. What a time to be alive.
---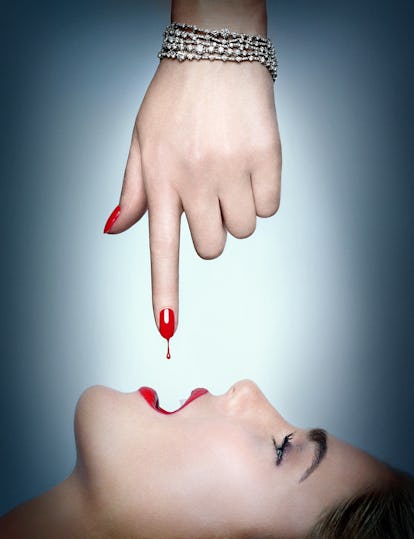 Photo by Phalon.
On a recent morning, I found myself sitting in a sequestered corner at Café Clover in the West Village across from a Dr. Barbara Sturm, not sharing a latte but looking away as she effortlessly slipped a syringe into my out-stretched arm and drew a vial of my finest red.
Sturm, a German-born doctor, first made her name in the science of healthy blood therapy. She was part of the team that developed the Orthokine treatment for osteoarthritis and back pain (which ultimately became known as the "Kobe procedure," after the basketball star) and now she's aiming that knowledge at skin care. First, she created the infamous "Vampire Facial" (Thanks, Kim Kardashian), which she followed up with her bespoke MC1 moisturizer.
Bespoke because my blood would be put through a centrifuge to separate the red blood cells and proteins from the white cells, which contain plasma, a few drops of which would be stirred into a jar of her cream with my name on it. (The product can only be purchased at her clinics in Germany, but she's recently launched her 11-product skincare line stateside for those aren't ready to shell out the $1,400 for a personalized salve.)
"We will keep your blood in the lab in Dusseldorf, so when you need more, we'll already have some," she told me. "It's good for a year." Despite trying to be rather secretive about my withdrawal, I watched other editors line up as I departed.
Ten minutes later, I was explaining Sturm's bespoke skincare recipe to another skin expert, Sylvie Chantecaille of the eponymous beauty brand. "Centrifuging has been a lifesaver for me," she said. "Except, I get my blood injected right back in." Holy Mick Jagger!
Chantecaille is a decades-old sufferer of Lyme disease. Heard of it? Well, not everyone did 30 years ago. "For the first ten years, no one could figure out what I had," she sighed. "But every spring, the Lyme would pop up. I'd either twist my ankle—that was always a sign—or feel pain in my legs, and I'd start getting a tiny bit confused, which is another sign." After various treatments from various doctors, a friend recommended a researcher in Seattle who infused blood with ozone gas. "And then I discovered that my own doctor in New York does it!", she said. "As soon as I feel that initial pain in my joints, I get the ozone treatment and the pain goes away like magic. I haven't had this much energy in years."
Tapping patient's own blood for various cures is nothing new. Cosmetically, dermatologists have been adding platelet-rich plasma to facial fillers like Restylane and Juvederm for years.
But I did find it strange that my morning was a double-decker blood bath. Maybe it's a sign that I need to have my vitamin D levels checked again (I do), or maybe it's just time to buy more Band-Aids. Whatever the case, I've already shared the news about this ozone procedure to my Lyme disease-suffering friends.
The MC1 cream is all mine, though. I mean, what do they want from me? Blood?
Prada Spring 2017: Go Behind the Scenes with Pat McGrath