Who Should Play Ursula in Disney's Live-Action Little Mermaid Remake?
Disney is working on a live-action remake.
---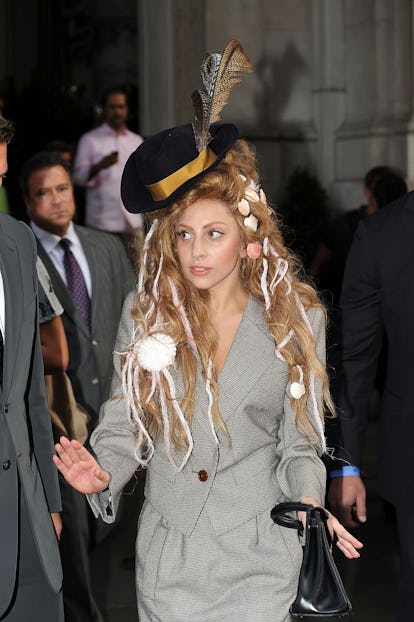 ANT/Bauer-Griffin
Despite the fact that Disney's live-action remake of The Little Mermaid is still years away and only in the early stages of development, the matter of who should play Ursula the sea witch has rocked the Internet in the past few days. Particularly after some spurious rumors emerged that Lady Gaga is in talks to play the iconic villain part after winning raves in A Star Is Born (speculation surfaced on a Disney superfan website we've never heard of, and the site itself characterizes its story "as a rumor and nothing more," so please locate a grain of salt and take it). Still, the ensuing controversy over the rumors illustrates how much the character, despite being half-octopus, has come to mean to so many people. Many feel like the role should be played by a black actress, while others think the role is obviously meant for an actress far older that Gaga. Many are campaigning to "keep Ursula thicc," while others point out that Ursula could very easily be played by a drag queen (and just about everyone agrees the character needs to embody gay-icon energy in spades). And the thing is, all of these camps have various facets in Disney's long development of the character to point to as backup.
The character is based on a relatively minor one from the original Danish fairy tale by Hans Christian Andersen, but Disney decided to ramp up her part to main antagonist status for its 1989 animated reimagination of the classic tale. There was disagreement within Disney as to whether to reach out to either Joan Collins or Bea Arthur to play the part, with Arthur ultimately winning out. For better or worse, The Golden Girls star's agent was insulted by the idea that his client would be first choice to play any sort of witch, let alone a villainous one from the sea, and never even gave her the script. Elaine Stritch eventually signed on but left after a disagreement over how to sing the character's showcase song, "Poor Unfortunate Soul." Eventually, veteran character actress Pat Carrol played the part, and in retrospect, it's hard to imagine anyone else but her in it.
Of course, that's just the story behind the voice, and that's only half the equation of creating a Disney animated classic. As they say, don't underestimate the importance of body language. For that, animators famously found inspiration in the drag queen Divine, the cult star of numerous John Waters movies; Ursula's eye makeup is straight out of the drag queen guidebook.
Disney never just lets a good thing be, and the character has been recycled many times over in various other formats. Indeed, in more recent iterations the character has been played often by black women. Yvette Nicole Brown voiced the character on Once Upon a Time before Merrin Dungey assumed the role, and Whoopi Goldberg also voices the character in Disney Channel's The Descendants franchise.
This is all to say that no casting choice for the characters would necessarily warrant the controversy that's ensued from, say, many of Scarlett Johansson's recent career choices. Nor could you really make an argument that even if it does wind up being Gaga it would constitute some #canceled-worthy controversy (and maybe we should talk about the fact this is a tale of a young girl doing stupid things to try and catch the eye of a fully grown adult man she barely even knows).
Still, it might be best for Disney to remember the lesson it learned the first time around when trying to cast the voice for the animated version: Its far more famous original choices didn't pan out, and ultimately it found the perfect talent in a less obvious candidate. Still, here's all the talent that have either put themselves up for the part or been put forth by social media as possible alternatives.
Audra McDonald
The actress has more Tonys that any actor in history and is the only person to win in all four acting categories. And yet mainstream Hollywood has been suspiciously hesitant to give her a full showcase role despite the fact she's still very much in her prime. Indeed, her most recent role in a studio film was as the lady Wardrobe in Beauty and the Beast, but during the press tour she did plant the seeds for a possible bigger role in another live-action Disney film. "If they made a live-action Little Mermaid, I'd want to be Ursula," she ComicBooks.com. "That would be fun role to play. I would love that. If there's a hat, I'll catapult my name into it however I possibly can."
Lizzo
The rapper expressed her interest in the role this weekend by tweeting out her "audition tape," which actually turned out to be a short video of herself that's become something of a meme since it emerged earlier this year. Still, you can't deny that there's tons of Ursula vibes in those short five seconds.
Ginger Minj
Giving Ursula's Divine inspiration, the character's signature song has become an oft-performed song by drag queens. Perhaps burnished by RuPaul's Drag Race alums Willam and Shangela's scene-stealing turns in A Star Is Born, the Internet has batted about its suggestion for a drag queen who could tackle the role. It seems that Drag Race Season 7 runner-up Ginger Minj (who already has a role in an upcoming Jennifer Aniston movie in the can) has emerged as the favorite, perhaps because she already has the song down.
Titus Burgess
While a man in drag does not necessarily a professional drag queen make, we could definitely see Titus Burgess tackling the part.
Bette Midler
Of course, if Disney wants to keep the camp-icon vibes going from the earlier consideration of Collins, Arthur, et al., there's always Bette, whose role in Hocus Pocus might not be that far off from an ideal live-action Ursula to begin with.
Related: What Disney's $52 Billion Acquisition of 20th Century Fox Means For Your Favorite Comic Book Franchises