The Lovebirds Trailer: Date Night Is Ruined For Issa Rae and Kumail Nanjiani
Date night is ruined in the trailer for this rom-com slash murder mystery, starring Issa Rae and Kumail Nanjiani.
---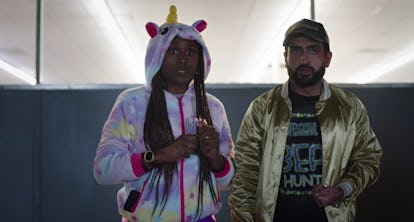 Paramount Pictures.
Issa Rae is about to clean up in 2020.
Fresh off her viral quip regarding the announcement of this year's all-male Best Director nominees, she's just released trailers for two projects scheduled to hit in April.
First, she is set to return to HBO with highly anticipated fourth season of Insecure (finally) in the spring, so you can finally stop asking the showrunner-slash-star when it's coming back (she's keeping her promise with a 2020 release date). Then, she will appear in The Lovebirds, a rom-com slash murder mystery that arrives in theaters on April 3rd.
In The Lovebirds, Rae stars as one half of a couple that unwittingly becomes embroiled in a crime caper. Her other half is played by Kumail Nanjiani—the same man who is now decidedly swole thanks to his role in Marvel's Eternals.
As the trailer for The Lovebirds reveals, Rae and Nanjiani's characters become the victims of a carjacking that results in a murder, and involves the couple being dragged through the city to cover up their tracks and hide from the police. You know, a typical date night activity.
The trailer also introduces a performance from none other than comedian, actress, singer, and W advice columnist Catherine Cohen, who appears to play some sort of fashion-addicted influencer that threatens to blow up the couple's spot after the murder occurs. (And we'd like to talk about that flat-brimmed hat, when you have a moment.)
Before Rae's frantic romantic rendezvous in The Lovebirds, she will also star alongside Lakeith Stanfield in Stella Meghie's The Photograph (to be released on the big screen this Valentine's Day, of course), making her the rom-com renaissance woman this year needs.