Not Another Rom-Com
Elisabeth Moss and Mark Duplass discuss their new film, The One I Love.
---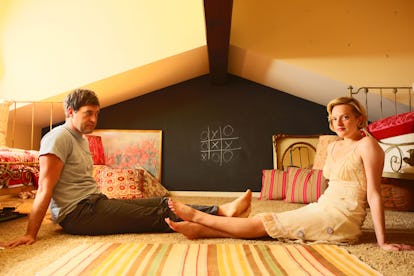 Over the past few weeks, Mark Duplass and Elisabeth Moss, the stars of the new film The One I Love, have been waging a war of attrition with journalists, late night hosts, and anyone else who has appeared in front of them with a microphone and questions about the funny, affecting, and very enigmatic romantic dramedy they have made together with director Charlie MacDowell. "It's been a weird process," Duplass said last week, sitting next to his co-star in a hotel room hours before the New York premiere (it arrives in theaters this Friday). "By now, we thought the cat would be out of the bag, and we'd just be resigned to talking about it."
The metaphorical kitty they have been trying to keep under wraps is the mind-bending sci-fi turn the film takes about 20 minutes in. Up until that point, it is a fairly stock romantic comedy: Ethan (Duplass) and Sophie (Moss) are making a last-ditch attempt to revive their marriage. They've tried any number of ploys, but their therapist (Ted Danson) suggests that they spend a weekend at an idyllic hillside retreat in Ojai, California, where he promises magical effects.
The unexplainable ensues. At this point in our interview, Duplass and Moss began to talk about the film in language that could obfuscate the plot of a Beckett play. Asked a question that she deemed hazardous, Moss, who'd been staring at the window as if it might provide a swift exit from our endlessly circular conversation, replied, "This is the part where we say we have no idea what you're talking about." She laughed apologetically.
If spoilers do not offend you, critics have been providing them—it would be impossible to review the film otherwise. But if you want to preserve the thrill of discovery, here is a safer assessment: The One I Love is warm and emotionally astute about relationships, and its sci-fi flights do not detract from these attributes but only enhance them. Think Eternal Sunshine of the Spotless Mind, with less visual and plot gymnastics.
"At the end of the day, it's still a relationship movie," Duplass said. Then he seemed to break from script. "Okay, I'm going to give you a huge exclusive. Let's just say this—there are no light sabers."
Photos: Not Another Rom-Com
Mark Duplass and Elisabeth Moss on the set of "The One I Love."
Elisabeth Moss in "The One I Love."
Elisabeth Moss and Mark Duplass in "The One I Love."