The Originals: 19 Creatives Who Transcend Categorization
For our annual "The Originals" portfolio, we asked pioneers in fields ranging from art to fashion to comedy to design to share their insights on staying true to themselves.
---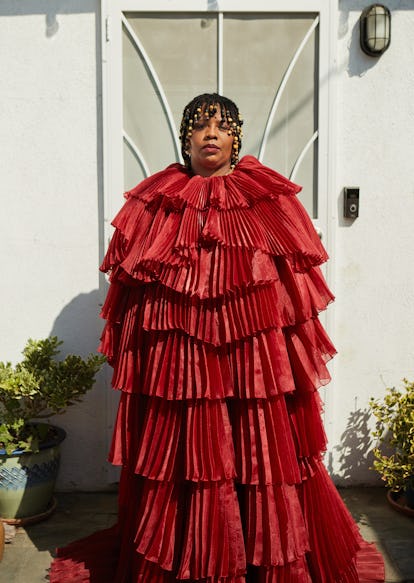 Makeup by Latoya De'Shaun.
Patrisse Cullors
Activist, Cofounder of Black Lives Matter, Artist, Educator, Author
What does originality mean to you?
It's hard to hear that question and not hear "individuality." I don't believe anything's original. I think there is authenticity, I think there's integrity—but "original" feels too absolute for me.
In what ways does your activism inform your art, and vice versa?
I don't see them as different; my art and my activism are an extension of my values and how I want to be in the world. The activism could be in policy development, zoning, or a ballot measure, and my art practice is often in conversation with whatever those initiatives are.—Maxine Wally
Read the full interview here.
John Edmonds
Photographer
Ten years ago, your celebrated photographs of lovers, friends, and strangers whom you approached on public transit first entered the public consciousness. Today, your work is in the Guggenheim's permanent collection, your first monograph, Higher, was a critical success, and last year, you broke into the commercial realm. This fall, the Brooklyn Museum of Art will host a solo show of your work, "A Sidelong Glance," in honor of the UOVO prize, which you won. What has 2020 been like for you?
In the beginning of 2020, I did my first trip to the continent of Africa, to Ghana, and the year began with a spiritual bath. From that moment on, this year has felt like a process of shedding and shedding and shedding, and again being born anew.
What is the most unoriginal thing that people ask you?
"What is your work about?" versus "What is your story?" Identity is about more than what people see or what's physical. It's tied to place. It's tied to familial history. It's tied to desire. It's tied to, perhaps, what you had been denied, to the different types of -traumas you might have experienced growing up. I think that it's really important to understand someone's story in order to understand why they do what they do.—Michael Beckert
Read the full interview here.
Zerina Akers
Stylist, Founder of Black Owned Everything
As Beyoncé's stylist, you have been responsible for some of her most striking looks. Were you a fashion-conscious child?
Growing up, I was a huge fan of Queen Latifah. I loved everything she wore and said and the way she played with androgyny. In high school, I started a small fashion collection and staged a senior-year fashion show. Mostly, I would deconstruct existing clothes and sew them back together. For instance, I'd take a pair of jeans, open the seams, add a piece of fabric between the legs, and sew on so many patches that there was a train coming down the back of what was now a long skirt. I also prided myself on always wearing stilettos. My feet are still paying for that.
Throughout Black Is King, you used Black designers, like Loza Maléombho. That led you to start the Instagram account and website Black Owned Everything, which gives visibility to Black-owned companies all over the country.
It was wild. I created the page in order to support some of the brands and people I knew. But I couldn't keep it to myself—I was finding so many Black-owned businesses in so many categories. I had 10,000 followers in three days! Four months later, we're approaching 200,000 followers. It became my passion during the pandemic.
Do you have a favorite new business?
Mims Motors, out of Detroit. She rivals Tesla! And Estelle Colored Glass, in the Carolinas. Her stemware is rainbow-colored, and I love color.—Lynn Hirschberg
Read the full interview here.
Lenny Kravitz
Musician
In your new memoir, Let Love Rule, which covers the first 25 years of your life, music and style are at the forefront. Almost from birth, you were supremely passionate and confident about both your appearance and your sound. There is an anecdote where you say you once received a $5,000 advance, and instead of paying your bills, you went to Maxfield and bought a Yohji Yamamoto maxicoat and a Nehru suit by Jean Paul Gaultier. Do you still have the suit?
No, sadly, I let a friend borrow it. Look, I was a little younger then. I wanted to get my image together, and I was lusting after those clothes. I knew there was something special and interesting about those designers, and I wanted to have them step into my world.
Your mother, Roxie Roker, was quite stylish. And two of your godmothers, Diahann Carroll and Cicely Tyson, are fashion icons and true originals.
My mother was all about the details. She had that discipline—you don't "sort of" finish a task; you finish it properly and go on to the next. I wouldn't be here today if it wasn't for the lessons Roxie Roker taught me. She was always perfectly dressed. When my daughter, Zoë, was born, my mother wouldn't meet her granddaughter until she put on a proper outfit. I told her, the child doesn't know. But that was not my mother; she always wanted to look great. And she did. Being around that kind of elegance and grace had a lasting impact on me.—L.H.
Read the full interview here.
Chloe Fineman
Comedian
You're a rising star on Saturday Night Live. Have you always been funny?
I was a theatrical child. I grew up in Berkeley, California, with bohemian parents: My dad is a scientist, and my mom is a painter. My dad was also part of the improv scene in San Francisco. Even now, when I'm in town, he'll beg me to do improv with him. Initially, I wanted to be a serious, dramatic actress. I went to NYU with the idea of becoming Meryl Streep. My New York years were definitely not funny—I did a lot of weeping, a lot of wearing black. I was very pretentious, but I was miserable.
Whom do you view as a style icon? And an original?
Harry Styles is a fashion icon. And when he hosted SNL, I realized we had the same necklace! And I think Alessandro Michele, the designer of Gucci, is a genius. The most original person who comes to mind is Prince. I'm just a Bay Area girl at heart—I like people who are both feminine and masculine. Anyone who is unapologetically themselves is someone I would like to know. And admire. And probably do an impression of.—L.H.
Read the full interview here.
Parris Goebel
Choreographer, Model
This past February, you choreographed Jennifer Lopez's stunning Super Bowl halftime show, and you just choreographed your second -Savage x Fenty show. You also did Justin Bieber's "Sorry" video. In total, you have created dances that have been seen by billions of people. How did you get your start?
I started dancing as soon as I could walk. I grew up in New Zealand, and I loved all the arts, but when I was about 8, I was completely drawn to dance. Since MTV was my only source of entertainment, I studied videos. I loved Missy Elliot and Michael Jackson. All the greats!
Who is an original to you?
Rihanna is a huge influence on me. She is truly an original. And Bob Fosse, the dancer-choreographer-director, is an icon I look up to. I love his film All That Jazz. That opening number, "On Broadway," is so inspiring—his choreography is sharp and sexy. When I see dance like that, it makes me very emotional.—L.H.
Read the full interview here.
Kim Sion
Creative Consultant, Agent, Gallerist, Curator, Store Owner, Ceramicist
You wear so many hats as a gallerist, a curator, a consultant, and an agent. If you had to label yourself, how would you describe who you are and what you do?
It's so weird, isn't it? Creative consultant—I suppose that's what I've always done. When I talk to people and they go, "What do you do?" I go, "Actually, I don't really know what I do, because I do so many things." I've worked with a graphic design company for 25 years. I've been working with MatchesFashion as a consultant. I work with autistic kids. I have a gallery with a partner called Sion and Moore, and my shop, A Bag Full of Kim. I want to be part of everything because it excites me so much visually. I can't stop. It's just in my blood.—Brooke Marine
Read the full interview here.
Honey
Nail Artist
You're usually rushing between photo shoots and runway shows to design some of the most original nail art in the industry, from gold bejeweled talons to pearl-embellished cuticles. Have you experienced any silver linings over the past few months?
Even though all this stuff is going on, you still have to be optimistic. You just have to be, or you won't really progress. So this just makes me push a little bit harder. We all procrastinate, but now we all have time. You can't complain that you don't got it, because you ain't doing nothing! I had time to work on my product line, Hive by Honey. Before lockdown, I went to Thailand to find different essential oils, certain coconut oils. I traveled far and deep. I'm doing a cuticle-treatment oil that I've worked on for years, and a scrub—because of all the handwashing. It exfoliates, but also cleanses and moisturizes.
When did you first start experimenting with your personal style?
I might have been, like, 13, 14. I'm from East Flatbush, primarily a Caribbean and West Indian neighborhood in Brooklyn, so we always did funky things with T-shirts and jeans—we used to cut up T-shirts and get ribbons of neon and put them together and have friends make us clothes. My grandfather would make stuff for me because he was a tailor. Since I was around 13, I would call myself a little special. Because I was like, I don't care. I really don't. I think it's also the attitude of New York. New York is really whatever floats your boat—you rock with it.—Andrea Whittle
Read the full interview here.
Ziwe Fumudoh
Comedian
You started your comedy show Baited on YouTube. At the beginning of the Covid-19 pandemic, you moved the concept to Instagram Live, where you now host a weekly talk show with guests who have gotten into hot water or have been "canceled" for racist behavior. What is the most original thing about the work that you do?
My Instagram Live show and Baited both pull from things that already exist: Andy Cohen's Real Housewives reunion episodes, 60 Minutes, comment culture and Xanga and MySpace, and Verzuz. I'm using all that to create something unique and original and specific to my interests, as someone who studied film, African-American studies, and poetry, and who is a comedian. I'm bringing comedy to difficult conversations about race. Normally, when people talk about race—for example, during the beginning of the uprising and the pandemic—it was like, "Read this book by Robin, and take your medicine, and read books about race, and you'd better learn about Black people!" It felt like such a chore. And it's a pleasure to be myself—a Black woman. There are challenges, but ultimately, it's a blessing, and I'm lucky to have this body and exist as myself. I want to show the pleasure of Blackness. I'm bringing levity and fun to serious topics so they don't feel like you're in detention. This is life. Life is tragedy, and life is comedy.—B.M.
Read the full interview here.
Dan Colen
Artist
You came into prominence as a young artist in the aughts, as part of a downtown New York City scene that included Ryan McGinley and the late Dash Snow. In 2011, you bought a 40-acre farm in the Hudson Valley, where you've been working on large-scale pieces and donating every ounce of food produced from the land. This fall, you launched a 100 percent charitable collaboration with Dover Street Market to benefit the food banks that you work with through Sky High Farm. What can people expect to see on the shelves?
For the first of five phases, we invited a group of streetwear brands—Supreme, Nine One Seven, Awake NY, Better™ Gift Shop, Brain Dead, Cactus Plant Flea Market, Denim Tears, Fucking Awesome, IRAK, MadeMe, Noah, and Total Luxury Spa—to create items using Sky High's iconography and to add whatever they wanted to it. All of the funds will be used to buy food from other farms, which is extending Sky High's work, not only by bringing food to food-insecure communities, but also by supporting local small farmers. For the next phases, we'll be tapping into different creative industries. One of the phases will have to do with food and farming and working directly with chefs. And obviously we'll be tapping into the art community.—A.W.
Read the full interview here.
Rickey Thompson and Denzel Dion
Comedians
Your one-of-a-kind friendship and distinctive senses of humor have sparked huge followings on social media. In the past few years, you've launched a Spotify podcast, We Said What We Said, and a show on Snapchat, Road -Trippin', which follows your adventures and hijinks driving across the United States. Why do you think people are so drawn to watching your friendship play out on social media?
Thompson: We are literally two different-as-night-and-day people. Denzel's a Capricorn, I'm an Aquarius. He's the strong person, I'm the emotional one. And I just love how we can help each other. We've been friends for six years now, and it's just been the greatest experience ever. He's more than a friend; he's my brother.
Dion: Our friendship is not forced. A lot of people are trying to be friends for the wrong reasons—social climbing, or just if it looks cool. With us, it's just natural, and we're just ourselves. You can always see when someone is being real and when someone is just doing it to fake the funk.—M.W.
Read the full interview here.
Laila Gohar
Artist
You're known for creating unique food installations at art and fashion events, from towers of shrimp and roses at the Galeries Lafayette in Paris to pastel-hued pastry assemblages at Frieze New York. This past summer, you hosted a series of outdoor dinners in New York City to raise money for friends in Beirut after the explosion. Have you found other silver linings in the past seven months?
All of these systems that we had in place just burned to the ground. The dust is before our eyes. And I think what happens is like a forest fire. Everything burns down, and it's tragic, and it's so sad, but eventually there's going to be a regrowth, and something is going to sprout out of that ground. With the pandemic, this curtain got pulled down, where it's like, people assume that someone has a plan—whether it's the government or your boss, somebody who knows what's happening. Now there's this realization that, actually, nobody knows what's going on. Cat's out of the bag!—A.W.
Read the full interview here.
Tomi Adeyemi
Author, Creative Writing Teacher
Two years ago, Children of Blood and Bone, your coming-of-age fantasy novel rooted in West African mythology and the first novel in the Legacy of Orisha trilogy, debuted and instantly became a best-seller. In Time, John Boyega wrote about your being the "god of ideas," saying, "She's inspiring a lot of young people to write. She creates the very world that we as actors get to play in." The idea of other people learning to write, or wanting to learn to write, because they've read something that you've written—do you carry that with you when you're working?
I get a lot of DMs and e-mails saying, "Hey, can you mentor me?" I'm not actually the one who decides if I mentor you. You're the one who decides if you study what I'm doing and take lessons from it. I have so many mentors to whom I've never spoken a word; I have mentors who are dead. I can Google Maya Angelou's saying, "Do the best you can until you know better. Then, when you know better, do better." Cool, thanks, Maya. That's a mentor. I can always tell when someone is a writer or a creator who believes in their dreams, because they don't come to me with the "Can you mentor me?" They come to me with a specific question, and I'm like, good, that means you believe in yourself, you're already studying your craft, you're already making plans for the future. Now, that's something for me to help you with. I think it mostly comes from believing you have what it takes and remembering that anyone who's doing anything you admire started alone in their bedroom. So if you're alone in your bedroom, you're already on the right track.—B.M.
Read the full interview here.
Christopher John Rogers
Designer
You just won the CFDA Emerging Designer of the Year award for your bold, dramatic designs in saturated, luxurious colors. You also dressed Zendaya for the Emmys this year, Lady Gaga wore a gown you designed to the VMAs, and Lizzo recently said that the lime green dress of yours that she wore to the GLAAD Awards in 2019 is her favorite fashion moment ever.
Yeah, which was hilarious. And also amazing.
Why was it hilarious?
I literally made that dress in, like, three days. I sewed it in my living room. So I guess it's less funny and more amazing that she considers that one of her favorite moments.
Who are your style icons?
Bert and Ernie. They're always wearing color and stripes, which I love to wear. They're always having fun, usually more casual than not, but always making a statement.—M.W.
Read the full interview here.
Gaetano Pesce
Architect, Design Pioneer
At 80 years old, you're definitely considered an original, after building your design career on a kind of radical experimentation with process and materials. These ideas—that you should respect and deploy materials from your local community, that design can respond to its environment—were forgotten for a long time and are only recently starting to come back into fashion. What does it say about you that these are ideas you considered from the beginning?
My education was very important. I learned that there is no difference in expression. You are free to be a painter one day, a sculptor another day, a poet another day, a musician another. There are no barriers. At my architecture school, we had to take a philosophy exam. Can you imagine? Architects today are a little ignorant; they think that a tower that looks like a suppository is good for London. I did a lecture at the Royal Academy, and I asked two people, "What is the relationship between you and the suppository?" [Laughs]
I read an interview in which you said it was "important to be incoherent." What did you mean by that?
In the 18th and 19th centuries, values were more or less the same for a hundred years. Nowadays, we are free to change: I like red today, and tomorrow I like blue, and after that cherries, and then pears. I once heard a wife complain to her husband, "You changed ideas!" I was thinking, Fortunately, he changed, or else it would be boring! Change is interesting. It's provoking. Incoherence represents that. The tendency is to be always the same, but reality pushes you to be different, and you have to accept that.—Jill Singer
Read the full interview here.
Evan Mock
Skater, Model, Actor, Photographer
Your life completely changed overnight in January 2019, when Tom Sachs took a video of you skateboarding and Frank Ocean posted it on Instagram. These days, you model, you surf, you skate, you take photos, and you get photographed at parties. You run a streetwear label called Sorry in Advance, and you're about to make your acting debut in the upcoming Gossip Girl reboot. I imagine that even in relatively normal times, people have difficulty understanding what exactly it is that you do.
My parents don't really understand at all, which is fine. They're just supportive of anything I do, which is amazing. As long as I'm paying bills, then I'll be all right.
You've said that everyone wants to be a skater, or at least have close proximity to one. What is it about skateboarding that people find so fascinating?
Skate culture is so deeply rooted; there's so much within it. It's inspired by so many different things. I think skateboarding just has this effect on people—they're very interested in what it takes to be a skateboarder and their day-to-day lifestyle. Which is funny, because skaters look forward to traveling the world and ending up in a ditch somewhere, not beautiful places.—Stephanie Eckardt
Read the full interview here.
Aurora James
Designer of the Accessories Brand Brother Vellies, Founder of the 15 Percent Pledge
In June, you launched the 15 Percent Pledge, challenging American retailers to commit a minimum of 15 percent of their shelf space to Black-owned businesses. Since then, you've gotten Sephora, West Elm, MedMen, Rent the Runway, and Yelp to take the pledge, and Vogue—whose September cover featured your painted portrait—has committed to commissioning 15 percent Black creatives.
My ultimate goal is for every retailer in this country to take the pledge, and for other industries to start evaluating how they can also join. It would be amazing to work at companies that are doing whatever their regular business model is, but being actively antiracist in that process.
Who is your style icon, and why?
Some of the women in Africa who have remained untethered to Western standards of beauty and dressing—particularly in the Omo Valley, the women of the Mursi Tribe. I think they're so beautiful, how they decorate themselves.
What is your most prized possession in your closet?
My grandmother's fur coat. It still has her Werther's Originals in the pocket.—A.W.
Read the full interview here.
Adut Akech
Model
You were born in South Sudan, raised in a refugee camp in Kenya, and then moved to Australia at age 7, where you walked in your first fashion show, a local affair organized by your aunt. Not long after, you broke onto the scene after walking in Saint Laurent's summer '17 show. Now, you've been on countless magazine covers and appeared as the face of Valentino, Givenchy, Fendi, and many more. You've said before that you discovered your love for fashion when you moved to Australia.
I got exposed to more clothes, makeup, beauty—things I didn't have access to before, when I was in a camp. That's when my love for fashion came about.
Who was the first person who made you realize you could break the rules?
My older sisters. They'd do something that was naughty, and then I'd do it. Because I was like, If they can do it, why can't I?—M.W.
Read the full interview here.