HBO's The Plot Against America Trailer Is Here, So Break Out Your Emmy Ballot
Philip Roth + David Simon + Winona Ryder = Emmys?
---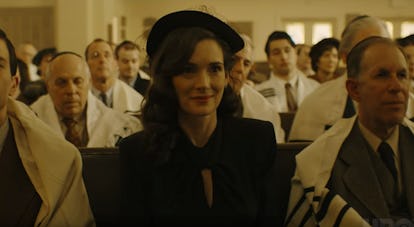 It is completely reckless to declare an awards race over after simply viewing a trailer, but upon the premiere of HBO's first The Plot Against America trailer it wouldn't be a dumb bet to assume it might dominate the Limited Series category at the next Emmys. After all, it's one of TV's greatest modern auteurs, The Wire's David Simon, adapting a major work from one of America's most celebrated novelists, Philip Roth. A star-studded cast complete with Winona Ryder and Zoe Kazan doesn't hurt. Nor does the fact that its subject matter, an alternative history parable about a populist celebrity president turning the country toward bigotry-fueled fascism, rings particularly resonate at the moment.
The plot reimagines the events of the 1940 elections in which the legendarily progressive Franklin Delano Roosevelt is defeated in a landslide by the celebrated aviator Charles Lindbergh, running as an isolationist Republican. Lindbergh's first act in office: allying America with Nazi Germany. He then enacts a series of escalating policies in an effort to forcibly "Americanize" Jewish citizens. (In truth, Lindbergh never ran for president, but he did have a large political following, was sympathetic to Nazi Germany, held anti-Semitic views, and was a frequent Roosevelt critic).
While Roth's 2004 novel has national implications, it focuses mostly on a Jewish family living in New Jersey as they weather the new reality. Though, the family has a direct link to Lindbergh's White House. An aunt, played by Ryder, marries one of Lindbergh's few prominent Jewish supporters.
Roth himself broke the news of the television adaptation before his death in 2018, and had met with Simon before agreeing to the deal.
Somewhat ironically, when the book was published in 2004, many assumed that it was Roth's way of raging against the George W. Bush administration—likely because Roth was, of course, a vocal critic of the former president and his cabinet. But the writer denied his novel was inspired by Bush's presidency. Since then, America has elected a president that, somehow, embodies Roth's cautionary tale even more.
Tipping its Emmy hopes, HBO has set the series premiere for March 16th, which means its six-episode run will wrap up just a few weeks before the Emmy eligibility cut-off date.
Though, we shouldn't assume that Plot will be a slam dunk. It will face competition from the Nicole Kidman-led The Undoing (also on HBO), Netflix's Unbelievable, Hulu's Little Fires Everywhere with Reese Witherspoon and Kerry Washington, Apple's Defending Jacob with Chris Evans, FX's star-studded Mrs. America, and Netflix's latest Ryan Murphy joint, Hollywood.