The Queen's Gambit Makes Chess Look Sexy
Anya Taylor-Joy plays a glamorous 1950s chess wizard who struggles with addiction in The Queen's Gambit, a new Netflix limited series.
---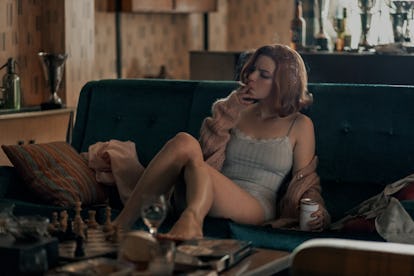 Image courtesy of Netflix.
The Queen's Gambit may have a title of royal proportions, but the forthcoming Netflix series has much less to do with ruling over a regal court and more to do with the drama surrounding a chess board.
The name, The Queen's Gambit, actually comes from one of the oldest known moves to begin a game of chess, dating all the way back to the 15th century. The words "glamorous" and "chess prodigy" might sound incongruous, and you might think a board game as cerebral as chess might not be dark and dramatic, but this Netflix series will have you think again.
Anya Taylor-Joy stars in Scott Frank's seven-part limited series adaptation of Walter Tevis's novel of the same name as Beth Harmon, a Kentucky-born orphan who simultaneously becomes a young chess wizard while battling an addiction to the tranquilizers (which are provided to her by the state to sedate the children at the orphanage).
Taylor-Joy has played an accused witch in The Witch, a scheming suburbanite in Thoroughbreds, a new Mutant, and the titular beloved Jane Austen heroine in Autumn de Wilde's Emma—it was only a matter of time before she dipped into the unexpectedly dark world of competitive chess.
In adulthood, Beth moves into the "male-dominated world of chess" and becomes what the series log line calls "an impressively skilled and glamorous outcast." As much as Beth struggles with her addiction to narcotics, she also struggles with her addiction to competition and winning, from the ages of 8 to 22 years old, in her quest to become the world's greatest chess player.
Joining Taylor-Joy in the series, which premieres October 23, are Thomas Brodie-Sangster as her biggest chess opponent, Moses Ingram, Harry Melling, and Bill Camp. Filmmaker Marielle Heller also takes a turn at acting on screen, playing a lonely housewife who adopts Beth as her daughter.
Related: Actress Anya Taylor-Joy Never Wears Makeup Off Duty, and Always Uses Leave-In Conditioner