The Shape of Water Trailer: Guillermo del Toro's Latest Is an Unlikely, Thrilling Romance
Guillermo del Toro and Games of Thrones' top female writer team up for a thrilling film about an unlikely bond.
---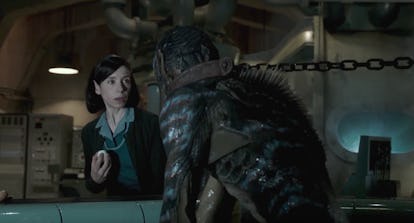 Ever since wowing in 2006 with his fantastical Pan's Labyrinth, director Guillermo del Toro has hewed more towards action and horror. With The Shape of Water, it appears he's returning to more whimsical, almost fairytale-like fare. The film stars Academy Award nominee Sally Hawkins and winner Octavia Spencer, as two custodial workers at a top secret American lab in 1963 amidst the Cold War. Hawkins's character, who is mute, soon comes across a startling discovery… a Creature from the Black Lagoon-type character being held against its will in the lab.
It may just be best to skip ahead and watch for yourself, but from what we can tell, Michael Shannon plays an evil scientist type who sees the creature as little more than an experiment-in-waiting ready to be dissected like a middle school science class frog. Others, meanwhile, see the creature for what it is: a living, breathing being who appears to have human-like feelings (and apparently was once worshipped in the Amazon like a god).
It's Hawkins's character who develops an emotion bond with the creature. "When he looks at me, he does not know how I am incomplete," says Hawkins' character in sign language. "He sees me as I am."
It does seem like there's something like an underwater kiss between the creature and Hawkins in the trailer, but it's unclear whether the bond really crosses over into romance or is more based around less obvious feelings.
Of course, a romance between a sea creature man and a human might seem weird to some, but might we remind you the Twilight movies (featuring a love triangle between a human woman, a vampire, and a werewolf) brought in billions of dollars. It's actually not all that dissimilar from the plot to The Little Mermaid, come to think of it.
The film also finds del Toro collaborating for the first time with a female co-writer. His chosen co-scribe is Vanessa Taylor. She's best known as writer of multiple episodes of Game of Thrones (in fact, she's the HBO series' most prolific female writer with three episodes under her belt). She's also attached to contribute to the script for the live-action remake of Disney's Aladdin.
The film is set for release on December 8th, smack in the midst of Oscar release season.
Related: Inside Guillermo del Toro's Horror Museum
Octavia Spencer Takes W's Screen Test: