This is the Waitlisted Site Fashion Insiders are Using to Lend Out Their Designer Closets
Everyone from Leandra Medine to Charlotte Ronson are putting their designer duds up on the invite-only VillageLuxe, which currently has a 12,000-plus person waitlist, for others to borrow. What's the catch?
---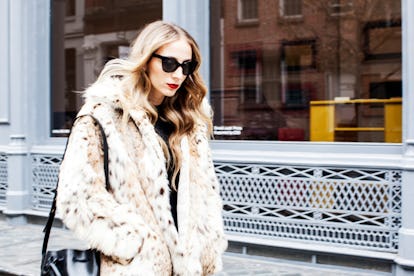 Man Repeller founder Leandra Medine, DJ Harley Viera Newton, hairstyling mogul Sally Hershberger, womenswear designer Charlotte Ronson, fashion photographer Sophie Elgort, and a whole host of New York's celebrity stylists and fashion editors at top publications have all joined the club. They've all put their designer wares, like Yves Saint Laurent handbags, Alaia dresses and coveted vintage Chanel, up for grabs on VillageLuxe, an invite-only luxury rental site and app with a 12,000-person-plus waitlist, founded by Julia Gudish Krieger.
The idea for VillageLuxe came to Krieger, 27, while she was busy working at a leading tech venture capital firm in New York after graduating from Harvard. "I saw the growth of Airbnb and Uber before others took notice," said Krieger, who is originally from Kiev, Ukraine and raised in New York City. "I thought if the sharing economy is here to stay, if we're sleeping in each other's beds and driving in each other's cars, what personal asset hasn't yet been disrupted? The natural next was the closet—arguably one of the biggest assets."
She thought about all the clothes hanging in her closet (and the wardrobes of men and women everywhere) that were largely going unused and realized there was a real business opportunity. "I realized that of the 300 pieces or so hanging in my closet, I can realistically only wear two at a time, which creates wastefulness when over 90 percent of my closet is unavoidably idle at any given time," she said. " I also observed the common friend dynamic—'Can I borrow that?'—and the potential to extend it across entire neighborhoods and cities."
In 2014, she left venture capital to start building VillageLuxe and launched it in the summer of 2015. The site now has an ever-growing waitlist of women from around the world—only users can invite their friends to join—and over $7 million of designer treasures, from vintage and couture pieces to young designer pieces right off the runway, to be borrowed straight from the closets of some of fashion's most stylish women for a fraction of the original price tag ($70 to rent a Valentino bag for the week, which would cost $1,745 to own). Ask almost any of those aforementioned women how they came to put their clothes on the site, and the unanimous answer seems to be celebrity stylist Sofia Karvela, VillageLuxe's fashion director and a friend of Krieger's.
"I found about it through Sofia [Karvela]," said Sophie Elgort. "We were working together on a project and she told me all about it and I thought it sounded really cool. I love the idea of being able to rent other people's stuff, and I feel like I should reciprocate."
Sally Hershberger added, "Sofia's a close friend, and I was intrigued. It's not about lending my clothes, it's about being part of a clan of smart, creative and cool women."
The community element is a draw for many of the women loaning out their pieces on the site. "[VillageLuxe] is a great way to bring the traveling pants sisterhood concept to real life," said Medine. Literally, you can walk in another woman's shoes for a day (or week). Here's how it works: order through the app or site and select the dates you want to borrow the item (all items have little to no wear), and the lender will either ship the item to you or you can opt to pick it up directly. One week later, you send the item back to the lender. That's it.
Community aside, Krieger said the allure is not about making money, but avoiding wastefulness. "Our women aren't lending because they need funds to cover their next blow out. Many of these women are highly successful and have the closets to show for it. They're putting these incredible investment pieces to work for them," she said. "Why let these amazing pieces sit and collect dust or resale them regretfully for a tenth of what they may have paid for them when they can create the ultimate cycle of sustainability through lending—and know they've made someone feel amazing that week?"
"There are so many pieces you know you aren't ready to part with and you don't necessarily wear them all the time, but they are so special," said Charlotte Ronson, who has some of her own designs available on the site, as well as some dresses by Isabel Marant and a few vintage numbers. "I could never part with them, so it's just nice to be able to share it and see how someone else would wear it. You feel like you still have a purpose for these special occasion pieces."
Testimonies like Ronson's were extremely common among the women interviewed for this story. They love their clothes, but they could use a break from some of them, especially the statement or special occasion pieces that they can't wear on a regular basis (or in Instagram photos—god forbid you post the same outfit twice).
But are these lenders also borrowing from the site? In many cases, yes. Over 40 percent of the women who lend use their earnings as credit for borrowing. "It's the ultimate guilt-free pleasure, like our girl who rotates Birkins each month," said Krieger. "Her closet is listed, her own Birkin included, and she has a great following of women who lborrow from her weekly. Then she spins that back to fund her own rentals."
"I borrowed a simple silk top from Sofia," said Hershberger.
"I borrowed an Olympia Le-Tan clutch and a few other things," said Ronson. "I love how it's forever updating and makes it so there isn't so much pressure on investing in a piece. You can borrow it, dress up, go out, take a picture in it and have some fun with it."
Currently, VillageLuxe is New York City-based (outside of the city, the only option is to have an item shipped), but they are set to ramp things up in Los Angeles soon. "Our next stop is likely there, given the high demand not only from locals but also from stylists and fashion industry insiders that want to use Village Luxe for red carpet and TV," said Krieger. "The vision for VillageLuxe is ultimately a global one, where we build a worldwide community of like-minded women."