This Week's Model: Britt Maren
Swedish-born, Houston-bred Britt Maren — Britt is actually her middle name, and Maren is after her great-great-grandmother — is just coming off her breakout runway season. Alexander Wang handpicked her to work exclusively with...
---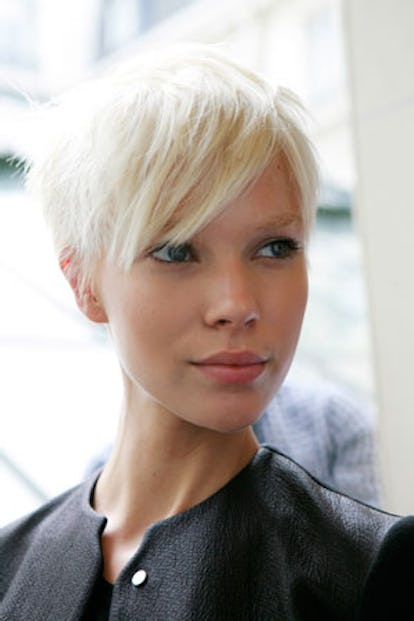 Where are you right now? At my apartment, I just got back from walking my dog. He's a puggle, and his name is Zeus — my boyfriend named him.
What neighborhood do you call home? Lower Chelsea/Meatpacking.
And your favorite place in New York? I like going to the park on a nice day, to walk my dog. I love going to bakeries in Chinatown — they're not the typical bakery with cupcakes — for the steamed buns that have pumpkin or sesame or chestnuts or red beans inside. And there's this cool bar, Apotheke, that my boyfriend took me to in Chinatown: it's on a teeny little street where you would never expect it, and they have mixologists and chefs working there, mixing fruit and vegetable-infused drinks.
You just did the Lanvin x H&M show! How was it? They told us to have fun with it on the runway — stop however many times you want, smile, laugh, engage with audience. And there were a ton of fresh flowers — it was freezing backstage because of the flowers, they had to crank up the AC to keep them fresh. I really liked the clothes, too — I loved my yellow dress — but I couldn't take it home because they're auctioning it off. I have to work tomorrow — I'm shooting with Love for the first time — but maybe on Sunday I can go try to get something from the collection at H&M.
Any other fun shoots recently? I did American Vogue a couple of days ago — it was a Gangs of New York theme, and in my group, there were five of us platinum blonde girls in Calvin Klein, jumping — they shot us all mid-air.
Tell us a little bit about your relationship with Alexander Wang. How did you meet? My bookers are close with him, so they sent me over to meet him personally — I think castings for his show were already going on at the time. Afterward, he called the agency and asked them to keep me under wraps instead of sending me out to other castings. I spent the next week doing looks with him and [his show stylist] Karl Templer at his studio. I was an Alexander Wang fan before — I always really liked his clothes and shows — so it was a dream come true to live that. He's so personable and fun. It was all very spur of the moment, I had just joined [my agency] Women a few days before that.