This Week's Model: Melodie Monrose
18-year-old Melodie Monrose's modeling career has been a whirlwind so far. After being discovered through a friend's model scout in Martinique, the native French speaker was on a plane to New York days later,...
---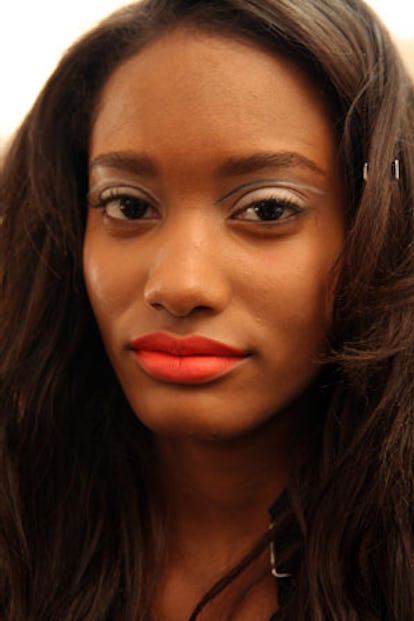 You walked 49 shows in your first season—which was your favorite? It's hard—for each city I have different reasons to like all the shows. If you want to talk about fashion, Gucci was my favorite. For the music, I liked Blumarine. It was great to be in Paris, where everyone was speaking French. Lanvin was amazing; Yves Saint Laurent, too. I was surprised to be a part of Yves Saint Laurent, and I was honored because of the history of the designer—he's always about black models. This season, to be in the show, it was a great moment.
Speaking of Lanvin, we heard the shoes were particularly treacherous this season. Many girls ended up not wearing them because they couldn't walk. It was very hard to walk in the Lanvin shoes, they were very high, and the runway was very long. But I did it. And I'm not worried about the shoes anymore.
Who were you most excited to meet during your first season? Marc Jacobs! Though I would love to meet John Galliano—he's my favorite designer. His shows are not just a fashion show, and his clothes are so feminine, so classic, but it's always very colorful.
We heard your schedule has been busy recently, lots of travel. Yes! I've been mostly shooting in New York—for Interview, V Magazine, V Men—and filling up my book. No campaigns so far…
And you just moved to Paris? Outside of Paris, actually, right after the fashion season, so a few weeks ago.
Why Paris over New York? It's easier for me—to move from Martinique, and to live by myself. Everything is French, so I understand almost everything. And I am continuing my studies in Paris—I'm studying communications at Paris 8 University.
What's your favorite place in Paris? My favorite neighborhood is Le Marais—I hope to live there one day. It's always light, people outside, nice shopping…
Speaking of, what's your most recent shopping purchase? I just bought an AllSaints dress. It's a grey dress to the knees. And I just bought sneakers to go to the gym. In London, I bought a pair of ballerinas in black silk from Selfridges Shoe Galleries. I'm buying shoes almost every week! But I like shopping at H&M, Zara, AllSaints, and Rag & Bone.
Your dream modeling job? Modeling for Givenchy.Â
Your guilty pleasures? I just discovered American food, so I'm a big fan of cinnamon rolls. And chocolate cake—I can't say no.
How do you like to spend your spare time? Hanging out with friends, seeing movies, going shopping, going to restaurants. I would love to see the most recent Woody Allen movie, You Will Meet a Tall Dark Stranger. And for restaurants, I really like TAO in New York—for dessert, they have these fortune cookies with cream inside that I love.
We heard that Coco Rocha was helping you with posing. She used to be my teacher on how to move during a shoot, what is best to do and not to do. My agency set it up—my booker used to be her booker—and she's a very good teacher.
Any fun holiday plans? I need some sun and some beach. I really want to go home to Martinique and my family.
What would you most like to receive for the holidays? A Givenchy shoot, but I don't know if that can be given. I can just continue to dream…
What do you see for yourself in the year ahead? I'm just living day by day, seeing what happens.
And what about tonight? I plan to go home, finish my book—Mercure by Amelie Nothomb—and sleep, like an old lady. For now, I'm staying in New York for the next week, but a lot of things can change…