The Story of This Election Can Be Told By Its Major Fashion Moments
From pussy bows to pantsuits, one can trace the narrative of this election through fashion.
---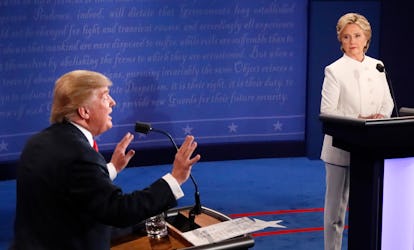 AFP/Getty Images
Designers often point out that fashion, at its best, reflects and even influences the times. Hemlines rise along with stock prices, after all, and the state of women's fashion is intrinsically linked to the state of women's rights.
While our presidential election cycle is clearly about so much more than what the candidates and those around them are wearing, one can still trace the storyline of this election through some of its most notable fashion moments: Jeb Bush's fall from frontrunner to goofy hoodie wearer, Melania Trump's enigmatic wardrobe choices, and of course those "Make America Great Again" hats and that rainbow of pantsuits.
Fashionability aside, these moments do certainly prove the point that clothes can say a whole lot, even about politics.
Jeb Bush's Hoodie Remember just a year and a half ago when it seemed like Jeb Bush would be the inevitable Republican candidate. He had a lead in the polls, wide support among the Republican establishment, and a record-breaking $100 million-plus in his Super PAC's coffers. He was supposed to be both the smarter, better Bush, and the man who could lead the Republican party into a new, more inclusive, less mean-spirited future. As it turns out, though, Bush was unequipped for all of that. He soon dropped into fifth place in the polls and, even more humiliatingly, into meme-status. And there was no meme more popular than this odd Vine of Bush — again, supposedly the smarter Bush brother — attempting to put on a zip-up hoodie without bothering to actually unzip it. So much for the smart Bush, so much for the hip Bush.
Marco Rubio's Heeled Booties There was also a time when the biggest drama in the Republican primary was expected to be between Bush's former protege and fellow Miamian Marco Rubio. Like Bush, Rubio struggled to reach the heights expected of him — and even these high-heeled booties he wore didn't help. For the better part of a day in January, the major political story were these boots. Jeb Bush's Super PAC even put out a parody song attack ad centered on them. And we wonder why neither of them were able to stop Trump in the primary.
Bernie Sanders's Everyman Suits Where does Sanders get these suits? Men's Warehouse? A thrift store co-op in downtown Burlington? 1983? No one will ever know, because Sanders was a candidate above any such fancy frivolities. He was all about breaking from the status quo, whether that be American economics or the cuts of suits. While he failed to win the nomination of a party he briefly officially belonged to, it's likely that more tailored versions of some of Sanders' signature issues could find a home in mainstream Democratic parties.
Melania's Pirate Shirt If all went according to play, the sleeves of this dress probably would have been the most talked about aspect of Melania Trump's speech at the Republican National Convention. Of course, she ended up orating near-verbatim portions of a speech Michelle Obama had previously given. Naturally, that lead to jokes that she also plagiarized her out from the "pirate shirt" episode of "Seinfeld."
Michelle Obama's Reality TV Dress It's been said this election is the most reality show-like of all time. Perhaps Obama's choice to wear a dress designed by reality TV alum Christian Siriano to deliver her powerful speech at the Democratic National Convention was a reminder that even reality shows sometimes have real consequences. Like the winner of Project Runway Season 3, the winner of this election will obviously go on to a real career as president. Or, maybe she just wanted to make sure that she gave all young American designers a moment in her spotlight, and Siriano was one of the few left on the list.
The Trump Family's Various Chinese Fashion Mishaps Donald Trump has promised to get tough on trade and bring manufacturing jobs back to American from China. Whoopsie, then, that items from both his clothing line and that of his daughter Ivana were manufactured in China. There was also the matter of Tiffany Trump, the lesser seen Trump-spring, stepping out in a dress by Chinese-born designer Taoray Wang.
Melania's Pussy Bow Days before the first debate, Trump's crude comments from an old "Access Hollywood" segment hit the press. We're all aware by now of what type of language he used, and so must have Melania, who showed up to that first debate in a Gucci "Pussy Bow" top. Was this some subtle shade thrown at her husband? Was it an ill-thought out homage to Conservative icon and noted pussy bow-lover Margaret Thatcher? Did some department store salesperson pull a fast one on her? Did Melania just simply pick out a top she liked and didn't think anything of it? We will never really know for sure, because Melania remains the biggest enigma of this campaign.
The "Make America Great Again" Hat Even if they didn't have Trump's nationalistic slogan stamped across them, these hats would not be considered particularly fashionable. Then again, they're the headcover of choice for people who pointedly care very little about what Coastal elites think.
Hillary's Pantsuits There's nothing really special about the pantsuit. Female politicians from the Senate down to your local city council have them in their work wardrobe. Female heads of other countries are almost always pantsuited as well. Why the pantsuit has become so closely identified with Clinton seems odd. What else would we expect her to wear? Yet, the reality is if she were to win, hers would be the first pantsuits to regularly find themselves stationed behind the desk in the Oval Office, which is in fact something to make a fuss over.
Your "I Voted" Sticker Of course, after all that, the decision will come down to you and the little action you take to earn the must-have accessory of the moment, the "I Voted" sticker. Which of course means in a way you'll decide whether Ralph Lauren will be designing a special pantsuit for January 20th, or whether Trump will be pulling out one of his shiny suits for Inauguration Day. Don't make the wrong choice.