Matilda De Angelis Was Fearless About The Undoing's Risqué Scenes
Get to know the 25-year-old actress behind the central mystery of The Undoing.
---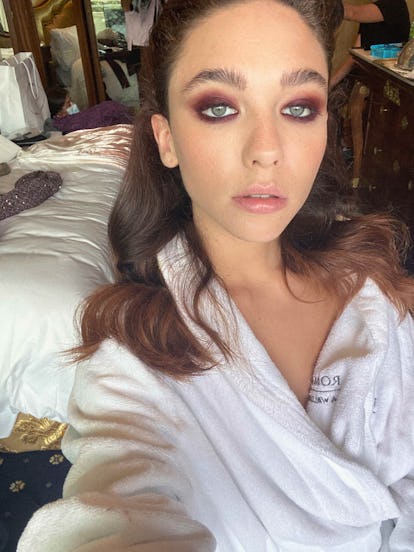 Self portrait of Matilda De Angelis.
Matilda De Angelis has been gaining traction on screen in her native Italy for the past five years, but now, as she enters the American television fold with HBO's The Undoing, the actress has been given a shocking introduction to an even larger audience.
In the David E. Kelley series, De Angelis plays Elena Alves, a young mother who enters the group of Upper East Side private school parents—to prickly effects. She is kind, mysterious, and captivating, but she also makes Grace (Nicole Kidman), a therapist and mother heading up the school fundraiser, uncomfortable. Subject to scrutiny, Elena is not nearly as wealthy as the other mothers, not as WASP-y, not as concerned with the implications of breastfeeding in public while making direct eye contact with Grace. At one point, fully nude, she approaches Grace in the gym locker room, which unnerves and confuses her. Later, at a school auction, Elena plants a kiss right on Grace's lips. There's something going on, but what exactly? That's what Grace and the other moms are trying to figure out throughout the series' six episodes, though they cannot deny her beauty and striking visual appeal. Elena's looks are a central, captivating aspect of her character, punctuated, of course, by her hair and makeup. But as evidenced in this Beauty Notes interview, De Angelis' own beauty routine is more skincare-focused than that of Elena, who wears dark eyeshadow regularly, and dabbles in a bold lip.
De Angelis spoke to W about her first foray into American television, and visiting New York for the first time to tell the story of this mysterious and misunderstood woman. Here, the 25-year-old actress breaks down what it was like to kiss Nicole Kidman on screen, not needing to undergo a big visual transformation for the role, and taking care of herself on the inside—and for the record, the smiley faces were her idea.
What was it about your character, Elena, that drew you The Undoing?
The first time I read the scripts, I fell in love with the character of Elena. She is armored, and she has an extremely sensual and at the same time unpredictable way of speaking and moving. Her fragility caught me. Beneath that appearance, there was a wounded and very lonely woman, and at the same time, there was an almost animal strength in her, a very strong and very moving maternal strength.
You are well known for your Italian cinematic work, but joining an American television show is a pretty big step, too. What was going through your mind when you realized you would be introduced to such a large audience on HBO?
It's something that definitely crossed my mind, but I haven't reflected on it as much as I would have thought. Being part of such a large television production with a wide distribution is flattering and scary at the same time, but I realized that the job I had to do was the same as in any other production: give my best performance and do the best I could, try to do my character justice, and empathize with her. This is probably the thing that made me relax and made me approach the job with more serenity.
What was the biggest lesson you learned from working with Nicole Kidman and Hugh Grant?
Humility and kindness.
A lot of people will be intrigued by your kiss with Nicole Kidman in the series. Was that scene intimidating?
Actually, kissing Nicole was the least of the things I was intimidated by. I know I'm a good kisser, so I don't care about that. 🙂
What was your favorite part about living in New York while filming the series?
It was the first time I visited New York in my life. I was very excited; New York is perhaps the most iconic city in the world. It was so exciting for me to walk around and get lost in the city. I kept thinking, "Oh, here was that scene from that movie!" It was my favorite game.
On The Undoing, your character Elena's appearance is captivating. People, like Grace, are drawn to her. Your hair was also quite curly in this role. Did you have to do much to change your natural hair for the part?
Actually, no 🙂 I am curly and proud of it, but I also like to play with different styles.
Do you have any go-to hair care products that you use regularly?
My hair, being curly, is also often very dry. I use various hair oils that I can apply on both dry and wet hair. Coconut oil is my favorite; sometimes I make wraps with that and leave it on my hair even a whole day. The next day, it is gorgeous.
What are some of your must-have skincare products?
Unfortunately, I have been suffering from acne since I was 16. In some periods, I feel better, and in other times I get terrible outbursts. Most of my beauty products are for curing those damn pimples.
What is your skincare routine?
I have different products depending on how my skin is. In periods of breakouts, I have to be careful to balance the hydration of the skin with products for oily and acne-prone skin; at the same time, the most important thing is cleaning my face. I wash my face twice a day with the Clarisonic brush and apply a mild cleanser from La Roche Posay, then hydrate with a Bioderma cream and a Clinique spot-reducing cream.
Do you have any favorite beauty products that you use?
I use a Clinique foundation for acne-prone skin; I love it.
How have you seen your beauty regimen change in quarantine?
In quarantine, my skin looked great; I wore no makeup. My skin was breathing and probably regenerated from the hectic life I was used to.
What's your ideal spa day and where?
My ideal spa day would include a back massage, facial beauty treatments, and anti-cellulite and firming treatments in a spa somewhere in the middle of the mountains.
What is your favorite form of self-care?
I do yoga most days. I am convinced that what passes through the mind very often spills over to the body and vice versa. I try every day to find the balance between these things; I cultivate my inner space.
When you wake up in the morning, what is the first thing you do, beauty-wise?
I wash my face. 🙂
What is your nightly bedtime beauty routine?
I take off my makeup, and then the dancing begins. I wash my face with the Clarisonic brush, apply a gentle cleanser all over my face, then an anti-sebum moisturizer, and finally, if some pimples are emerging, I apply a localized clindamycin-based cream.
Who is your beauty icon?
My granny. One of the most elegant and well-groomed women I have ever seen; even now that she is 80, she has skin to be the envy of any 20-year-old.
What is the best bit of beauty advice you've ever received and who was it from?
The best beauty advice that I've ever received is something that my mom told me, which is that beauty always has to do with our self-confidence. It is important to take care of your soul.
What is the best beauty trick you have picked up on set?
Sometimes I use lipstick as a blush or as an eyeshadow, or I use blush as a lipstick instead. It creates a weird and much more interesting effect.
What is your favorite shade of lipstick?
Rouge d'Armani Matte. 402.
What is one beauty item you recommend everyone buy?
The Clarisonic Brush. It works.
What is your go-to beauty look for a night out?
It always depends on how I feel that night. Sometimes, I even go out without makeup. Otherwise, simplicity is a touch of red lipstick.
What is the biggest skincare rule that you abide by?
Facial cleansing is critical.
What is your biggest beauty splurge?
Definitely the foundation. The good ones and those for acne-prone skin cost a lot.
Worst beauty trend that you've participated in?
Thin eyebrows. When I was a teenager, it was in style to have them very thin, but now it's the opposite. Luckily, mine have grown back.
Related: The Undoing Trailer: Nicole Kidman Dominates Her Next HBO Series