Only the Very Best Art To See During NYFW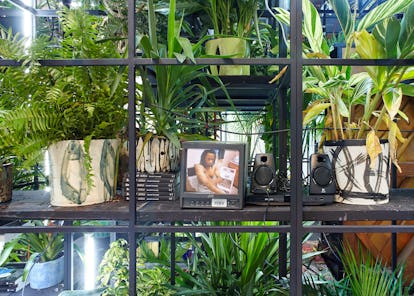 © Rashid Johson, courtesy of Hauser & Wirth
Rashid Johnson, "Fly Away" at Hauser & Wirth, September 8 — October 22 An intricate complex of steel, plants, grow lamps, books, shea butter, and even a piano, Johnson's monumental installation, "Within Our Gates," fills out Hauser & Wirth's cavernous Chelsea space. It's his latest and largest installment of his examinations of anxiety and race, which is hinted at by the show's title (taking its name from the gospel hymn) and expanded upon in the surrounding massive paintings and collages covered with black soap and wax.
Eddie Peake, "Head" performances at Jeffrey Deitch, September 8 — 10 The British artist behind forays like Anal House Meltdown is staging three nights of performances at Jeffery Deitch's newly reopened Wooster Street gallery. Like his past shows, including an infamous nude soccer match, "Head" is a mix of music and spectacle — along with plenty of body paint.
Caitlin Keogh, "Loose Ankles" at Bortolami Gallery, September 8 — October 29 Born in Alaska, the Brooklyn-based figurative painter keeps it personal in her first show at Bortolami with large-scale canvases all about the construction of self, from intestines and other innards to cultural accoutrements like an imposing copy of Dior by Dior.
Jonathan Gardner, "Jonathan Gardner" at Casey Kaplan, September 8 – October 22 Gardner's first New York solo show is full of smooth, surreal nudes painted on linen, making for an eroticized, playful update on Fernand Léger.
Joan Semmel, "New Work" at Alexander Grey, September 8 – October 15 Joan Semmel has put her body at the center of her work since the 70's, so it's no surprise that now, at 83, her new exhibition of recent works dives into the folds of old age. This fresh set of cropped, colorful nudes is a mix of paintings and drawings, some that layer images she takes of herself with a camera before rendering them in bright pinks and greens.
Lorna Simpson, "Lorna Simpson" at Salon 94 Bowery, September 8 – October 22 Simpson spent years developing the collage practice behind her new paintings, which are getting their second showing after a debut at the 2015 Venice Biennale. Sourcing photos from the archives of Essence, Jet, and the Associated Press, Simpson's peppered her powerful canvases — some stretching 12 feet tall — with ink stains, clusters of nails, and motifs like bullet holes.
Jonas Wood, "Portraits" at Anton Kern, September 8 – October 22 The L.A.-based painter keeps it in the family with his fifth solo show at Anton Kern, featuring portraits of his wife, the ceramicist Shio Kusaka; their dog, Robot; alongside close friends and a few self-portraits. Plus, he tries his hand at Kusaka's own medium: One canvas features his own clay vessel, adorned with a 7-Up logo and towering nearly 10 feet tall.
Lynda Benglis, "Lynda Benglis: New Work" at Cheim & Read, September 8 – October 22 Handmade paper, glitter, and chicken wire are just some of the materials Benglis worked with in her new show at Cheim & Read, a collection of sculptures made in and inspired by Santa Fe, New Mexico. Whether piñata-like or made of aluminum and ceramic, all possess her inventive and often sensual approach to form that's characterized her work since the 60's.
Matthew Barney, "Matthew Barney: Facility of Decline" at Gladstone Gallery, September 9 – October 22 Back in 1991, before Matthew Barney was directing movies with Maggie Gyllenhaal and Gladstone Gallery moved to Chelsea, the artist debuted in New York with an exhibition at the gallery's former Soho space. Now, he's restaging it 25 years later – with a little help from wrestling mats, petroleum wax, and Harry Houdini.
Richard Kern, "Polarized" at Fortnight Institute, September 9 – October 9 The New York photographer's polarizing work has long earned him the title of quasi-pornographer. But Kern's show at Fortnight Institute showcases a different side: It's an archival exhibition of videos, flyers, and unexhibited Polaroids from the 80's and 90's, documenting his time living in the East Village, then a place of drug busts and run-ins with friends like Lydia Lunch.
Andrea Zittel at Andrea Rosen Gallery, September 9 – October 8 A product of cramped apartments in New York in the 90's, Andrea Zittel's geometric sculptures also double as so-called "living units." Zittel has since decamped to the California desert, and her new units at Andrea Rosen Gallery mirror those back in the desert, albeit free of her furry companions.
Taryn Simon, "An Occupation of Loss" at Park Avenue Armory, September 13 – 25 Taryn Simon works on a large scale: The artist who once traveled for four years to take almost 1,000 portraits has now set her sights on the vast Park Avenue Armory, which she's filling each night at sundown with 30 professional mourners in an epic sculptural exploration of grief.
Zoe Leonard, "In the Wake" at Hauser & Wirth, September 13 – October 22 Leonard's first exhibit with Hauser & Wirth stretches over three floors of the gallery's uptown townhouse, which she's decorated with ephemera like World War II-era photos of her family. Along with sculptures made of archival materials like old photo manuals, it's an examination of displacement and immigration, all through her lens of photography.
Sara VanDerBeek, "Pieced Quilts, Wrapped Forms" at Metro Pictures, September 15 – October 29 Known for her photos of her sculptures, VanDerBeek's now exhibiting both mediums side-by-side at Metro Pictures. But first, the show started with research: She traveled to museums from Quito to Baltimore, exploring the idea of "women's work" with textiles and American quilts.
"Take Me (I'm Yours)" at the Jewish Museum, September 16 – February 5 Curator Hans Ulrich Obrist is bringing art to the masses by restaging his 1995 Serpentine Gallery exhibition of the same name, in which visitors are free to take a copy of every artwork on display. That starts, of course, with Felix Gonzales-Torres's poignant candy installations, and continues with the works of 41 other artists, including Alex Israel, Lawrence Weiner, and Yoko Ono.
Carmen Herrera, "Carmen Herrera: Lines of Sight" at the Whitney Museum, September 16 – January 2 At 100 years old, the Cuban abstract painter is getting her due. Her first major solo museum show chronicles the brightly-hued, geometric canvases stretching up to five feet wide that she made between the 40's and 70's in New York and Paris, many of them never before displayed.
Kai Althoff, "Kai Althoff: and then leave me to the common swifts (und dann überlasst mich den Mauerseglern)" at MoMA, September 18 – January 22 MoMA granted the German artist full freedom for his new solo exhibition — something he points out in the personal statement they allowed him to put out in place of a press release. He's filling the museum's sixth floor with his felt-tip marker drawings, along with paintings, lithograph prints, and found objects.
Watch W's most popular videos here: