Dallas Buyers Club
Two Texas supercollectors join forces and open the Warehouse.
---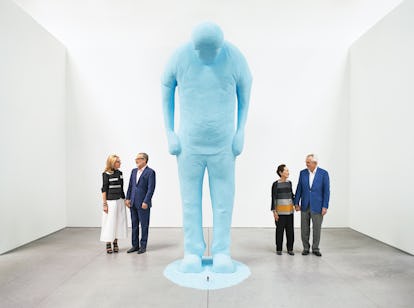 Photographed: Jason Schmidt
At a time when the most highly prized trophy in the art world is a private museum with your name on it, the latest undertaking by two Texas collectors, Howard Rachofsky and Vernon Faulconer, seems downright modest. Together, they have transformed an 18,000-square-foot -furniture-storage facility in their hometown, Dallas, into a gallery showcasing works from their individual collections as well as those bought jointly with fellow Dallas Museum of Art trustees—but neither of their names appears on the facade. "It's a yours, mine, and ours collection," Rachofsky says of the space, which is called, simply, the Warehouse.
There are about 1,000 pieces in the Warehouse's collection, displayed on a rotating basis in thematic shows. In addition to the exhibition space, the 60,000-square-foot building houses a library and an education-program area. The pair leases part of the space to an art-handling company so that, Rachofsky explains, "I can say, 'We need to hang a work—can you send two guys over?' "
The idea for the Warehouse came to Rachofsky, a former hedge fund manager, about four years ago, by which time he and his close friend Faulconer, an oil entrepreneur, had jointly purchased several major pieces. After concluding that Faulconer owned works too large-scale for his homes and that Rachofsky and his wife, Cindy, owned too many to fit inside their Richard Meier–designed house, they decided to find a place where their stored treasures could see the light of day and that would be welcoming to the public. "Verne's is a buy-what-you-like collection," says Rachofsky, who owns the bulk of the Warehouse's offerings. "Mine is more purposeful. Verne said to me, 'Ah, heck, this is a great deal for me because I get to come and look at all the art, and you've paid for it.'"
Rachofsky began collecting in 1972—first, prints by Joan Miró, Alexander Calder, and Pablo Picasso; then works by American masters like Helen Frankenthaler and Donald Judd. Eventually he moved on to the postwar Japanese and Italian movements, and started developing an interest in younger artists. In June 2008, he and his wife sold Jeff Koons's 1995–2000 sculpture Balloon Flower (Magenta) at auction for $25.8 million to buy a group of 1982 Sigmar Polke paintings, currently on view at the Warehouse. They are part of an exhibition in rooms dedicated to single artists, including Marlene Dumas and Gerhard Richter. Last summer, Rachofsky and Faulconer purchased the largest sculpture from Koons's recent Gazing Ball series of white plaster figures with blue glass globes that, following its loan to the Koons retrospective opening this month at the Whitney Museum of American Art in New York, will take up residence in the Warehouse.
At the moment, one of the duo's favorite pieces is Tom Friedman's Untitled, 2003, co-owned by the Rachofskys and the Dallas Museum of Art, where the collection will ultimately land. "I think of it as Little Big Man," Rachofsky says. "It's so strong that it's the only work in the room." Made of Styrofoam, "it weighs almost nothing, yet it has great presence. It was an instant love affair."