Then I Said, 'Goodbye, Franca': A Remembrance of Franca Sozzani by Stefano Tonchi
W's Editor-in-Chief remembers the longtime editor of Italian Vogue, who passed away Thursday at the age of 66.
---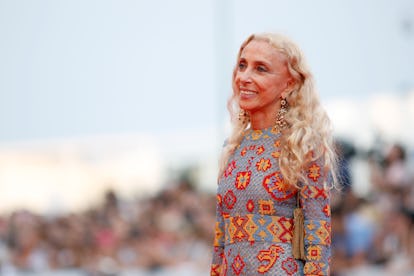 Getty Images
The first time I met Franca was in Italy in the '80s, when I still had my magazine Westuff. We went to Franca's office to talk to her about a collaboration with Lei, the magazine she was editing at the time. They were doing incredible things at Lei, and later on at Per Lui, its male counterpart, which she also edited. They gave all this freedom to photographers, which was really unheard of then and there in Italy.
I would continue to visit Franca over the years. After I became the editor of L'Uomo Vogue, which was a courageous men's magazine then but a little more tentative than what Franca was showing in the pages of Per Lui, I returned. She showed me some images in her office: They had to do with masculinity in fashion, during a time when men's fashion was not really being recognized. And this story by Steven Meisel really pushed the boundaries of what male identity is. Franca said something that has always stuck with me throughout my career: "If you push something far enough, you don't have to justify it." And she never justified anything she did, no matter how controversial.
The lesson, I think, was to always be bold, and be boldly affirmative.
Franca was assertive, with a directness that was born of the strength of her convictions. She was loud and clear when she talked; you didn't second-guess her. She did not tolerate bullshit, but she loved to listen to ideas. She was also very good at managing talented photographers and stylists—which is both an incredible honor and incredibly frustrating—to allow them to do their best work. Italian Vogue had a tradition of working with important photographers like Helmut Newton, but there was always this sense of control. When she got there, she let the photographers take over.
She understood very well that you could tell stories with images. Italy is a small country, and we speak a language that very few others speak. For Italian magazines, then, the images were so important. Franca turned a shortcoming into an advantage—she made Italian Vogue an international magazine. Her photographers worked in the U.S. or in the U.K.; Bruce Weber made me fall in love with Americana, Herb Ritts made me fall in love with Los Angeles. Franca helped make Italian fashion less provincial.
She also loved personalities. She did not necessarily care about beauty, not in the classic sense, but instead cultivated men and women for their personality. Think about her love affair with Naomi Campbell! And I remember these strange guys in the pages of Per Lui—they were not beautiful models, they were interesting men.
This morning, I received a text from a friend in Italy with the sad news. I had known Franca was not well. I was glad to hear that she died the way she lived—in control. I remember thinking that I saw her just days ago, at the Chanel Métiers d'Art show in Paris. I helped her walk from the table where she was sitting with Anna Wintour and Karl Lagerfeld to the elevator. She liked to leave a party early. There were a lot of people around, and we cleared a path. Then I said, "Goodbye, Franca."
Remembering Franca Sozzani: Her Best Italian Vogue Covers
Vogue Italia, August 1988. The first cover under Sozzani's editorship.
Cindy Crawford graces the cover of Vogue Italia for the February 1989 issue.
Vogue Italia, November 1990.
Kate Moss on the cover of Vogue Italia's March '96 issue.
Vogue Italia, November 1998.
Vogue Italia, September 1998.
Franca Sozzani always retained a fascination with the future, a preoccupation often reflected in Vogue Italia's pages.
Vogue Italia rang in the new year with this January 2000 cover.
Vogue Italia, December 2009.
The infamous "Makeover Madness" cover, shot by Steven Meisel. Vogue Italia, July 2005.
Vogue Italia's All Black issue, July 2008.
As Franca Sozzani's protege, Steven Meisel rose to prominence to become a dominating force in the world of fashion photography. His cover for Italian Vogue in December 2002 exemplifies his black and white aesthetic that made him one of Sozzani's favorites.
Never afraid to broach controversial subjects, Franca Sozzani's August 2010 issue of Italian Vogue took on the BP oil spill. "Fashion isn't really about clothes—it's about life," Sozzani has said.
The ever-beautiful Kate Upton graced Italian Vogue's November 2012 cover.