This Week's Model: Chanel Iman
Chanel Iman was first signed to a modeling agency at the early age of 12; by 17, Teen Vogue had featured her on their cover. Now 20, the Los Angeles-born model has been working with...
---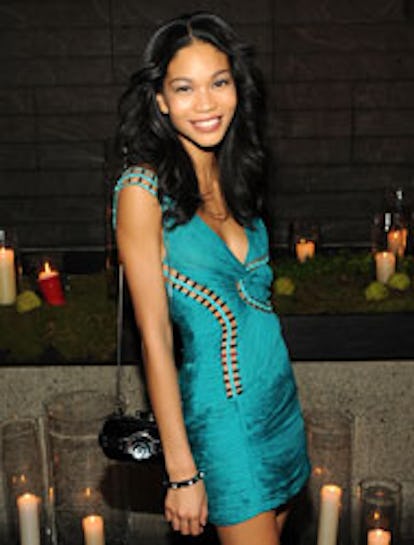 Where are you right now? I just walked in the door to my apartment in Tribeca.
Any favorite places in your neighborhood? Well, I always go to Mr. Chow — that's in Tribeca. They know me very well there. And I really like Mercer Kitchen in Soho. I really . . . I stay downtown.
What about a favorite fashion week moment so far this season? I don't really have one this season, not yet. I've still got Paris to go, so there might be a moment there, but I just enjoy being a part of all the shows.
How do you choose which shows you do? I'm usually really selective with what I do. I don't know, I mean, it's just a show of interest. I'm usually down to do it for someone that's just supporting me. If they want [me], I'm usually very grateful to do it.
Are there any shows you like to do every season? Well, I enjoy doing Dior, I enjoy doing YSL, I enjoy doing Balenciaga . . . Marc Jacobs, Gucci, and loads of other ones. There's a long list. I've had so much support in the fashion industry, and that is really major. I really take in and embrace every moment in my life.
Speaking of Dior, what do you think about everything that has been going on with John Galliano? Well, I think that John Galliano is a genius. I've been working with him since I was young, and I admire him. I just wish for him the best.
Do you think that you'll reach out to him? I don't know, I don't know . . . I have to get to Paris first. I don't know what's going to happen.
And you head to Paris for fashion week tomorrow? Yes, but I'm not sure exactly which shows I'm doing yet. But whatever shows, it's going to be good.
What's the first thing you plan to do after Fashion Week is over? Take a vacation somewhere very tropical and get away. Hopefully I'll be working. Maybe — I guess I'm a workaholic — if there's somewhere really nice that I could go for vacay and for work, that'd be awesome.
Any place in particular you were thinking? Anywhere in the Caribbean I'm pretty much down for. I like the Bahamas, and I've wanted to go to Jamaica for a long time. I might even go to Hawaii. I really don't know where I'm going, I just know I'm going somewhere beautiful and nice where I can relax and not think about anything else but the beach.
There have been a lot of images or editorials over the last couple of years that feature all black models — you just appeared in one called "The Black Allure" for Italian Vogue's February 2011 issue. How do you feel about these types of spreads? Do you feel like they are gimmicks or do you think they help take steps toward more inclusion in fashion? Edward Enninful is an amazing stylist for Italian Vogue, and he called me up and he asked if I would be a part of that story. Of course I said yes. I think that anything that's going to help better the community and [allow it] to stick together and stand strong, I'm definitely going to be a part of. The story came out beautiful.
So you find them empowering? I think that [diversity] is becoming a very very huge thing for the market. I think that it's 2011, and it's definitely time for change. And I'm just really grateful to be a leader in helping that change.
Who are your closest model friends? Well, my best friend, Heidi Allende — she's a commercial model and I love her so much. I'm friends with Karlie Kloss, Jourdan [Dunn] . . . I don't know, I mean, I have all different types of friends, whether they're models or not models.
Did you do anything for Valentine's Day? I flew back from LA the day before Valentine's Day, so I arrived on Valentine's Day in New York and had to work through all day. I was in the studio [shooting for Victoria's Secret advertising]. I didn't do anything romantic, didn't have anybody to do romantic things with. I was very focused.
For a long time, you said your goal was to be a Victoria's Secret Angel. Now that you are one, what do you feel like is your next goal for your career? I'm very grateful for all my experiences. I don't know what the future holds ahead for me, but whatever it is, I know that it's going to be an amazing experience. I love working, I love being a part of Victoria's Secret, but of course there are other opportunities out there for me that I'm looking forward to.
What kind of career legacy do you want to have? I just want to leave knowing that I made an impact in the community and in our industry, in high fashion.
Do you see yourself as the Tyra Banks or the Naomi Campbell for the next generation? No, I look at myself for who I am. I think those girls are good at what they do, and they have an amazing name for who they are. I'm my own person, and I want people to know me for who I am.
Any recent shoots or work people might not know about? I'm really excited about the Victoria's Secret summer commercial [filmed in LA with director Michael Bay] — it was a lot of work, a lot of effort, a lot of time. It's supposed be one of the hottest, sexiest summer commercials.
Any guilty pleasures? When I'm in the hotel, I order the chocolate molten cake with ice cream. That's my go-to.
What would you really like to accomplish this year, personally or professionally? i just want to be the best I can be be in my industry, and I just want to experience being 20 years old, being able to do what I want to do and enjoy it.
And what are you up to the rest of today? I've actually got to run back to the Victoria's Secret store in SoHo to do a photo op with customers because we just launched our new Incredible bra collection. And I've really got to get some rest, I've been literally nonstop. So take a nice little bath, relax, and catch up on some rest.