Secret Weapon
The Danish artist Thomas Poulsen, better known as FOS, is Celine's man behind the scenes.
---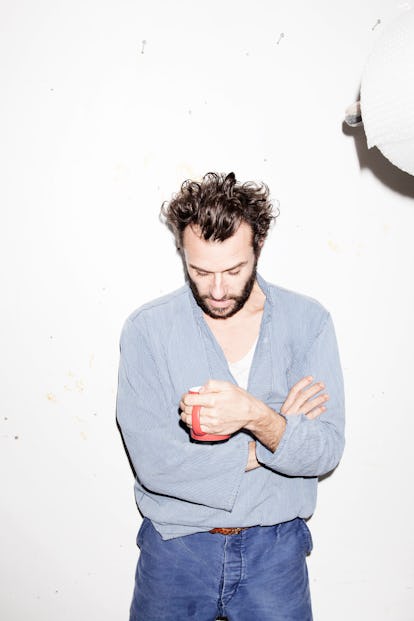 Phoebe Philo's tenure at celine has been shaped by a series of quirky, esoteric associations, from Juergen Teller (who shoots the campaigns) to Isa Genzken (whose 2013 Museum of Modern Art retrospective was backed by the French house). And when conceiving the Céline flagship in London, her hometown, Philo treated the project like a site-specific commission, tapping the Danish artist Thomas Poulsen, better known by the opaque moniker FOS, to oversee the furniture and decor for the space. Poulsen's architectural aesthetic and penchant for socially engaging environments made him a natural fit for the increasingly concept-driven French house. "Usually when brands collaborate with other designers, they want to dictate everything they do," says Poulsen, who was given carte blanche. "Phoebe trusted me to do what I wanted."
Rather than relying on a grand centerpiece or radical palette, the design for the boutique hinges on the dynamic sense of balance Poulsen creates by juxtaposing unlikely elements and materials. To encourage exploration, he broke up the shop into small vignettes: In one corner, his towering Street Lamp, an elegant wood-and-bronze light fixture anchored in a mound of rough concrete, holds court; in another, a monumental terra-cotta planter introduces a touch of earthiness to the otherwise streamlined setting. Overhead, spindly wire chandeliers illuminate the mixed-marble floor, which, at first glance, looks like planks of exotic wood. Resplendent in their luxurious execution, Poulsen's offerings provide a rich ecosystem that complements Céline's rotating collections. Philo was so happy with the results, she asked the artist to adapt his concept for the New York store as well.
Poulsen, who grew up in Copenhagen, where his grandfather owned a modernist-furniture shop, is almost too well versed in the history of design and is careful to delineate between solution-based projects like his work for Céline and his art. He coined the term "social design" to encapsulate his distinctively humanistic practice, which ranges from experimental video to low-income housing to a floating bar he created for the 2011 Venice Biennale as a satellite space for the Danish pavilion. "Design and art have different laws," Poulsen says. "Design needs to flat-pack, resist wear, address a function. Art needs to present something that hasn't been seen."
Next up is the Céline spring 2016 runway show this month in Paris, which Philo invited Poulsen to reimagine. Poulsen—who is no stranger to performance—talked about his instinct to bring the backstage infrastructure to the forefront. "As an artist, I have a wish to intervene in a certain way," he says. "I want you to hear the sounds of the models being prepared. I want what is normally hidden to come to the surface." Aside from some hints about a free-range photographer pit and a cabinet of curiosities based on his custom jewelry vitrines, the artist is careful not to disclose too much. As his pseudonym suggests, he puts a premium on privacy. He doesn't participate in social media and is virtually unsearchable online. Operating behind the scenes, Poulsen gives his viewers the space to draw their own conclusions. "I have a website, but it hasn't been updated since 2003," he says. "Everyone is constantly looking at their phones. I prefer to engage with reality."
A 2011 portrait of Poulsen. Photo by Paw Gissel/Courtesy of the artist and Max Wigram.
Poulsen's Koøje, an installation at Kunsthal Charlottenborg, in Copenhagen, 2015. Courtesy of the artist, Kunsthal Charlottenborg, Max Wigram.
Osloo, 2011, part of the Danish Pavilion at the 54th Venice Biennale. Courtesy of the artist and Max Wigram.
A Céline fall 2015 look. Courtesy of Celine.
The Céline store in London, featuring FOS pieces. Courtesy of Celine.
A FOS table made of bronze, brass, and glass. Courtesy of Etage Projects.