The Thor vs Stranger Things Casts: Who Had The Best Late Night Theater Kid Moment?
The casts of Thor, Stranger Things, Channing Tatum and Jonathon Groff all reached into their inner theater kids this week for late night. Who did it best?
---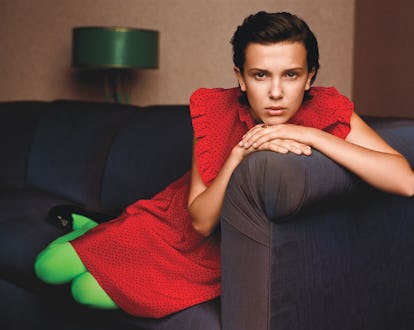 Photographs by Alasdair McLellan, Styled by Edward Enninful; Hair by Shay Ashual at Art Partner; makeup by Diane Kendal for Marc Jacobs Beauty at Julian Watson Agency; manicures by Casey Herman for Dior at the Wall Group. Set design by Stefan Beckman at Exposure NY.
Used to be when a celebrity wanted to plug their project on late night television, all they'd have to do is tell a cute anecdote, laugh at some Johnny Carson jokes, pat Ed McMahon on the back, make polite small talk with the night's other guest, say, esteemed American novelist John Updike, watch Bob Denver play a song and be on their merry way.
Now, to really make an impact among the crowded late night circuit, celebs have to give audience the full razzle dazzle and channel their inner theater kid. They've really got to sing…or dance…or lip sync…or do interpretive mime for their supper. Even better if there are other celebs involved.
For whatever reason, the late night crew really went hard on pulling out all the stops this weekend. The cast of Thor: Ragnarok, including Chris Hemsworth, Cate Blanchett and Jeff Goldblum, joined James Corden in a a live "4D" experience of the the upcoming movie. The kids of Stranger Things turned Jimmy Fallon's dance-off on its head. Elsewhere, Channing Tatum got an assist from Ellen DeGeneres for a dance number of his own while filling in for Jimmy Kimmel. Actual theater kid Jonathan Groff also went back to his roots by imagining what a Manhunter musical would sound like for Stephen Colbert.
So, who did it better? Let's take a look:
The Cast of Thor Go 4D
James Corden enlisted the cast of Thor: Ragnarok for a 4D version of the movie, which, as it turns out is just a really bad live theater production of the movie. Our favorite part: how completely unamused Cate Blanchett is by the whole thing.
The Stranger Things Boys Dance for Jimmy Fallon
Fallon had Finn Wolfhard, Gaten Matarazzo, Caleb McLaughlin and Noah Schnapp take a go at his "dance move generator" for his dance battle segment, which was apt. As we remember from the Golden Globes after parties, we all know these kids really love to dance. The twist? All the dance moves were Stranger Things-inspired. Matarazzo in particular really kills it with his interpretation of "flashlight with a mind of its own."
MC Millie Bobby Brown
Of course, the boys had a lot to live up to. Brown dropped by the show earlier in the week and dropped a surprisingly fire rap.
Mindhunter: The Musical
Tony nominee Jonathan Groff has certainly strayed far from his Broadway roots with his latest work in the gritty, David Fincher-directed Mindhunter, but you can't keep a theater kid from theater kidding. So, naturally, we get Mindhunter: The Musical. "The mind I'm really hunting is my own," he croons. Ok, it's not exactly Hamilton.
Channing Tatum Being Channing Tatum
Filling in for Kimmel this week, Tatum did, well, what we've come to expect of Tatum when he's on a late night show: bust out the moves. This time it was in especially epic fashion.
So, who reigned supreme?
Millie Bobby Brown, obviously. Not only was her rapping the most surprising moment on late night this week, but it's basically her world at this point and we're all just living in it.
Related: Channing Tatum, Hollywood Unicorn, Goes Full Unicorn For Halloween
Millie Bobby Brown Does Her Best Karaoke Version of Bruno Mars' "Just the Way You Are":