Thylane Blondeau Was Just 3 Years Old at the Height of the Juicy Couture Mania, But Now She's the Face of the Brand
The 16-year-old model talks style.
---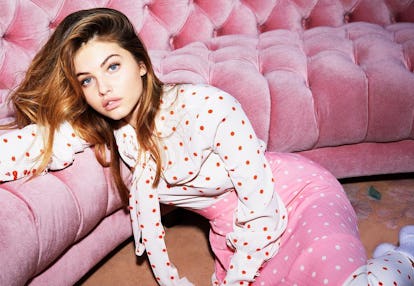 Back in 2004, you couldn't open up a gossip magazine without spotting an It-girl wearing a Juicy Couture velour tracksuit. Celebrities like Paris Hilton, Britney Spears, and Jennifer Lopez were obsessed, and in turn, so was the world. Back then, Thylane Blondeau was just three-years-old, not exactly in the market for a velour tracksuit and still a year away from her modeling debut). Cut to 2018, and Blondeau is now 16 years old, and Juicy Couture is back in a big way, with a new creative director, Jamie Mizrahi, and plans to show at New York Fashion Week for the Fall 2018 collection. For their Spring 2018 campaign, the brand tapped Blondeau as face of the brand. Here, the model talks about her first memories of the brand, and her current fashion obsessions.
What is your first memory of Juicy Couture?
My mum bought my first Juicy track suit at maybe 10 years old. It was a total black one I loved it so much.
There is a lot of nostalgia surrounding this brand—are there any fashion moments from the past that you are obsessed with?
Of course the Juicy tracksuit is such an iconic piece. I'm obsessed with Rosie Huntington-Whitely and Taylor Hill who have done Juicy before.
What do you think about the new Juicy Couture?
I love it! It's so fresh and young and wearable.
What is your go-to off-duty look?
I like to have a sporty vibe when I'm not working.
How would your describe your personal style?
Cool, casual, sporty, rock.
What is your biggest fashion rule?
Always have the best shoes ever.
Who is your style icon?
It's Gigi Hadid.
What are your current fashion obsessions?
I've been obsessed about fashion ever since I was little and my mum was dressing me like no one else…now I'm obsessed about so many clothes. I love all types of footwear, especially sneakers. I also like to mix sporty bottoms like the new Juicy cashmere track joggers with heels.
What are your plans for the upcoming fashion month?
I'm still working on my schedule for fashion month. Lots of traveling is in the works! I'll be sharing my adventures along the way.
What is your favorite thing in your closet right now?
I love to dress sporty and casual. My favorite things in my closet right now are my sneakers, especially Chanel x Pharrell tennis shoes and my Off-White sneakers. They are perfect to wear with my Juicy track suits! I also incorporated some of my favorite fashion pieces from the Juicy shoot into my wardrobe, like that polka dot skirt.
Related: Thylane Blondeau, French It Girl and Fashion Week's Front Row Muse, Is a Master of the Selfie