Rapper Tierra Whack Endorses Staying Hydrated and Watching The Unbreakable Kimmy Schmidt
The quick-witted 22-year-old up-and-comer reveals the pop culture inspirations behind Whack World, her 15-minute-long audiovisual album.
---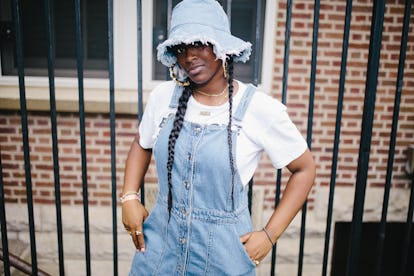 Sam Keeler
Tierra Whack burst onto the scene seemingly out of nowhere in May 2018, when the 22-year-old Philadelphia native constructed an unprecedented playful universe with Whack World, her debut project that exists in the realms of both the aural and the visual.
The experimental project, which comprises 15 tracks, and is 15 minutes in length, seems to convert even the most skeptical listeners into fans. Equal parts Missy Elliott, Dr. Seuss, and Whack's own brand of surrealism, Whack World feels like a groundbreaking treat, but it's also a clear test of our ever-dwindling attention spans. How can you decide if you love or hate something if it only lasts for 60 seconds? After a second or third pass of each track, they change and evolve. Untangling the complexity feels like a relief.
But that's not to say there isn't immediate enjoyment of Whack's work, as well. Her tracks are insanely catchy. Whack joins the roster of female rappers similar to the likes of Junglepussy and CupcakKe, who bring it upon themselves to unpack the quotidian experiences and struggles we all go through at one point or another, like attempting to eat healthy (as exemplified on Whack's bubbly 11th track, "Fruit Salad"), missing a dead dog (she opens up about her long-gone pup in "Pet Cemetery"), or even just telling a dude to skip town and leave her the hell alone ("F–k Off" is about that very situation). Whack constructs an entire world within the absolute minimum amount of time required of an artist. Keep it brief, keep it comical, and keep it playful appear to be her mantras.
Who else, then, would be more perfect for a rapid-fire question-and-answer session about popular culture than the quick-witted Tierra Whack? During her brisk and entertaining set at the 2018 Pitchfork Music Festival, where Whack was a last-minute addition to the lineup after Odd Future's Earl Sweatshirt mysteriously dropped out barely a week before the show, the artist spit some the spiciest, speediest flow her new fans had likely heard all weekend. Fresh off the Chicago stage, Whack then indulged W with a whirlwind interview about her pop culture obsessions and inspirations for her audiovisual album, which you can read below.
What's the biggest pop culture influential on Whack World?
Social media, I guess. Yeah.
What are some of your favorite social media accounts to follow?
I love @love.watts on Instagram!
What's the first thing you do when you wake up in the morning?
Go to the bathroom! [Laughs.]
What books are you reading right now?
I just read a Dr. Seuss book. Green Eggs & Ham.
What television shows have been keeping you up at night?
TV shows… I've been watching In Living Color. And Regular Show. And I've been watching this show on Netflix called Unbreakable Kimmy Schmidt!
What's the last movie you saw in theaters?
Jurassic World.
What's the last song you had on repeat?
It was Outkast. No, it was a song by Andre 3000.
Are you into astrology at all?
Yeah, I'm a Leo. My birthday is August 11th!
Well, happy early birthday! On "Fruit Salad," you rap about taking care of yourself and eating your fruits and vegetables to keep your cholesterol low. What's your No. 1 self-care tip?
Drinking water!
What are your favorite fruits and vegetables then?
I like strawberries, kiwis, and oranges. I like to peel oranges. And vegetables, I like broccoli. [Laughs.]
What are some pop culture moments you've been obsessed with right now?
I really like this new TV show, Unbreakable Kimmy Schmidt. I like it so much. And what else? What do I like?
Who were you most excited to see at Pitchfork?
Definitely, Syd! I got to meet her group.
What's the last thing you do before you go to bed?
I turn my light off; that's what I'm gonna do. This was fun! I like those questions; that was fun! This was different!
Related: When Moses Sumney Isn't Wearing Black, He Usually Regrets It