When Moses Sumney Isn't Wearing Black, He Usually Regrets It
The Eckhaus Latta-approved musician on his "vampiric" look and where to find the absolute best Goodwill in any city.
---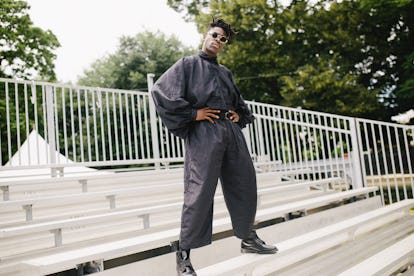 Sam Keeler
When Moses Sumney takes the stage at the Pitchfork Music Festival on an overcast Saturday afternoon in Chicago, he's dressed like himself. That's to say, he's wearing black: wide black pants that narrow at the ankle; a black button-down top with bishop sleeves; black lug-soled combat boots, their laces woven in an intricate flat panel in lieu of a bow tie; and wire-framed, round-lensed sunglasses perched atop his nose. It's a custom ensemble by his current brand of choice, the self-described "nongender, nondemographic" label 69.
Since releasing his debut full-length album Aromanticism last year, Sumney has quietly cultivated a strong aesthetic, forgoing color and shape in lieu of dramatically pleated, boxy, and black outfits, acquiring fashion credits—a front-row seat at Virgil Abloh's Louis Vuitton debut, a request to score a recent Eckhaus Latta show at New York Fashion Week, a Thom Browne look in which to appear at the Oscars—in the process. When we met, he was fresh off a tour of Paris Fashion Week and in the midst of writing toward a new record with a new visual language. A few hours before he took the stage, he weighed in on how his Ghanaian relatives have influenced his style, the designers he's eyeing, and where to find the absolute best Goodwill in any city.
What's your first memory of fashion?
Oh, that's interesting. My first memories are not memories of me, because I didn't have much style when I was younger, but they're memories of my family, because I come from a very stylish family. My entire family's from Ghana, West Africa, and I think I just remember my parents—my parents were always very well-dressed. There was always some kind of African flair to the way that they dressed. My mom was actually a seamstress in the '90s and she would make custom African outfits for people. I've actually never been asked this, so I've never thought about it. My first memories of fashion are probably my mom's store when I was like, four, five, six; it was her sewing clothes for people.
Did she make you things?
I don't remember. I don't think so. There is a photo somewhere of me in a suit when I was like one year old or something, but I'm not sure if she made it.
So when you say African flair, what did that look like?
You know, it's usually oversize things or long gowns or, like, drapey clothes for men and women. My dad's a pastor, so a lot of the clothes he would wear kind of fell into the fits that you'd find in priesthood, which is usually, like, stuff that feels like gowns or dashikis. It also usually meant prints, like, really West African-detailed kente cloth prints were pretty popular. My dad had to wear suits a lot for conferences and he would always sew a patch, and he still does sew a kente cloth patch onto his suit to give it a personalized, African feel.
So how did growing up with that influence your look later?
I never thought it was influencing me, but I realized now, I've come to a place in my style where I'm really obsessed with oversize clothing, and I think part of that is probably just from seeing African men dressed in dashikis. It's a lot of fabric all the time. I also like the idea of being priestly. When you're on stage it feels like being on a pulpit or presiding over a congregation, in a way, so I think that subconsciously got into my head. I don't really wear prints or extravagant colors and stuff.
Do you have a go-to stage look?
Well, I only wear black. I'm really into this brand 69. This is all 69 [gestures to look], and they've been custom-making clothes for me for like a year now, so a lot of my looks are just 69 looks and it's great because it's all oversize black stuff, but stuff that moves, stuff that gives you room so it's not too hot on stage but it also creates a really interesting silhouette.
How did you start working with them?
I was in London and I met someone who works with them, Daniel Hettmann. He works with Band of Outsiders. He was like, "Hey, I work with this brand, you should get in touch with them." I had seen them online, and I really liked their stuff, but I didn't have an entry point, so he introduced me to them and I went to their space in L.A. and we really just hit it off. It was the first time I really found a brand where I was like, Oh, wow, this is exactly how I see myself, and you're already making clothes like this. It's quite hard to find clothes for me.
Why is that?
Because I like a very specific thing. I only wear black; I liked things to be oversize, but also I'm six feet four already, I'm already tall, I'm kind of a large person, but then, I want stuff to be really big. It's hard to find stuff that really fits me. Maybe I'll go to a Big and Tall, but those clothes are for really big people. I'm always punching up, you know, trying to get sizes that don't exist.
So, you put out Aromanticism last year. Does that have a look to you? Is there a style that goes with that, specific to that record?
That's a good question. I don't know if there's a fashion or clothes look to it. I have kind of refined the way I dress since then. Before then, I kind of preferred black but I would wear earth tones and stuff, and since it came out, I think I've been a bit more strict about what I wear, so I feel like maybe I'm in a bit of a specific period or era of my life and the albums become the markers or the goalposts of an era in an artist's life. I think there's a look associated with it, but I don't know if it's necessarily of the music. The album itself, though, the photos and the music videos, I've tried to develop a visual aesthetic that feels cohesive.
How would you describe it?
Emotional, desolate, [laughs], a little dark, soulful, raw.
Have you been writing much since you put it out?
I have, yeah. I'm trying to write another record right now.
Do you think it has a different look to it?
Yeah, I think I want it to be a little bit more abrasive, visually. So we'll see how it pans out. I'm also interested in the color gray, and black and white.
So you did the Eckhaus Latta show last year. Were you super familiar with the brand before that? How did that come about?
I was familiar with the brand because I saw some of their pieces in the Hammer Museum a few years ago, and I wore an Eckhaus Latta jacket, a limited=edition jean jacket, for a shoot I did for Flaunt magazine two or three years ago. I was familiar with them, and I had seen their, like, they did this ad campaign where it was people having real sex. Did you see that?
Yes.
It was a lot. So I was familiar. I weirdly can't remember exactly how it came about. Someone who works with me, I had been trying to find an entry point into fashion, and someone knew them and told them about me, and I think they were familiar. I think what it was is I was trying to figure out going to the show and I was just going to attend, and they were like, "Oh, instead of having Moses attend, will he perform and live-score the show?" I was like, "Okay, I've never done anything like that before." It was my first time even being at fashion week, so it was cool.
That's quite an entry.
Yeah, it's nice to go and have a reason to be there. I mean, going and watching shows is a reason, but to be a part of it is really nice.
I remember the first season I saw Eckhaus Latta, they had Dev Hynes DJing it.
They always have an artist making something. It's nice.
And artists walking in the shows—it's sort of more participatory.
Yeah.
You also did Paris Fashion Week this season?
I just did Paris Fashion Week. It was crazy. I sat front-row at the Louis Vuitton show; I don't know how I got there. I'm not sure why they invited me. I feel like I scammed them, honestly. But it was really funny because everyone in the front row is really famous. It's like, the musicians are all major-label artists and then I was the one indie kid that was like, "Hey, guys." But that was cool, being at Virgil's first show for Louis Vuitton. It was so beautiful. I was so moved by it. I sang with BadBadNotGood at the after party, which was really cool. I went to the Kenzo show, got to sit front-row at that. That also had live music. I went to the Y-3 show. I went to the Thom Browne show, which was so weird.
I love Thom Browne. It was heartbreaking when he left New York because I loved going to that one.
It's a show. It's like being in the theater, really. I was blown away by the attention to detail. They really push to make it outside the box. It's really rare. I find men's fashion kind of difficult because, to me, it's kind of boring. Maybe it's because I don't understand the utility of the tailored suit, but I'm also over it. I'm quite over the tailored suit being the only option for men, and I think Thom Browne does a good job of taking the classic, traditional look and stretching it out or finding an angle on it that feels fresh and sometimes weird, which I really appreciated, or just well done. So I loved that show.
Your look in three words—how would you describe it?
Oh. Vampiric, Romantic—as in the Romantic era—and priestly.
Those are good ones. Do you vintage-shop much? Do you have any favorite vintage stores in LA..?.
I do. But in L.A., it's been a while—I'm into the Painted Bird in Silver Lake. You know what's really my shit? Goodwill. And I claim that with so much pride and joy. I fucking love Goodwill. I know every Goodwill in LA and which ones are the good ones. You've got to go to the ones where the old people live, in the neighborhoods where the old people live, because they've got the nicest shit.
It's the same in New York.
Right. Oh, my God, the Goodwill in Harlem is my shit. There's two Goodwills in Harlem. The smaller one is amazing.
What's your best Goodwill find?
This women's jacket that has a bag for a pocket which the entire jacket folds into. I cut the arms off to make it fit me.
What about boutiques in general?
Honestly, I rarely shop at boutiques. I feel like I know the people that I want to make my clothes. [Laughs.] I never really go to boutiques. You know who I like, though? There's a German designer named Desiree Klein. She had a boutique in L.A. for a while. That was really beautiful. I rarely go shopping—I have so many clothes that I try to not.
Oh, you know where I really like to shop? You know the T-shirt outlet stores, the outlet stores for clothes where you can essentially buy clothes in bulk—if you're a nurse, you can get nurses' outfits and school uniforms? I get a lot of my clothes from there. If I need a t-shirt, I usually get a 7-X T-shirt. One of my favorite things is this T-shirt that I got from one of those outlet stores and I cut it in half and it looks amazing. People are always like, "What boutique is that from?" I'm like, "It was four dollars, calm down."
Do you have any favorite pieces?
I love this shirt so much. I mean, it's so corny but all my favorite pieces are 69 looks. I have so many. I have this in a poplin material that's really nice. I have these overalls from 69 that are just so dreamy. I have a lot of jumpsuits. I have an extensive jumpsuit collection. I have quite a few favorite looks, but most of them, at least in the past year, are 69 pieces.
Do you have a different nighttime look?
No, not really—I just will throw on a jacket.
When you're getting dressed, what piece do you build the rest of the look around?
Oh, interesting. Pants, usually. Yeah, the pants, mostly because I almost wear the same pair of pants every day, or similar, but I try to visualize what I want to wear before I get dressed because it takes me a long time to decide.
Who is your style icon?
Again, vampires. Vampires from the 19th century. I really liked the movie, what is it called? The movie from the '90s with Tom Cruise and Brad Pitt. Interview With a Vampire. Antonio Banderas has a look that's amazing. Also, Grace Jones. If there's any living human, Grace Jones, by far.
What was your last purchase?
These sunglasses. I got them from a vintage store in London, somewhere on Brick Lane.
What is on your wish list?
I'm going to start wearing glasses, like prescription glasses. I wear sunglasses all the time, but I need to start wearing glasses, so I'm now kind of looking at the perfect frames because I think I'll just always be in glasses going forward. So that's something I've been thinking about a lot. Apart from that, I want to keep getting custom looks for stage.
Are there any designers you have your eye on next?
Thom Browne. I've kind of worked with them, but we've been talking about doing something custom, so I think that would be a dream come true.
What have you done with him?
I sang at the Oscars with Sufjan Stevens and I wore a Thom Browne look to all the events. That was my first time working with them, getting clothes and figuring out together, and I did a whole photo story for Vogue that was based around this Thom Browne look. That was the main thing, and then going to their show and they dressed me for that. That was my first time being dressed by a high-fashion brand.
What's your most prized possession?
[Laughs.] A pair of pants from 69. And sunglasses.
Is there a thing you always wear?
I can't live without sunglasses. I have to have them every day, all the time.
What are you listening to right now?
Panda Bear. I'm obsessed with Panda Bear. And this artist from Montreal named Un Blonde. Super indie, super small.
What are you reading?
I'm reading A Brief History of Seven Killings, by Marlon James. It's so good. It's been out for quite a few years. I didn't expect to love it as much as I did.
What's the last movie you saw?
All the Money in the World. I watched that on the way here. I watch movies very often on planes because I'm flying all the time.
What was the last movie you loved?
Last movie I loved, oh, my Gd, I saw Boys Don't Cry for the first time a few weeks ago. It ruined me. I watched that back-to-back, actually, with A Fantastic Woman. I watched them literally back-to-back, and it was so interesting watching something from the early '90s with everything I know about the politics around modern trans identity, which is still evolving.
How did you dress as a teen?
Oh, god, horribly. [Laughs.] I had no style as a teenager, but my older sister was the stylish one, and she was really into urban stuff, so there was a point when I would wear like, Phat Farm and Akademiks.
Did you borrow things from her?
No, no, no, no. I was very much trying to dress like a boy. But I think I was kind of inspired to be hip-hop in my early teens. In my late teens, I was preppy. I wore fake glasses and sweaters and polo shirts.
What is your biggest fashion regret?
[Laughs.] Every time I'm not wearing black and I let someone take my picture. I regret it deeply. It happens often. Well, not as much these days, but in the past year. I just don't feel like myself.