Celebrities Got Very Emotional During Virgil Abloh's Historic Louis Vuitton Men's Wear Debut
Cheers were shouted and tears were shed, so it's safe to say Abloh's statement that "you can do it too…" was well received by the A-list crowd.
---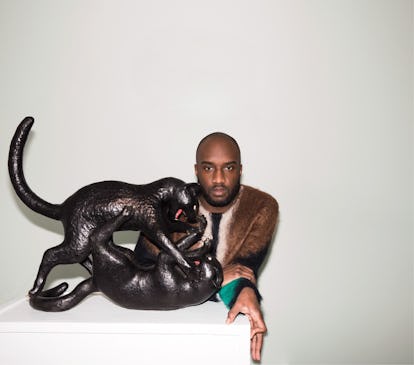 Photographed by Walter Pfeiffer. Sittings editor: Hannes Hetta. Set design by Jean Michel Bertin at Streeters London.photography assistants: Torvioll Jashari, Aline Blocman; fashion assistant: Evens Jean-Pierre
Virgil Abloh's men's wear debut for Louis Vuitton made a splash at the Palais Royale in Paris, sending a strong message regarding the importance of diversity in the fashion industry.
As Louis Vuitton's first African-American creative director, Abloh is also one of the only black designers to have ever been appointed to lead a heritage fashion house, with Ozwald Boateng and Olivier Rousteing coming before him as black designers at Givenchy and Balmain, respectively. On Thursday afternoon, Abloh set up a rainbow runway that heavily featured black models and other models of color who paraded down the lane in Abloh's designs, playing into the designer's show concept of globalism and diversity. Many cheers were shouted and some tears were shed, so it's safe to say Abloh's statement that "you can do it too…" was well received by the A-list crowd.
The significance of Abloh's debut was lost on no one in attendance—Miguel posted a video to his Instagram Stories that he was "en route to watch history be made" at the designer's Louis Vuitton men's wear debut, with a front row consisting of Bella Hadid, Rihanna, Naomi Campbell, Kim Kardashian, Kanye West, Kylie Jenner, Moses Sumney, and Rita Ora.
The runway show was an emotional reunion for many who shared their touching messages for the designer on social media. Rihanna, who arrived wearing the new Louis Vuitton collection before it was even shown on the runway, posted a photo before the show, with a caption that said she "witnessed black history in off white," an obvious play on the streetwear label that launched Abloh into superstar status. Two of Diddy's sons emphasized the "black excellence" on display during the show, in terms of the designer behind it all and the models on the runway, as musicians Kid Cudi, Playboi Carti, and Steve Lacy walked while the Toronto-based Badbadnotgood played live music. Bella Hadid snapped a photograph of the runway to capture the underdog spirit of the debut. "Tears of happiness all around ? Congratulations for one of the most historic days in fashion. We are all so proud of you @virgilabloh . Absolutely magnificent. Life changing if I do say so myself," she wrote.
The joyous Louis Vuitton men's wear show also doubled as an occasion for Kim Kardashian's "emotional" trip back to Paris for the first time in two years, since she was robbed at gunpoint in October 2016. She and her husband flew to Paris to support Abloh, who finished his show by crying into the arms of none other than fellow Chicagoan Kanye West, proving there's no bad blood between the two, despite reports of a minor feud brewing after Abloh's appointment to Louis Vuitton was announced in March.
Related: The Best Looks From Virgil Abloh's Louis Vuitton Debut Collection
The Best Looks From Virgil Abloh's Louis Vuitton Debut Collection
On the runway at Virgil Abloh's first Louis Vuitton Men's runway show at the Palais Royal at the Place Colette in Paris, France. Photo by Molly SJ Lowe for W Magazine.

www.mollysjlowe.com
On the runway at Virgil Abloh's first Louis Vuitton Men's runway show at the Palais Royal at the Place Colette in Paris, France. Photo by Molly SJ Lowe for W Magazine.

www.mollysjlowe.com
On the runway at Virgil Abloh's first Louis Vuitton Men's runway show at the Palais Royal at the Place Colette in Paris, France. Photo by Molly SJ Lowe for W Magazine.

www.mollysjlowe.com
On the runway at Virgil Abloh's first Louis Vuitton Men's runway show at the Palais Royal at the Place Colette in Paris, France. Photo by Molly SJ Lowe for W Magazine.

www.mollysjlowe.com
On the runway at Virgil Abloh's first Louis Vuitton Men's runway show at the Palais Royal at the Place Colette in Paris, France. Photo by Molly SJ Lowe for W Magazine.

www.mollysjlowe.com
On the runway at Virgil Abloh's first Louis Vuitton Men's runway show at the Palais Royal at the Place Colette in Paris, France. Photo by Molly SJ Lowe for W Magazine.

www.mollysjlowe.com
On the runway at Virgil Abloh's first Louis Vuitton Men's runway show at the Palais Royal at the Place Colette in Paris, France. Photo by Molly SJ Lowe for W Magazine.

www.mollysjlowe.com
On the runway at Virgil Abloh's first Louis Vuitton Men's runway show at the Palais Royal at the Place Colette in Paris, France. Photo by Molly SJ Lowe for W Magazine.

www.mollysjlowe.com
On the runway at Virgil Abloh's first Louis Vuitton Men's runway show at the Palais Royal at the Place Colette in Paris, France. Photo by Molly SJ Lowe for W Magazine.

Philippe Respaut
On the runway at Virgil Abloh's first Louis Vuitton Men's runway show at the Palais Royal at the Place Colette in Paris, France. Photo by Molly SJ Lowe for W Magazine.

www.mollysjlowe.com
On the runway at Virgil Abloh's first Louis Vuitton Men's runway show at the Palais Royal at the Place Colette in Paris, France. Photo by Molly SJ Lowe for W Magazine.

www.mollysjlowe.com
On the runway at Virgil Abloh's first Louis Vuitton Men's runway show at the Palais Royal at the Place Colette in Paris, France. Photo by Molly SJ Lowe for W Magazine.

www.mollysjlowe.com
On the runway at Virgil Abloh's first Louis Vuitton Men's runway show at the Palais Royal at the Place Colette in Paris, France. Photo by Molly SJ Lowe for W Magazine.

www.mollysjlowe.com
On the runway at Virgil Abloh's first Louis Vuitton Men's runway show at the Palais Royal at the Place Colette in Paris, France. Photo by Molly SJ Lowe for W Magazine.

www.mollysjlowe.com
On the runway at Virgil Abloh's first Louis Vuitton Men's runway show at the Palais Royal at the Place Colette in Paris, France. Photo by Molly SJ Lowe for W Magazine.

www.mollysjlowe.com
On the runway at Virgil Abloh's first Louis Vuitton Men's runway show at the Palais Royal at the Place Colette in Paris, France. Photo by Molly SJ Lowe for W Magazine.

www.mollysjlowe.com
On the runway at Virgil Abloh's first Louis Vuitton Men's runway show at the Palais Royal at the Place Colette in Paris, France. Photo by Molly SJ Lowe for W Magazine.

www.mollysjlowe.com
On the runway at Virgil Abloh's first Louis Vuitton Men's runway show at the Palais Royal at the Place Colette in Paris, France. Photo by Molly SJ Lowe for W Magazine.

www.mollysjlowe.com
On the runway at Virgil Abloh's first Louis Vuitton Men's runway show at the Palais Royal at the Place Colette in Paris, France. Photo by Molly SJ Lowe for W Magazine.

www.mollysjlowe.com
On the runway at Virgil Abloh's first Louis Vuitton Men's runway show at the Palais Royal at the Place Colette in Paris, France. Photo by Molly SJ Lowe for W Magazine.

www.mollysjlowe.com
On the runway at Virgil Abloh's first Louis Vuitton Men's runway show at the Palais Royal at the Place Colette in Paris, France. Photo by Molly SJ Lowe for W Magazine.

www.mollysjlowe.com
On the runway at Virgil Abloh's first Louis Vuitton Men's runway show at the Palais Royal at the Place Colette in Paris, France. Photo by Molly SJ Lowe for W Magazine.

www.mollysjlowe.com
On the runway at Virgil Abloh's first Louis Vuitton Men's runway show at the Palais Royal at the Place Colette in Paris, France. Photo by Molly SJ Lowe for W Magazine.

www.mollysjlowe.com
On the runway at Virgil Abloh's first Louis Vuitton Men's runway show at the Palais Royal at the Place Colette in Paris, France. Photo by Molly SJ Lowe for W Magazine.

Philippe Respaut
On the runway at Virgil Abloh's first Louis Vuitton Men's runway show at the Palais Royal at the Place Colette in Paris, France. Photo by Molly SJ Lowe for W Magazine.

Philippe Respaut
On the runway at Virgil Abloh's first Louis Vuitton Men's runway show at the Palais Royal at the Place Colette in Paris, France. Photo by Molly SJ Lowe for W Magazine.

www.mollysjlowe.com
On the runway at Virgil Abloh's first Louis Vuitton Men's runway show at the Palais Royal at the Place Colette in Paris, France. Photo by Molly SJ Lowe for W Magazine.

www.mollysjlowe.com