Dressing Up with Tiffany & Co
At a celebration of the Blue Book Collection.
---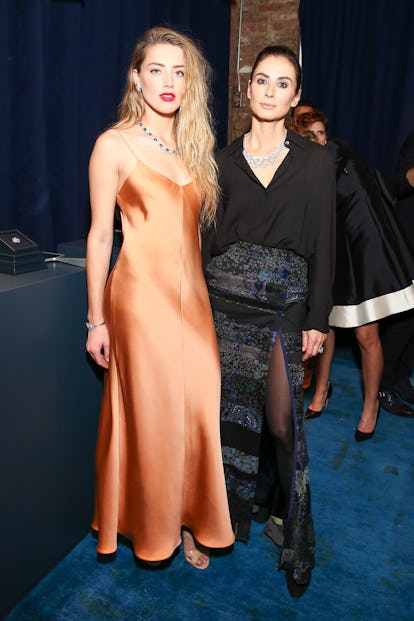 It's no secret the fashion crowd loves the New York eatery ABC Kitchen. But the three-deep throng of paparazzi on the street outside its entrance Wednesday night spoke to more than just a few casually famous diners. Instead, the boite was a sea of glamorous women (and gents), all turned out to toast the 2015 Tiffany & Co. Blue Book Collection, the brand's annual grouping of couture pieces. As the bidding started the next day for each, one-of-a-kind creation, Tiffany CEO Frederic Cumenal, Tiffany design director Francesca Amfitheatrof, artist Jack Pierson and Reese Witherspoon hosted a dinner with select pieces on view—and more importantly, available to try on.
"These pieces will get whisked up by clients tomorrow, so no one will see them. So it was really important to show them to friends and family of the house and have them be able to play with them before they disappear," explained Amfitheatrof (the 2015 Blue Book Collection marks her first since becoming head of design).
Of course, given it was Tiffany, "friends and family" carries a different meaning. Just feet away from where a seemingly unawares chef was mixing a huge bowl of kale salad for dinner, Amber Heard, Olivia Wilde, Dree Hemingway and Hannah Davis descended on the jewels. Once they chose their preferred pieces, they could pose for a portrait by Jessica Craig-Martin, who had a decadent tableau set up for the occasion (if only prom could have been this chic).
"Well, I think this goes well with the neckline of my dress," said ballerina Misty Copeland, motioning at a low-hanging aqua blue cabochon pendant. She was also sporting her own Tiffany piece, a gold necklace spelling out "Love." "My boyfriend got it for me and I never take it off unless I'm performing."
Nearby, Giants star Victor Cruz waited patiently for his turn in front of the camera with his fiancé Elaine Watley. Where was his bling?
"I already have a Tiffany watch," he said, pulling up the cuff of his jacket. Touché.
Witherspoon had, naturally, gotten a head start on the goods, showing up to the dinner wearing a tourmaline and diamond pendant necklace, tourmaline and diamond wave bracelet and pool ring, among other goodies.
"I just tried to pile as much as I could possibly pile onto my body," she said, her voice hoarse from all her promotional interviews for the film "Hot Pursuit." The actress had actually referenced another movie, "Sweet Home Alabama" earlier that day, specifically the scene in which Patrick Demsey's character proposes to hers in the flagship Tiffany's store. "My makeup artist was like, 'Get in there and reenact it!' And the guy I asked [a store salesperson] was so cute. I said, 'Will you do this?' and he was like, 'I'm gay and my husband is going to be so excited!'"
Indeed, the evening was very much an equal opportunity occasion. Pierson, who was commissioned to create artwork for the Blue Book itself, gamely tried on the same necklace as Copeland and posed with it. It proved an amusing change of pace.
"I wear a lot of crystals under my shirt, these are citrine," he said flashing his chest. "I'm not so much a diamond person."
Photos: Dressing Up with Tiffany & Co
Reese Witherspoon. Photo by BFAnyc.com.
Amber Heard and Francesca Amfitheatrof. Photo by BFAnyc.com.
Olivia Wilde. Photo by BFAnyc.com.
Edie Campbell, Jason Wu, Dree Hemingway, and Constance Jablonski. Photo by BFAnyc.com.
Aymeline Valade. Photo by BFAnyc.com.
Victor Cruz. Photo by BFAnyc.com.
Misty Copeland. Photo by BFAnyc.com.
Yasmin Le Bon. Photo by BFAnyc.com.
Hannah Davis. Photo by BFAnyc.com.
Doreen Remen, Yvonne Force Villareal, and Casey Fremont Crowe. Photo by BFAnyc.com.
Hiromi Sogo and Sumire Matsubara. Photo by BFAnyc.com.