Breaking the Waves
A perfect storm of diamonds and yellow and white gold.
---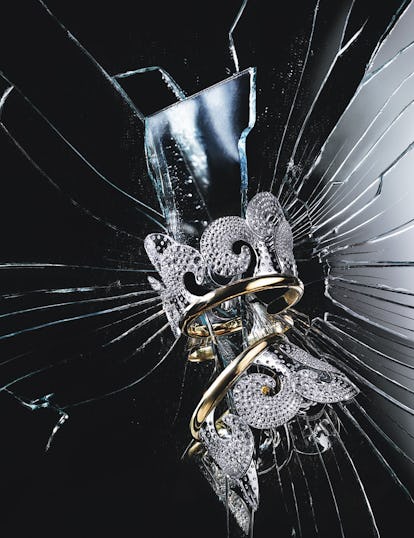 "Your heartbeat changes with the rhythm of the waves," says Tiffany & Co. design director Francesca Amfitheatrof, a longtime lover of the life aquatic. The Art of the Sea, her inaugural Blue Book couture collection for the house, which debuts this month, induces a similar effect. Inspired by a diving expedition she went on off the coast of Madagascar, it includes these breathtaking 18-karat yellow and white gold cuffs, which incorporate a graphic rose-cut diamond-embellished motif loosely based on a 19th-century Japanesque flask that Amfitheatrof discovered in the Tiffany archive. The cuff is meant to rest low on the wrist, lapping at the top of a woman's hand like breakers on the shore. Says the designer: "There's something so beautiful about having a cuff hiding your palm, so just your fingers come out of it."
Photography assistant: Eric Bissell.