Tiffany Haddish Asked Meryl Streep To Play Her Mom In Girls Trip 2
And the Oscar for best red carpet meet and greet goes to…
---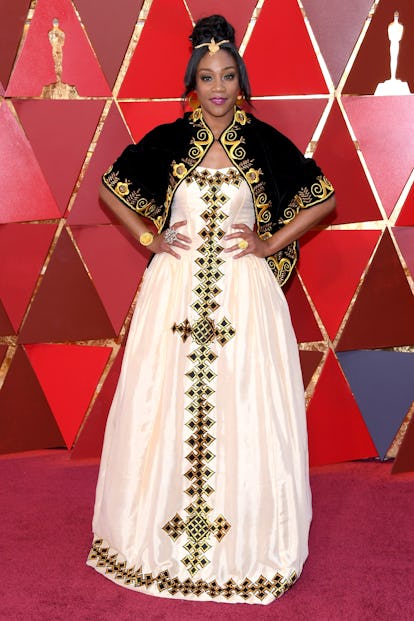 Kevork Djansezian
We've all had the pleasure and the privilege of witnessing Tiffany Haddish meet her idols multiple times over the past few months, from Beyoncé to Oprah. Now the trilogy of Hollywood heroes introduced to Haddish in the public eye is complete; she finally met Meryl Streep for the first time on the red carpet at the 90th Academy Awards.
When Tiffany Haddish met Meryl Streep at the Oscars, she did what any of us would do if given the opportunity—she asked her to be her mom. "You're gonna be my momma? You're gonna be my momma!" Haddish requested of Streep after hurdling over the velvet rope on the red carpet to meet the Oscar nominee. The two hugged and exchanged a few words, and Haddish curtseyed before Streep—as one should when in the presence of a 21 time Oscar-nominated legend—in her gown.
After Oprah surprised Haddish on The Ellen DeGeneres Show and brought her to tears, after she introduced Barbra Streisand to the magic of Cardi B, and after teaching us all how to take a selfie with Queen Bey, this introduction to Meryl Streep takes the cake for the best red carpet meet and greet.
The comedian further clarified what happened with Streep when she told Michael Strahan on the ABC red carpet that she'd want Meryl Streep to play her mother in the sequel to Girls Trip. The sequel to Girls Trip has yet to be officially announced, but would likely be a smash given the raunchy film's success at the box office last summer, and co-stars Queen Latifah, Regina Hall and Jada Pinkett-Smith appear to all be on board for a potential sequel as well. The next step for Haddish would be to send Streep an email with her request in writing, and if she can find the time after shooting the highly anticipated second season of Big Little Lies, in which she will play Alexander Skarsgård's mother, maybe Streep will lend her talents to the Girls Trip sequel.
Related: Oscars 2018: See What Everyone Wore on the Red Carpet