Tiffany Trump Moves to Washington D.C., But to Attend Georgetown Not Become a White House Adviser
The school is a short drive from the White House.
---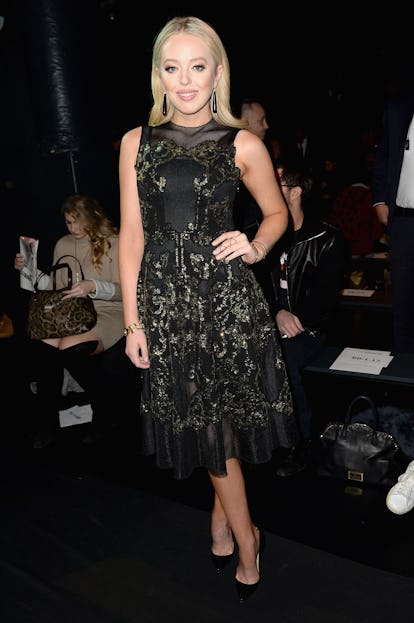 Gustavo Caballero/Getty Images for Vivienne Tam
Tiffany Trump is moving closer to her president father. The 23-year-old daughter of President Donald Trump will reportedly attend Georgetown University Law School in Washington, D.C., this fall.
A spokesperson for the family confirmed the news to English tabloid newspaper the Daily Mail on Monday. The school's law center is a mere 12-minute drive from the White House, which puts her in close proximity to an administration that's more and more often filled with relatives of the president, including Tiffany's older sister Ivanka, who's a senior adviser despite having no political experience whatsoever.
Tiffany graduated from the University of Pennsylvania in spring 2016 with a degree in sociology with a concentration in law. Tiffany's father also attended the University of Pennsylvania, where he majored in economics.
The Daily Mail notes that several other Trumps opted to pursue similar paths in academia. Tiffany's half-sister Ivanka spent two years working on her undergraduate degree at Georgetown University before transferring to the University of Pennsylvania to study business. Tiffany's half-brother Don Jr. also attended the University of Pennsylvania; and her other half-brother Eric graduated from Georgetown in 2006 with a bachelor's degree in finance and management, and he is a board member of Georgetown's Business, Society, and Public Policy Initiative at the McDonough School of Business. Eric told the Daily Mail, "I am so proud of Tiffany. Georgetown University is a truly amazing school, and she is going to love her time in Washington, D.C."
There is no word yet on whether Tiffany will move into the White House when she relocates to D.C. this fall or if she'll opt for more student-friendly housing, but it's not a huge surprise that Tiffany's next move is attending law school. The first daughter toured Harvard Law School in December. Several weeks prior, the "Like a Bird" singer shared a post on Instagram of a pile of LSAT prep books. Evidently, all that studying paid off.
Incidentally, it may be the closest Tiffany has lived to her father in quite some years. She was raised primarily in California after the President divorced her mother and his second of three wives, Marla Maples.
Related: Tiffany Trump and Marla Maples Confirm That the Trumps' Hair Is Full of Secrets
See What's Trending in W Video: