Tig Notaro Responds to Louis C.K. Sexual Misconduct Allegations: "The Positive Is That Victims Were Not Told They're Lying Anymore"
"It had to be a conversation that we continue," said the One Mississippi creator, star, and comedian.
---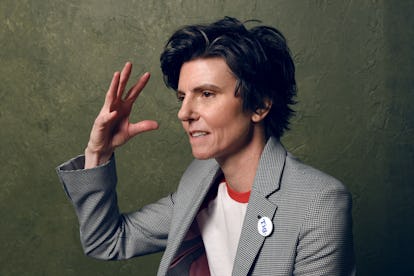 Larry Busacca/Getty Images
Over the summer, before the allegations of sexual misconduct that have plagued Louis C.K. for years were finally exposed by the New York Times, the comedian Tig Notaro told the Daily Beast, in response to the rumors, "It's important to take care of that, to handle that, because it's serious to be assaulted." C.K. had been credited as an executive producer on her show, One Mississippi, and he had been an early supporter of Notaro after seeing her now-legendary standup set in 2012—the one that began with the words, "Good evening, hello. I have cancer"—which he distributed for sale via his website. But over the course of this year, Notaro, who told the Daily Beast in August that she and C.K. had not spoken for a year and a half, has unequivocally distanced herself from the comedian; she wrote, in an email to the Times in the same story, that she feared "he released my album to cover his tracks" and that "he knew it was going to make him look like a good guy, supporting a woman."
So when Notaro appeared at Vulture Festival in Los Angeles over the weekend, speaking on stage with actress Michaela Watkins, it was perhaps to be expected, given their history, that the subject of Louis C.K. should surface. An audience member asked Notaro's opinion about C.K.'s response to the Times story—he admitted to the accusations, writing in a statement, "These stories are true. … Now, I'm aware of the extent of the impact of my actions," adding that "the power I had over these women is that they admired me." (Eye roll.) On stage, Notaro replied, "Did he respond?"
"I don't want to go into the Louis stuff," she continued, before going into it, telling the audience that the outcome of C.K.'s statement, at least, is that victims' stories have been validated: "Whatever someone's intentions are there—meaning him—the positive is that victims were not told they're lying anymore. That was the positive that came from that, and that's it, as far as I'm concerned. That's all I took from that." In the Times story, Notaro, whose friend, the comedian Rebecca Corry, had previously told her about an incident during which C.K. asked if he could masturbate in front of her, said she also supports "the multitude of women still out there, not quite ready to share their nightmares."
Watkins placed C.K.'s story in the context of the wider outpouring of stories about sexual misconduct by men in positions of power and authority across various industries, whether Hollywood or comedy or media, that have emerged since allegations against Harvey Weinstein were reported by the New York Times and New Yorker last month. "I feel like there's been something brewing for the past few decades, and all of the sudden it's just going so fast," she added at the Vulture Festival appearance.
"I go back to that feeling of endless hope and optimism," Notaro said. "But it can't just be this little burst that happens and we move on from it. It has to be a conversation that we continue."
Charlize Theron nails this flawless 'Talladega Nights' audition: