Timothée Chalamet Broke the Oscars Dress Code
No black tie? No problem.
---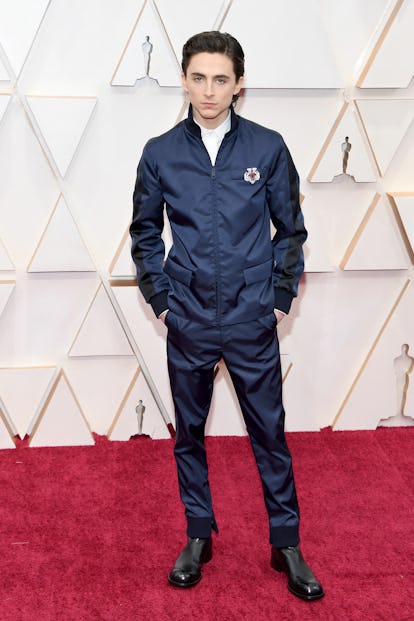 In practice, the Oscars dress code is black-tie formal: evening gowns and tuxes (or, in Billy Porter's case, both), but it seems Timothée Chalamet has little patience for the rules. Not only did Chalamet show up at the 92nd Academy Awards sans any sort of tie, but his suit is less tuxedo and more, well, formal bomber jacket.
Chalamet, who will be presenting later in the night alongside Natalie Portman (who made her own sartorial statement on the red carpet), isn't shy about shaking up red-carpet norms. Few need reminding of his glittering Louis Vuitton harness from last year's Golden Globes.
Though in this case, Chalamet may have given us a hint to the inspiration behind his look tonight thanks to one of his street style looks from a few weeks back. Chalamet was spotted out and about in New York City in a black nylon Prada parka that instantly reminded us of a similar look that Frank Ocean had worn to another event with a notoriously formal dress code: the Met Gala.
It seems that Chalamet may have taken it a step forward by taking the vibe to the red carpet as well. Timée is a notoriously big Ocean fan, after all.
Indeed, Chalamet's look tonight is from Prada as well. He dressed it up a little bit more with a pin from Cartier.
But it seems Chalamet has a superfan of his own in the form of Margot Robbie.