Timothée Chalamet Never Intended For You to See Him So Pale With Lily-Rose Depp
Timothée Chalamet knows his make out session with ex-girlfriend Lily-Rose Depp was turned into a meme last year, and he still feels very embarrassed by it.
---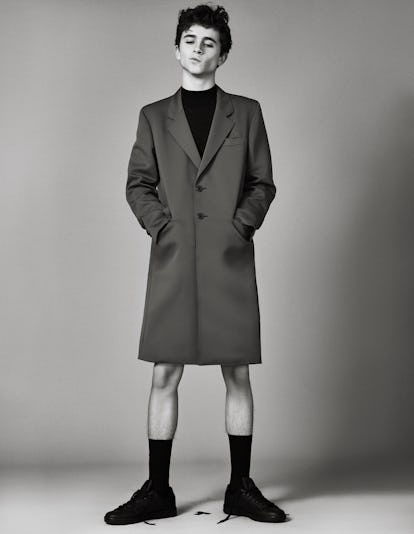 Photographer: Luca Khouri Stylist: Sam Walker
What happens when one of your most private moments becomes a meme? Well, if you're Timothée Chalamet, you do your best to take in what the blogs have to say in stride, but even an Internet Boyfriend can get red in the face at the fact that a private make out moment with his (now ex) girlfriend became tabloid fodder.
In the three years or so since he was catapulted to stardom, Chalamet has remained quiet about his relationships opened up about the incident in a new cover story interview for GQ. After filming David Michôd's The King together alongside Robert Pattinson, Chalamet and his then-girlfriend of a year Lily-Rose Depp took a trip to Capri and spent the day on a boat. Then, as romantic partners are wont to do, the two kissed. No big deal—or so Chalamet thought.
After going to bed "thinking that was one of the best days of my life," the actor found that when he woke up, photographic evidence of the smooch had already made the rounds online, and there were plenty of jokes to be made about the image. "I was on this boat all day with someone I really loved, and closing my eyes, I was like, indisputably, 'That was great.' And then waking up to all these pictures, and feeling embarrassed, and looking like a real nob? All pale?" he said. "And then people are like: This is a P.R. stunt. A P.R. stunt?! Do you think I'd want to look like that in front of all of you?!"
So, in case anyone was wondering if the moment between Chalamet and Depp was staged, the answer is no, of course it was not. And he really, really didn't want you to see him looking as pasty as he did on that boat that day.
Related: Every Famous Person Joining Jennifer Lawrence's Next Movie