Pre-Oscars Week, Timothée Chalamet And Selena Gomez Reunited Over Martinis
The two young stars were spotted at Sunset Tower.
---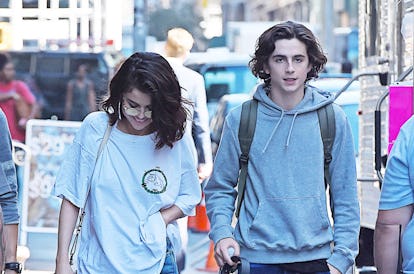 Photo by Josiah Kamau/BuzzFoto via Getty Images.
Whatever you did this weekend, you should have gone to the Sunset Tower Hotel in Hollywood, where apparently the two hottest young stars of the season, Oscar nominee Timothée Chalamet and pop star Selena Gomez, were both hanging out.
According to E! News, "Chalamet arrived around 9:30 p.m. with a male pal and had dinner. Gomez walked in with a few girlfriends about two hours later. Chalamet chatted with her on the phone before she arrived and the two found each other inside. They sat next to each other at a table and appeared to enjoy a friendly chat over drinks. Gomez had a martini, while Chalamet was seen with a Jack and Coke."
The two met and became friends last year while filming A Rainy Day In New York, in which they play a romantic couple. It's been speculated that the film, written and directed by Woody Allen, may not get much by way of a theatrical release, since public sentiment has largely turned on the alleged child molester and confirmed daughter-marrier. The sporadic Timothée-and-Selena sighting may be as close as we get to seeing the film.
Since completing production, Chalamet has publicly disavowed the project, announcing on Instagram that he would be donating his salary to charity.
Gomez has addressed the Woody Allen issue less directly, telling Billboard that she auditioned for the roject multiple times and that the allegations were "something, yes, I had to face and discuss. I stepped back and thought, 'Wow, the universe works in interesting ways.'" On an Instagram Live, they described the film as a "romantic comedy" and also chatted about their mutual love of hip-hop.
Now, a romantic comedy about a young dramatic actor stealing a the most followed girl on Instagram away from her Canadian bad boy-turned-super-Christian boyfriend, on the other hand, would definitely get a wide release.
Related: Timothée Chalamet Is Worried He'll Never Outlive That Peach Scene
Bella Hadid's Radiant Skin, Donatella Versace's Dark Smoky Eyes and More Of the Most Glamorous Beauty Moments from Milan
Dutch beauty Doutzen Kroes makes the case for elegant evening glamour with a sleek up do and a glossy red lip.

@doutzen
Striking a pose after the Versace show, Donatella Versace sports her signature platinum blonde waves with a dark smokey eye.

@donatella_versace
For model Blanca Padilla, it's all about perfectly blown out locks and a natural glossy lip.

@blaancapadilla
Supermodel Natalia Vodianova opts for the ultimate off duty beauty look with her messy low bun and clean skin.

@natasupernova
Bella Hadid proves that radiantly luminous skin with hint of blush on the cheekbones go hand in hand.
Italian beauty Greta Varlese makes the case for swept over polished waves and a subtle winged cat eye.

@greta_varlese
At Moschino, model Liu Wen dresses up her all black ensemble with a sleek, middle parted lob and a bold red lip.

@liuwenlw
Model Vittoria Ceretti poses backstage at Max Mara sporting a rocker chic half up do with an exaggerated black smoke eye.

@vittoceretti
Celebrating a night out in London, Brazilian beauty Izabel Goulart opts for side parted waves, while model Hailey Baldin plays up her blunt bangs and taupe smokey eye.

@izabelgoulart
Model friends gather around British Vogue's Editer-in-Cheif, Edward Enninful, all posing fresh faced with natural waves.

@edward_enninful