Timothée Chalamet, Office Superfan, Was Nervous About Working With Steve Carell
""Never meet your heroes." —Allan Carr" —Timothée Chalamet.
---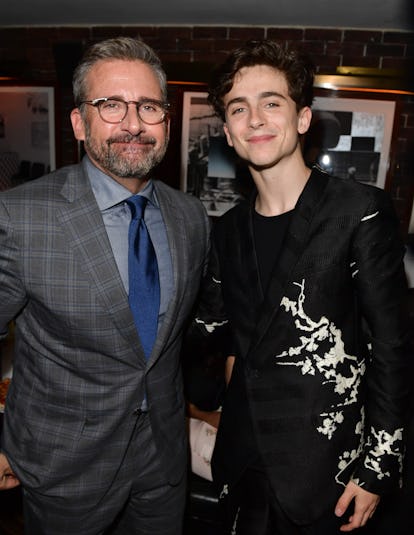 George Pimentel
Beautiful Boy, Timothée Chalamet's next movie, is a heartbreaking tale of addiction and the tolls it takes on the sufferer's loved ones. It also, incidentally, has something of a dream reunion for superfans of The Office. Former Office boss Steve Carell stars as Chalamet's character's father, while Amy Ryan, who played Carell's eventual onscreen Office wife, Holly Flaw, plays the mother. As it turns out, Chalamet counts himself among The Office faithful, and was a bit nervous about rubbing elbows with members of the cast.
"I think I didn't want to scare Steve away," Chalamet told IndieWire about his fandom.
While the 22-year-old star says he was too young to catch the show during its original run on NBC (a sentence sure to make some feel old, as it only went off the air five years ago), he said he started streaming the show as a preteen through the Netflix app of his XBox.
"My dad would be kind of amazed that on my video game console I could just pull up Netflix and all this streaming was available at the fingertips, which is true now, but I'm talking when I was 13, 14, 15," said Chalamet, streaming savant. "So it was kind of, like, at the forefront of it."
He says he'd watch three or four episodes in a row with his father.
"It was so cool to hear Amy and Steve discussing, 'Do you feel there's a new generation of people tapping into The Office?' and I'm, like, pulling my hair out of my head," he continued. "Our producer DeDe's daughter, she's 10 years old, she, like, went through already a couple of seasons. So it's just so good."
Another bit of Office trivia: Maura Tierney also appears in the film as Karen Barbour, Carell's character's second wife. She guest starred on The Office in a post-Carell episode as Susan California, wife of James Spader's temporary boss Robert California.
All the Office connections have tempted some online to basically boil down their prerelease impression of the film to a single Michael Scott GIF:
Reviews of the movie, however, affirm that it is more than powerful enough to stand out of the sitcom's shadow, with praise being lavished on both Carell and Chalamet's work.
"The days when a dramatic performance from Carell was a surprise are long behind us, and his journey in Beautiful Boy is a marvelously sensitive, largely quiet tour de force," writes Steve Pond for The Wrap.
"The one undeniable reason to see Beautiful Boy is Chalamet, who brings the same emotional transparency that he brought to Elio in Call Me by Your Name, but does it playing a wildly different character," adds Vogue.
Of course, if you need a bit of an Office marathon to lighten up your mood afterward, we wouldn't blame you.
Related: Timothée Chalamet Is Worried He'll Never Outlive That Peach Scene