Inside the Tom Ford Fall 2020 Show With J. Lo, Miley Cyrus, and Lil Nas X
The Tom Ford presentation and cocktail party was a dizzying who's-who of today's celebrities, and arguably the biggest show of the night.
---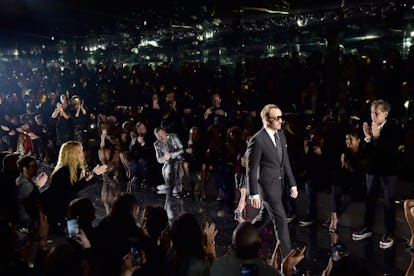 On Friday night in Los Angeles, Miley Cyrus and her brother Trace wound their way through the white and cement-colored minimalist compound that is Milk Studios to attend Tom Ford's fall 2020 show. They stopped for photos on a staircase, ("Don't show the ratchet ass…" Miley told photographers, pointing to her chest, which was covered precariously by two thin strips of fabric) then made a beeline for the bar, where they stood off to the side and waited for drinks. The crowd, assembled for cocktail hour prior to the presentation, looked at the Cyruses adoringly, giving smiles and whispering to each other. "You just missed Miley Cyrus," one guest hissed to her friend. "Where?!" the friend responded frantically.
The Tom Ford show was a dizzying who's-who of today's celebrities, and arguably the biggest show of the night—so big, in fact, that it's rumored Jeremy Scott canceled his own presentation, scheduled for the same time in New York, because of it. Jennifer Lopez, Joe Alwyn, Tracee Ellis Ross, Lil Nas X and Hunter Schafer were just a handful of the A-list names that showed up; Kate Hudson, Renée Zellweger, Jon Hamm, Dr. Dre, a pregnant Ciara and her husband Russell Wilson were also in attendance.
While more people packed into the cocktail party, celebrities walked the step and repeat: Jason Momoa and Lisa Bonet, Kris Jenner (who put her black alligator Birkin bag on the ground to have her picture taken), and her daughter Kylie. "Kylie isn't doing the step and repeat, so get her over there," a harried, sweating publicist instructed a photographer. The photog ran over to Kylie Jenner—who wore a sequined, short dress—following a cluster of cameras and flashes that popped when she walked up. The 22-year-old asked to see the pictures that were taken of her, and bent low, holding back her bangs, to get a good look at them before giving her approval.
Inside, the vibe was that of a full-on event rather than a fashion show. Perhaps being in relaxing Los Angeles, where the weather was mild enough that people could hang out in the fresh air and with the pressures of New York Fashion Week were 3,000 miles away, people felt they could chill. James Corden teased Rita Wilson for double-fisting cocktails. "You've got two!" he yelled, smiling. Hudson, who wore the Tom Ford breastplate heard 'round the world, in green, spied another woman wearing a purple one, and they pointed at each other in recognition. Hamm was easily one of the most social people at the party—he said hello and chatted with nearly everyone, dapping up Wilson and Odell Beckham Jr., and getting distracted on the way to his seat by conversation with Ellis Ross. As guests were ushered to the runway, where cushioned seats had been set up, 21 Savage patted a publicist on the waist to let her know he was still behind her. With good reason—the room was swarmed. All laid-back energy felt hitherto vanished; now here was a real fashion week scene. At the eleventh hour, Jennifer Lopez showed up with Alex Rodriguez, causing the biggest frenzy of the night.
Then the lights went down and Tom Ford showed what was essentially a two-part, unisex collection: daytime first, with models coming down the runway in patchwork denim and jewel-tone monochrome suits that hearkened back to his early 2000s collections; then, nighttime. Gigi and Bella Hadid and Kendall Jenner, the current American modeling holy trinity, wore lacy lingerie-inspired looks.
The crowd did not hide its excitement. People whooped and gasped and danced along to the music: a California-themed playlist of mashups ("The Next Episode" with "I'm So Excited,") and Hunter Schafer especially felt The Fugees' "Killing Me Softly," which she bobbed and sang along to heartily.
"The collection was amazing," Lil Nas X said when the presentation wrapped. "It had great music, great energy in the room. There were a lot of things I saw that I would want to wear—some on the men, some on the women."
Kris Jenner said she had her eye on one purple coat, which she called "stunning."
"And I'd wear anything Kendall wore," she added, laughing.
After the show, some VIPs bounced early—but others, like Rob Lowe and his son John Owen, stuck around for another drink. Kyle McLaughlin and his wife Desiree Gruber were two of many people who wanted to take pictures with Lil Nas X. "We're huge fans of everything you do," Gruber gushed to the young musician.
By the end of the night, the Cyruses were back at the bar. They took more selfies with—you guessed it—Lil Nas X, a combination of stars that made the photographers go absolutely wild. Miley and Trace weren't impervious to the attention, but certainly didn't make a big thing of it. When asked whether they listen to each other's music, they both agreed: "Only when we're forced to."