Tom Ford's Four-Year-Old Sounds Much Chicer Than You
Tom Ford keeps his four-year-old son Jack out of the spotlight but doesn't mind discussing his wardrobe choices.
---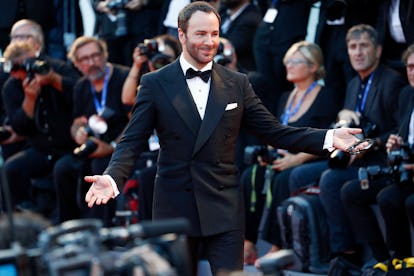 Getty Images
Maybe it's nature, or maybe it's nurture, but fashion royalty's children almost always seem to be impeccably dressed. Editor Carine Roitfeld's daughter Julia Restoin Roitfeld is a mainstay of best-dressed lists. Ralph's daughter Dylan Lauren is the world's most stylish candy shop owner. Generation after generation of the Missoni clan is always impeccably together.
Then there's Tom Ford's 4-year-old son Jack. At such a young age, he's already developed a particular fashion point of view, albeit one with the assistance of his designer dad (and, we assume, some input from his other parent and Ford's partner, the former men's editor Richard Buckley).
Ford tells GQ that he lets young Jack pick out his own clothes, but the catch is that Ford has curated his closet beforehand. Though, even with a preselected assortment, Jack seems to make his own fashion statements.
For a while, Jack would only wear camel-hued clothing, a color most toddlers probably don't even realize has a distinct name.
"Camel, camel, camel, camel," Ford told the magazine of his kid's habit. "All he wanted was camel."
To Jack's credit, it seems like he was on the all-camel and beige trend even before the Kardashians. He was in and out of that phase a few years ago when he just two.
By now Jack is an old fashion pro, so, naturally, he prefers the uniform of fashion insiders everywhere: all black.
"Jack," his father tells him, "black doesn't really look good on little children. You need to wear some color." Grudgingly, the toddler says, "Okay, gray." Ford throws up his hands and retrieves some gray.
To be frank, we had never really thought about the topic of children wearing monochrome black. We guess we'll defer to Ford's judgment that it doesn't look good on children, but the thought of encountering a child who wears head-to-toe black everyday does seem, well, sort of intimidating.
The tot has also previously inspired his dad to enter the world of designing children's fashion. Ford designed a black motorcycle jacket for his son a few years ago, and then decided to release a limited collection of jackets for other children inspired by his own's wardrobe.
Lest you think Tom Ford is raising some little biker jacket-wearing goth punk, the designer points out that his child learned the concept that camel is it's own distinct shade of brown long before he internalized the concept of death. In fact, he's not even there yet.
"I look at my son and he's so happy and joyful and I say, 'Richard, it's because he hasn't learned the secret yet. And the secret is that he's going to die.' " Ford says. "Jack doesn't yet feel the pain that humans, all of us, feel and will feel."
In fact, Jack does like at least one thing that isn't black: his light-up dinosaur sneakers. It's just that his father only allows him to wear them on weekends, rather than to school.
"What does dada say about the dinosaur shoes?" Ford says he asks the child.
"They're tacky," the child replies.