Purl, Interrupted
Curiouser and curiouser—meet Tom Scott, fashion's newest knit wit.
---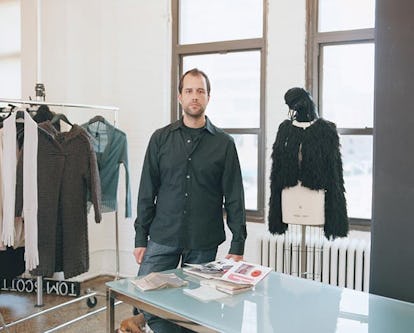 For his first presentation at New York Fashion Week in February 2007, funded by an Ecco Domani award, Tom Scott was inspired by installation artist Ann Hamilton. It seems that a particular self-portrait of hers had caught his eye. It's from her "Body Object Series"; she wears a dowdy black dressing gown and even dowdier shoes and sports a cluster of hay where her head is supposed to be. Scott's theme that season? Introspection. This fall, Scott mined the work of Françoise Sullivan. While attending the Documenta art festival in Germany last year, Scott was struck by an adaptation of Sullivan's 1948 performance piece "Dance in the Snow." And somehow he connected the dots between this exhibition, which featured much swaying and buckling, and a lineup of knits.
Scott's spring 2008 inspiration book.
In fashion, it's all too easy to leap to conclusions. Hearing about Scott's esoteric inspirations, for instance, one might imagine him an ivory tower–type designer. That his label, Tom Scott, shows his name upside down—"incognito," he says—speaks to that profile even more. In fact, he would prefer to have no logo at all, but another famously elusive industry nonconformist (Martin Margiela) has already claimed that shtick. Instead of inspiration boards, moreover, he creates a mixed-media art book to set the mood each season. Then there's the sartorial evidence. His sweaters are unusual—unusual in a Rei Kawakubo sort of way, in a raise an eyebrow and just go with it manner. They're consciously disproportioned—one side is more drawn out than the other, or there's extra fabric languidly hanging from behind. Things are distorted, worn upside down and backward. Naturally Scott's an arty idiosyncratic type in a white lab coat, manipulating his silhouettes in his studio like Willy Wonka stretches and plays with salt-water taffy—right?
Think again. Get to know him, and it turns out that Scott, 34, is perfectly normal. On this particular summer day, he's casually dressed in jeans and a black Band of Outsiders shirt over a white T-shirt. His thick eyebrows and scruffy beard lend him a slightly boyish, rough edge. He pulls a shaggy beanie, covered in wool "hair," off a rack in his showroom and plops it on his head. "People were trying these hats on and cracking up," he says. "You know, I have a sense of humor about my pieces. We'll have a laugh and think, That's so strange—we've got to do it."
As a kid growing up on the outskirts of Philadelphia, knitwear design was one of the last things on Scott's mind. But his family's vocations certainly pointed him in that direction. His father was a carpet weaver who worked on looms all day; Scott's grandmother was a lacemaker at Quaker Lace Company. "She taught me how to crochet," he recalls. "But I never thought textiles was something I wanted to do. I thought it was corny. Everybody else's parents were lawyers or whatever, and, I mean, my dad [was] the carpet weaver?"
Still, something must have rubbed off, because Scott ended up attending both the Philadelphia College of Textiles & Science (now known as Philadephia University) and the Scottish College of Textiles, part of Edinburgh's Heriot-Watt University. In school, he discovered the object of his career affections: the knitting machine. "I became fascinated with it," he says. "A lot of the students, they wanted to do beautiful cables. I was more interested in doing things that didn't look nice. I was always trying to challenge the machine."
After graduating, the now New York–based Scott spent a year selling his own fabric swatches to companies like Donna Karan and Calvin Klein before getting picked up by an accessories licensee for Ralph Lauren in 1997. He would eventually spend seven years there, working on everything from Polo and Blue Label to the designer's main collection. A few years in, however, he began to feel the creative itch. "I learned a lot, but after the fourth, fifth year," he says, "it was like, okay, here we go with the tartans again." So, in 2001, while still working for Lauren, Scott began creating one-off accessories and selling them to city shops here and there. "I would get calls from stores [ordering more]," he says. "I'd have to figure out how to make them again. I didn't even really remember."
It wasn't long before business grew and influential stores like Ikram, in Chicago, and Barneys New York began picking up the line. He left his other gig and in 2004 turned his attention to ready-to-wear. "We would have waiting lists," says retailer Ikram Goldman. "I have customers who follow him religiously. It's really unlike anything out there." And, indeed, Scott doesn't think twice about turning a pattern upside down or cutting up a vintage sweater into a new silhouette.
"I like to question what a shape can be," he explains. "People can get so traditional when it comes to knitwear. I like free-form." So much so that he blurs the boundaries between accessories and clothes. He pulls out one item that, at first glance, looks like a scarf. But it's actually two long sleeves—arm warmers? a shrug?—connected by a strip of fabric in the back. "This is a sweater that's lost its body," he remarks wryly. You can tell he has fun with, and is amused by, his designs. He brings out another example: a shell top with metallic multicolor trim. "That was the ugliest yarn I've ever seen, this weird party Lurex, and that's why we bought it," Scott notes proudly. Of a wide flat scarf backed by nylon: "It reminds me of old pantyhose."
But the beauty of Scott's work is that, for all the twists and warps, curls and back splits, his clothes are supremely wearable. No how-to instructions needed. Those curious kinks just evoke a certain in-the-know cool, an attitude that's getting noticed. Scott was the only American nominated for this year's inaugural Woolmark Prize, a revival of the famous Wool Secretariat Award bestowed upon Yves Saint Laurent and Karl Lagerfeld at the beginning of their careers.
So what if Scott's inspirational jumping-off points are introspection or a dance in the snow? Or, as is the case with a piece in his upcoming spring 2009 collection, an abandoned umbrella? He whips out a hexagon-shaped stretch of fabric, a former old brolly now liberated from its frame. A few minutes later, it's chicly wrapped around the showroom mannequin, a sleeveless top with a draped faux hoodie in the back. "That's cool, right?" he asks. "One day in April we had one of those really terrible rainstorms. It was like an umbrella graveyard. I felt really bad for them.
"I always like more obscure references," he continues. "I could never be like, 'I'm doing Seventies glamour!' It's just not the way I think. My manufacturing guy used to tell me I was nuts," Scott says of his peculiar production demands. "But now he's totally used to it."
book: John Aquino