Tommy Hilfiger Is Selling His Wildly Decadent Miami Mansion for $27.5 Million
The place where pop art never died.
---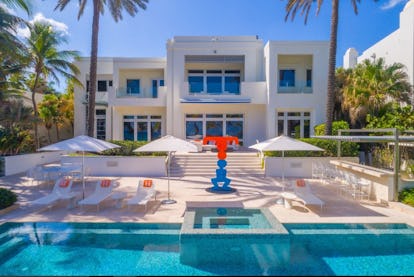 Zachary Balber/The Jills
If you have $27.5 million burning a hole in your pocket and a long-held desire for your bathroom to smell like bananas, boy does Tommy Hilfiger have the deal for you. The American designer has put his visually very Miami Miami Beach mansion on the market.
The home, which is heavily influenced by pop art and other design aesthetics from the '60s and '70s, was bought in a much plainer form by Hilfiger and wife Dee Ocleppo for $17.25 million in 2013. The couple heavily renovated the seven-bedroom, 12-bathroom property, hiring interior designer Martyn Lawrence Bullard to infuse it with a spectrum-spanning color scheme and giving each room a distinct, if no less eye-catching, theme. Some highly imaginative touches that grace the home include banana-scented scratch-and-sniff wallpaper in the bathroom (really), a disco ball over the kitchen table, an Americana office decor, a plush, all-red screening room, polka-dotted bedroom walls and his and hers Basquiats, though presumably those won't be included in the sale. And though many of the individual pieces that complete the spectacularly lavish effect aren't included in the $27.5 million price tag, The Wall Street Journal reports that Hilfiger is likely willing to part with a number of them separately.
Dine with due groove.
Entertain company in a plush whirlpool.
Sit back and stare at the walls.
Rise with the sun.
Maintain appropriate potassium intake.
The 14,079-square-foot beachfront property also includes a room converted into a surf shack, an infinity swimming pool, and an outdoor entertaining area complete with a bar and grill. If it meets its asking price, the listing will set a record for Golden Beach, the exclusive north MIami Beach enclave in which it's located, according to listing agents Jill Hertzberg and Jill Eber of the Jills team at Coldwell Banker Residential Real Estate. Celebrities like Bill Gates, Paul Newman, and Ricky Martin have all reportedly had homes in the area before. It also happens to be home to the stretch of sand where Beyoncé and Jay-Z filmed their video for "Drunk in Love."
Hilfiger told the Journal that he's ready to sell after overhauling the space as "a fun hobby." Yes, it's good to have hobbies.
Though, Hilfiger isn't completely done with his Miami renovations hobby just yet. He's also in the process of turning South Beach's famed Raleigh hotel into a private club.
Tommy Hilfiger Muse Gigi Hadid Talks About Her Squad: