Modern English
With his outrageous fashion emporiums, Tommy Roberts was the go-to guy for rock royalty. Diane Solway talks to Swinging London's pop pioneer.
---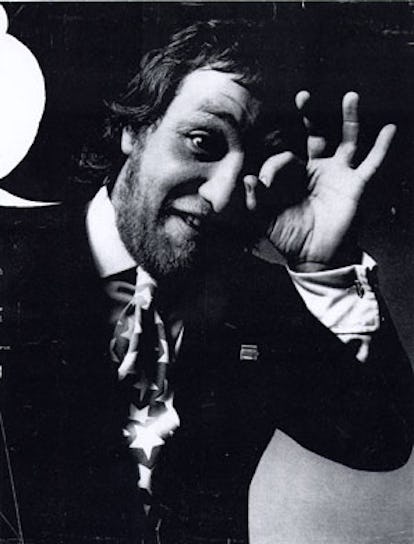 Twiggy wore the store's signature Mickey Mouse T-shirt, and Jean Shrimpton loved its clingy vest dress. Mick Jagger was a fan of the appliquéd­-zodiac-sign T-shirts, while Elton John favored the flamboyant winged ankle boots, which he showcased on his breakout 1971 U.S. tour. Then there was Peter Sellers, another habitué, who could often be found ­lingering around taking photos of the pretty young birds who flocked about the Mr. Freedom store.
One of the most innovative boutiques in rock fashion history, Mr. Freedom was as much a show as a shop—a fashion, art, and design mecca for Swinging London's most outré set. In his new book, Mr. Freedom—Tommy Roberts: British Design Hero (Adelita), Paul Gorman tells the story of the boutique's driving force: the stocky maverick entrepreneur Tommy ­Roberts, "one of those unpindownable figures," the author says, "who fast-tracked vanguard ideas right into the mainstream." Roberts was the first to sell slogan T-shirts, license images from Disney, and ­integrate the new Pop aesthetic into everything from the clothes and furniture he sold to the decorating of his shop, a task he regularly put in the hands of young designers and artists just out of art school. Hot pants, chairs shaped like dentures, and window displays of huge detergent boxes were the order of the day. Though Mr. Freedom's moment was fleeting, such was its impact that when Cecil Beaton organized the ­Victoria and Albert Museum's first fashion exhibition, in 1971, he featured 24 of the label's pieces alongside loans from the British royal family, Madame Grès, Balenciaga, and Mary Quant.
From top: Models in Mr. Freedom T-shirts and hot pants, 1970; Roberts's own pair of winged boots.
A onetime student at Goldsmiths College, the ebullient Roberts, now 70, debuted his first shop near Carnaby Street in 1966. Called ­Kleptomania, it sold Victoriana, military wear, caftans, and penny-farthing bicycles. The club next door, Bag O'Nails, was home to the rock glitterati of the period, and it wasn't long before the Who became store regulars and Jimi Hendrix owned the signature frilly-front shirts.
But in 1969 Roberts decided to change things up: Opting for bright, bold color and a cartoonish aesthetic, he opened Mr. Freedom at 430 Kings Road in Chelsea, a space that would eventually be taken over by customers ­Malcolm McLaren and ­Vivienne Westwood. "If you were a pop star wanting to make a bit of an impression," recalls Roberts, "we were the shop to go to." Paloma Picasso bought her father a T-shirt for his birthday there; indeed, wearing Roberts's jersey maxi dresses and velvet hot pants was statement-making in that pre-stylist era. "It was anti-hippie," Gorman says. "You weren't walking around in sandals and flares; you were wearing these things from an ­aggressive youth cult. His store was very urban—a reaction to the bucolic folkie ­celebration." Roberts relocated in 1970 to a three-story "counter­cultural department store" in tonier Kensington, creating a ­pioneering lifestyle ­emporium where Elton John and Rod ­Stewart jammed one night on the tiny stage in Mr. Feed 'Em, the brashly colored basement diner.
David Bowie in a City Lights Studio suit on the back cover of Pin Ups, 1973
In yet another about-face two years later, Roberts debuted City Lights ­Studio, the first fashion store in Covent Garden, stocking it with somber, ­tailored suits for both sexes—such as the box-jacket one David Bowie wore on the back cover of his 1973 Pin Ups—in a goth setting that anticipated the glam-rock scene. Coffins hung from chains, the black floor was spackled in gold glitter, and Schoenberg provided the soundtrack. (Yohji Yamamoto later credited City Lights Studio as an influence on him as a young designer.)
After the store's closing in 1974, Roberts managed Ian Dury's art band and subsequently became an influential housewares, antiques, and ­furniture dealer, introducing Memphis design and Tom Dixon to savvy ­collectors. "He appeared to kind of disappear," Gorman says. "But, of course, he didn't." This book ensures that he won't.
Models: News International; Roberts: Associated Press; Winged Boot: courtesy of Tommy Roberts; Pin Ups: Mick Rock.