Tory Burch: Road Tripper
Six years after launching her namesake company, Tory Burch reaches for global glory.
---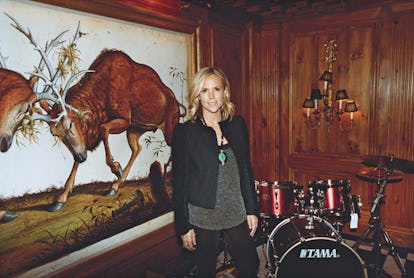 Tory Burch is tired. It is a Tuesday afternoon in New York, but for the designer it feels like Wednesday morning, Thailand time. She has just returned from spending New Year's in Phuket with her three sons, a mini break after opening a new store, her 24th, in Tokyo's Ginza district.
Jet lag, it turns out, is fast becoming de rigueur for Burch, and she fears it will remain that way for much of 2010. This year she's set to open up to 25 stores, including ones in London and Rome, and is in the midst of an overall push to increase foreign sales.
It has been six years since she launched her company, but ironically she insists that her original goals were modest—vague, even. "By five years, I think we had planned for three stores," Burch says of the initial outline for her business, which she cofounded with Chris Burch, her former husband. She's sitting behind a desk in her hazard orange–painted Flatiron District office, corn-silk-blond hair tucked behind her ears, a gob-stopper-size gold cocktail ring on her right hand. "And, you know, it was a very different kind of plan. We had no idea where it would go."
From top: A tunic and espadrilles from Burch's first collection
Such ambiguity isn't typical Tory. She may look like a teacup of a woman, fine-boned and delicate, but she is direct, relentlessly professional (her inspiration notes for her collections are often three paragraphs long and ready for editors days before the show) and, by her own admission, tough. And that's the way it has had to be: Since she launched her first collection (out of her Daniel Romualdez–appointed apartment at the Pierre hotel), Burch has weathered a high level of public scrutiny. After splitting with Chris in 2006 following 10 years of marriage, she segued from wife to friendly colleague under the lens of the tabloids, all the while dodging more than a few well-manicured fingers that pointed to her socialite status as a shortcut to her fashion fame.
Regardless, Burch's high profile helped her nab a 2005 appearance on The Oprah Winfrey Show, lending the company such huge exposure that millions flocked to her Web site. "I'm not really defined by who I socialize with," Burch says. "For me, my life is really diverse, and I have really diverse friends. But I would also have to say that I'm sure it helped in a way, you know?" She pauses, then levels her gaze and smiles. "It's not something that, you know, I would say I'm mortified by. I just think that [socialite] is sort of a funny word."
A model at Burch's spring 2010 presentation.
Social set aside, Burch owes a portion of her success to her ex-husband, who retains the cofounder title, yet, according to Burch, is no longer a day-to-day part of the company. A former apparel importer, Chris showed Tory the production ropes, and together they invested $2 million in the company. Of the divorce, "it's not something that I really had fun doing," she says calmly. "Now we get along really well. We talk about different things. I think we're better partners now that we're not married."
Indeed, since the split, the branded-to-a-T company has flourished. Proof: In January she plunked down about $16 million for a Southampton house. Burch, whose marketing chops were honed at Ralph Lauren and Vera Wang, earned industry cred with a 2008 CFDA accessories award. Last fall she launched eyewear, a licensed category; she is also mulling over both a fragrance and a home line. "We're talking about it," Burch says. She contends that she doesn't have a timeline for these categories, and that she is focused on managing an expansion that she still finds surprising. "I couldn't believe our Christmas party," she says, referring to the fact that she now employs more than 400 people.
There are strong signs, too, that Burch is branching out beyond the logoed, WASP-chic look she began with. Her spring 2010 presentation revealed more edge (leather, shorter hemlines) and eclectic accessories (moccasin stacked heels and booties) as A Tribe Called Quest and Usha Iyer bounced through the speakers. The latter may be owed in part to a new man; though she is mum on her personal life, Burch has been dating music executive Lyor Cohen for more than a year (his picture sits alongside those of her family on a mirrored shelf behind her desk). And while she is not the sort of fashion person to wax on about, say, the psychic value of sparkles on clothes, she has her quirks: Most of Burch's boutiques are visited by a feng shui specialist, whose influence is evident in the multiple mirrors (they apparently encourage positive energy). In fact, she once nixed a Madison Avenue space because her guru predicted there would be a fire there.
All this, yet Burch is not a designer, a fact that she feels no need to justify. She's a brander, a stylist, a total clotheshorse. "Tory has had a very clear vision from day one—she wanted to launch with 15 categories," says Fiona Kotur Marin, one of Burch's initial partners (Marin also has a namesake handbag line, called Kotur). "It was a complete, design-driven lifestyle brand from the beginning."
Burch, who received a degree in art history from the University of Pennsylvania, was always a careful, admiring observer of her parents' gilded prep style. Her mother, Reva Robinson, still lives in the family Georgian in Valley Forge, Pennsylvania; and her late father, Buddy, was rarely without an Hermès monogrammed pocket square. After resigning from a marketing position at Loewe in 2001 to be with her young children, Burch sought to revive a company called Jax, which sold chic sportswear in the Fifties and Sixties to the kinds of women who sought Jackie Kennedy's look, and sometimes even to the young senator's wife herself. Reva had worn Jax on long trips to Europe with Buddy, a man of leisure who built his family's wealth on an inheritance. (The Robinsons are tight-knit; Burch still refers to her "three brothers," two of whom are biological, while one is the son of the family's longtime housekeeper.)
"At the end of the day, the owner [Sally Hanson] wasn't willing to give me the Jax name," Burch recalls. Undeterred, she asked a few of Marin's former colleagues at Old Navy (where Marin had been an executive) to come to her home and assist her with a few simple samples she had made—pieces that belonged in her world but would play as aspirational to a broader audience: sportswear that was classic, travel-influenced, accessible. Her starting point was a $6 pastel tunic she'd picked up at a Paris flea market. It was polyester, and "not something that I ever wore," she adds, though it is now under glass in her boardroom.
Burch currently employs 14 designers. Two of them, Suki Wong and Cecile Renna, who sat and sketched around Burch's wide kitchen island at the very beginning, step into the office. "We thought it was just a tiny little shop that needed help," says Wong, a pattern and print specialist, of Burch's plan to open her first store in NoLIta while launching her collection. At the time both Wong and Renna, a knits and sweater designer, were freelancers who had left Old Navy and believed they would work for Burch for a couple of months.
Stephanie von Watzdorf, Burch's vice president of design, steps in and plops down on the couch. There is a palpable ease among the four women, honed, they say, during dozens of trips to Hong Kong and Chinese factories, where Burch produces most of the collection. "We're very connected to Tory, as much as we can be," von Watzdorf says. The growth of the company over the past six months has been a major adjustment, however. "It's just gotten bigger, suddenly," von Watzdorf explains. "The line used to be great classics, and now we've got more of a real collection. Tory's style has evolved, too. We watch her; she's our icon."
Late last summer Tory and Chris Burch sold a minority stake to Tresalia Capital, a Mexico City–based company run by a businesswoman, María Asunción Aramburuzabala. Yet Burch contends she has no plans to cash in and retreat to a life of lunches at Barneys. Just before the sale, she also hired Trevor Neilson, philanthropy adviser to Brad Pitt, Angelina Jolie and Bono, to launch the Tory Burch Foundation, which provides small loans to American female entrepreneurs (one recent recipient is a Dominican-born woman who runs a bridal and quinceañera shop in Queens). "I love working. I think it keeps your mind fresh," Burch says. "I hope that I'm like Wanda Ferragamo, coming into an office at 85." She pauses. "I'm not sure other people agree with me here!"
Such self-deprecation is a sign of what von Watzdorf calls "a little funkier" Burch, an attitude reflected in those whisper-thin leather shorts, floral shirtdresses and chain-link shoulder bags; the label retains its sporty-chic influence yet has veered downtown, with more camouflage and denim. A new hire, charged with expanding the jewelry line, is Justin Giunta, a CFDA winner and designer whose own Subversive line is glamorously offbeat. And while Burch launched e-commerce just two months after starting her company, her Web site now has its own editorial staff, further proof that she takes the company's expansion very seriously.
"As her business has grown, Burch has continued to address the myriad needs of her clients' lifestyle," says Jim Gold, CEO of Bergdorf Goodman, which was one of Burch's first buyers. "It's hard to believe that just five years ago we bought the collection from a small rack of clothes that she showed us in the den of her apartment."
Which is why Burch is happy to let the scrutiny over her social connections and rose-tinted childhood fade. "I worked my tail off," she says, breaking into a smile. "There's no other way to get where you want to go."
Runway: George Chinsee; clothing: courtesy of Tory Burch