Inside Tory Burch's Incubator for Female Entrepreneurs
For these women, a sense of social responsibility is second nature. "The idea of ambition is in every single cell of my body," says Kate Bosworth.
---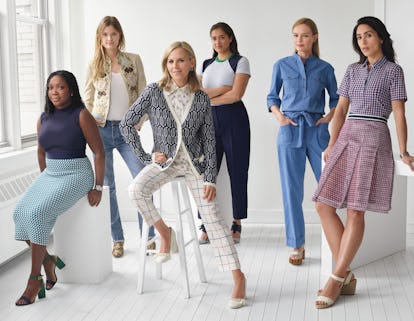 Photograph by Mark Seliger, Styled by Ethel Park; Hair by Miki for Kerastase Paris; Makeup by Asami Taguchi for Nars at Frank Reps; digital technician: Sonny Fabbri; photography assistants: John Kelsey, Mike Skigen, William Wu; fashion assistant: Costa Andrinopoulos. all wear Tory Burch or Tory Sport
An actress, a supermodel, a Google executive, a green-cleaning business owner, a food entrepreneur, and a fashion chief executive and chairman walk into a photo shoot. It sounds like the makings of a sitcom. Indeed, at one point, the photographer urges fashion designer Tory Burch (the aforementioned CEO) to assume a more serious expression.
"Tory, less of a smile!" he calls out. You can't blame Burch for smiling. Not only is she at the center of this estimable group, but her namesake foundation, the socially-minded arm of her lifestyle brand, is finally at a place where, as she puts it, "we've had a real impact on scale, and we're very excited to be talking about it."
More specifically, the foundation and its president, Laurie Fabiano, have since its inception in 2009 given a boost to female entrepreneurs of all walks of life. The Tory Burch Capital Program, launched in 2014 in conjunction with Bank of America, has provided $25 million in loans to some 1,000 female entrepreneurs; an education-program partnership with Goldman Sachs' 10,000 Small Businesses and Babson College provides a free business curriculum; and more than 10,000 women have crafted business plans on the site using the foundation's online tools.
According to Burch, the idea for the foundation was part of her original plan when she launched her brand back in 2004. Of course, Burch needed to build her own business first—in 2013, Forbes valued her company at $3.5 billion—before she could help other women develop theirs.
"I thought it was going to be more about microfinance…And then I realized the thing I could offer best was my experience of building a start-up," she says.
Meet the New Class of Philanthropists, from Ashton Kutcher to Stella McCartney
Take Saudia Davis, a graduate of the Goldman Sachs program and the founder of Greenhouse Eco-Cleaning, a New York–based residential and commercial cleaning service. Davis, a former film publicist, founded the business in 2006 after her grandmother died of cancer, likely caused by the chemicals she inhaled over years of professional housework.
"I would be cleaning a bathroom on a Monday and then doing a red carpet on a Tuesday," recalls Davis, who now has 40 employees. Another beneficiary of Burch's foundation is Anita Shepherd, who, in 2013, started Anita's Yogurt, a coconut-based-yogurt company, after years working as a vegan baker. Shepherd is well-acquainted with the challenges facing women in business, and the ways in which such obstacles can be turned into strengths: She went into labor while training new employees for her company.
"Becoming a mom pushed me to be stronger, more decisive, intuitive, efficient, and even-keeled," says the 36-year-old, who has made several hires through the Hope Program, a job-placement organization for the homeless and at risk. "These are all qualities I've relied on as a business owner."
For all these women, a sense of social responsibility is second nature. The model Constance Jablonski, 26, is a devoted mentor to girls at the nonprofit Urban Dove Team Charter School, which provides a specialized team-based high-school education to underprivileged kids. When she moved to New York at the age of 17, she says, "There were a lot of people who helped me survive the city, and I realized how hard it can be for kids coming from poorer backgrounds."
Often, giving back is also good business.
"I think now the smartest companies are making their social impact arms integrated to what they do best," concedes Yasmin Green, the head of research and development at Jigsaw, a Google team deployed to combat digital hazards like state-sponsored trolling, sexual harassment, and threats on journalists. As a board member of the Tory Burch Foundation, her focus is on the site's training tools and fellows program.
"I see the foundation as an incubator," she says. "You're not giving resources away. You're investing." Burch is also, in the case of the foundation's recent Embrace Ambition initiative, inspiring.
The multi-platform global campaign, which features strong women in different fields, from the actresses Kerry Washington and Julianne Moore to the North Korean defector and activist Yeonmi Park, encourages women to own their ambition.
"The idea of ambition and strong will and discipline and determination is in every single cell of my body," says the actress and producer Kate Bosworth, who participated in the campaign. "Have there been people throughout my career who have been turned off by that? Probably."
Given the current political climate, Burch has become only more determined in her philanthropic efforts.
"I think every company should look at how they can support women in their businesses or within their companies," she says adamantly. "Women are half the population. It shouldn't be a favor. This should be a given."
Photos: The Jetsetter's Guide to Summer: Travel Like Tory Burch
Tory Burch. Photo by Noa Griffel.
"Women's Rights Are Human Rights": 62 Fashion Insiders Speak Out in a Powerful Video for International Women's Day