Designer Tory Burch Wants You to Embrace Your Ambition
On International Women's Day, the businesswoman and creative brings together likeminded friends like Gwyneth Paltrow, Julianne Moore, and Yara Shahidi for a PSA urging women to embrace their ambition.
---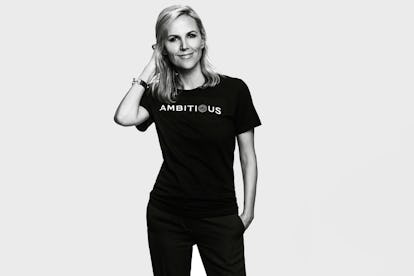 Courtesy the Tory Burch Foundation
Burch, Tory
On the occasion of International Women's Day, fashion's foremost female entrepreneur, Tory Burch, recruited a few friends like Gwyneth Paltrow, Kerry Washington, Julianne Moore, and Yara Shahidi — casual — for a new video PSA entitled "Embrace Ambition." Playing on the stereotype that ambition is somehow not for women, this circle of women-who-have-it-all speak about what it means to them: "I can think of a lot of dirty words," actress Reese Witherspoon says. "Ambition is not one of them."
Meester, Leighton
The former Gossip Girl star is finally having her comeback moment with the new series Making History and a whole set of front-row fashion week engagements to match.
Millinery
It's not just berets this season — hats on the whole are having a comeback, and designers like Gigi Burris are leading the charge. Not that millinery has ever been far from ready-to-wear — Jeanne Lanvin and Gabrielle Chanel both whet their appetites for design in hat-making studios, and even It girl Caroline De Maigret is on board.
Stewart, Kristen
Shaved her hair, dyed it blonde(-er).
Women's Day, International
While in Paris, a cross-section of the contemporary fashion industry came out to make their voices heard: "Women's Rights Are Human Rights." Bella Hadid, Kendall Jenner, Michèle Lamy, and 59 other industry insiders step up to the plate on the occasion of International Women's Day — because even those who aren't going on strike can make a statement their own way. (Meanwhile, the predominantly women staff at websites like New York Magazine's The Cut and Jezebel are going dark for the day.)