Tourmaline Reflects on the Power and Possibility of Black Art
The artist's film "Salacia," executive produced by Keanu Reeves, is being inducted into the MoMA's permanent archive today.
---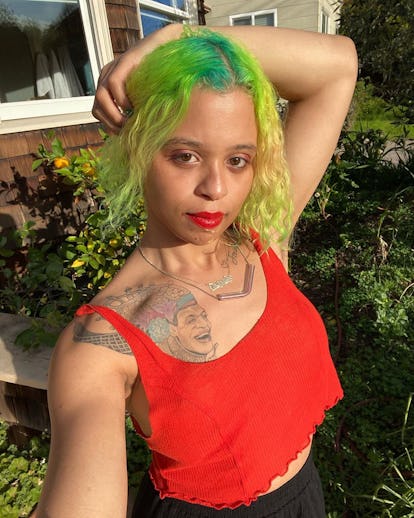 Photo courtesy of Tourmaline @tourmaliiine.
In the opening scenes of the activist, filmmaker, and artist Tourmaline's short film Salacia, a split screen shows the imagined everyday lives of the citizens in Seneca Village, a 19th-century free Black community in upper Manhattan that was destroyed in 1855 to make way for Central Park. On one side, children dressed in white clothing skip around a fire pit, while their mothers, seated on a stoop nearby, look on. On the other, women dressed in the fashions of that time—feathered hats, Victorian cameo jewelry, lace tops and long trains—duck between sheets hung on a line to dry. Seneca Village existed when slavery was still legal in the United States, and it was one of the only places in New York City where Black people could own land, and therefore vote. The area presented an enormous threat to the political class, leading to its eventual demolition.
Onscreen, one woman's face keeps popping up in both frames: that of Mary Jones, a Black trans woman born in 1803 who lived in Seneca Village as a sex worker and outlaw. The film follows her life within a transphobic and racist system, and the power she finds within herself despite persecution.
Salacia, which Tourmaline describes as a "16-millimeter, experimental, freedom dream of a film," was first released in summer of 2019, and played nightly on The High Line on the West Side of Manhattan; it then moved to the Brooklyn Museum for "Nobody Promised You Tomorrow," an exhibition celebrating the 50th anniversary of the Stonewall Riots. Today, Salacia, which was executive produced by Keanu Reeves, enters the Museum of Modern Art's permanent collection, and will premiere at 8 p.m. EST on MoMA's website.
The impact of her addition to MoMA settled in with the 36-year-old artist rather abruptly. "It just hit me yesterday," Tourmaline says over the phone a couple days before the premiere. "I was like, 'Oh wow. This project is life-affirming.'"
Tourmaline, a Black trans woman born in Roxbury, Massachusetts to a mother and father who worked in the Labor and Black Power movements, admits she's been thinking about living fully in public a lot these days—being able to exist in the world as your true self, to be free. After moving to New York City in 2002 for college, Tourmaline worked as an organizer—that was, as she puts it, her "primary way of being in the world." She still made art and films during that time, and has grown to a cult level of prominence since. Her induction into the MoMA canon isn't the first time Tourmaline has partnered with big brands, or names—before we did this interview, she was featured on Anne Hathaway's Instagram Live, and today, she launched a campaign for Pride Month with Dove. In 2017, her name entered filmic circles after she released a statement saying director David France appropriated the ideas and research she put together for her film Happy Birthday, Marsha! in his movie, The Death and Life of Marsha P. Johnson. (His went to Netflix; hers required a Kickstarter to premiere in Los Angeles in 2018.) Tourmaline's statement was picked up by Janet Mock, who wrote an op-ed for Allure on the erasure of trans artists' work in the mainstream. "I knew Tourmaline's dream was to create her own film about Marsha P. Johnson, and she had shared with me, years prior and in confidence, that she believed France had gained inspiration from her efforts and capitalized on her archival research—without reference or credit and certainly without pay," Mock wrote at the time.
But Tourmaline's inclusion at MoMA—a world-famous museum that, it's worth noting, sits six blocks south of the former Seneca Village site—signifies something of a change. It's part of a larger movement happening for marginalized people, and for Black people in particular. The film is going to the museum just two weeks after 15,000 people showed up at the Brooklyn Museum for a rally demonstrating support for Black trans lives. "It's important that institutions which have incredible resources are working to reproduce conditions that we can feel good in, that we can be alive in, that we can be making art within—that, maybe, doesn't have anything to do with the hard or challenging times, but is made by someone who is living through those and wants to be creating work," Tourmaline says.
The partnership with MoMA came about after Tourmaline had a series of conversations with the curator for the department of media and performance, Thomas Lax, about the role of the artist and, in turn, the responsibility of an institution like the Museum of Modern Art to uplift and feature those artists. They'd talk for long periods of time, discussing art history in the context of civilization, and how making art both created a capsule for a certain moment in time, and also could be seen as committing a revolutionary act.
"In a moment when there is increased visibility around the everyday violence that black people face, it's important to also be creating and dreaming," Tourmaline explains. "Right now, people are really paying attention to, 'What's the world that we're seeking to create? And who's coming along with us?' It is so powerful when an institution is comin' along with us. Because that's who we're paying attention to."
Reeves as executive producer was another link that stemmed from long, roving conversations between the artist and the actor concerning Tourmaline's work over the past few years. She sees Reeves as an actor in a position of authority who's opening up his connections to other people who might not have access to his kinds of resources.
"He's someone who models that parties are the most fun when we're all able to be at the party," Tourmaline says.
Tourmaline's artistic process involves studying history heavily, in order to glean nuggets for what will eventually become the narratives for her films. Talking to Tourmaline is like speaking with a hardened historian who's spent years combing through records, artifacts, and documents. She tells the story of Mary Jones' court transcript, which she found in the New York City municipal court archive, in one breath. In the next, she discusses at length a 1969 moral code enforced by the New York Police Department that required trans women to wear at least three articles of "male clothing" in public, or else be subject to arrest.
"It allowed me to understand that there's something so powerful about art," Tourmaline says. "If the state is saying what art can and cannot be allowed to be seen in public, the ways that people adorn themselves and express themselves, and aestheticize themselves, if the state is saying 'This is a threat,' then there must be some real power there."
At the outset of Salacia, there is no dialogue for nearly three minutes. The first words in the film are from the Black folk tale book The People Could Fly, by Virginia Hamilton—stories that, Tourmaline says, "had a huge effect" on her growing up. In line with her process, she reached out to the estate of Virginia Hamilton, and discussed with the people there how this work of Black art shaped her—and informed her approach to making "Salacia."
"These are stories that I was raised on about the power and possibility of Black life," Tourmaline says. "And our ability to access magic in moments of extremely violent conditions. Part of why we want to dismantle some of these really violent institutions and structures and systems is because it feels good to be alive. And we deserve to feel good while we're alive."
Related: From Miss Juneteenth to Jezebel, Black Female Directors Lead a New Hollywood Vanguard