Naomi Campbell's Facialist Reveals Her Secrets to Flawless Skin
Tracie Martyn counts Kate Winslet, Diane von Furstenberg, and Riccardo Tisci amongst her devoted fans thanks to her natural approach to skincare.
---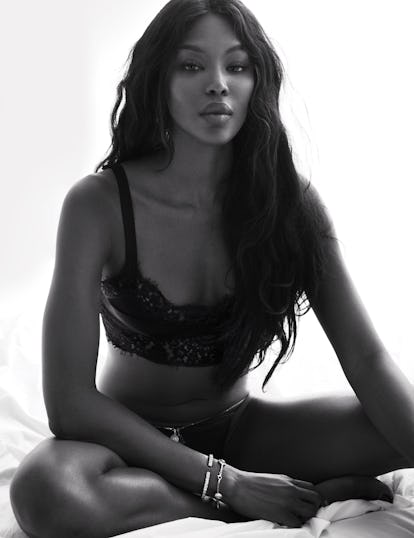 New aestheticians crop up all the time, but veteran Manhattan facialist Tracie Martyn's keeps legions of loyal VIPS glowing and red-carpet-ready with customized cocktails of electrical current, LED lights and her cult line of natural products. Here, she shares her beauty secrets.
Why do you think your high-profile clients are loyal to you? Many of them have been coming to me for more than 15 years. I am sure there are a variety of factors, but perhaps one is my Resculptor microcurrent machine, which I complement with new, non-invasive technologies as they emerge. (I think I was one of the first facialists in New York to use LED lights, for example.) My signature treatment is probably the Red Carpet Facial, which takes 60 minutes and is packed with every non-invasive beauty trick there is, including state-of-the-art diamond tip microdermabrasion and peptide-enriched oxygen mist. In it, I combine current from the Resculptor machine with red LED lights, a cocktail that increases cellular energy (ATP) and therefore theoretically enhances every key process in the skin, including collagen and elastin formation. It also tones the facial muscles in a gentle but effective way and enhances circulation. The other key component in this facial is a pulsating amber light that helps stop collagen-destroying enzymes called MMPs, and instantly brightens and calms the skin. On the other end of the spectrum is my Purple Ray Facial, which I developed in order to address signs of aging, especially around the eye area, and simultaneously fight break-outs caused by excessive make-up application, diet, hormones, or stress. It's super popular with models who need a few extractions and purification on top of lifting.
Can you name names? I've been lucky enough to work with Kate Winslet, Diane Von Furstenberg, Brandon Maxwell, Naomi Campbell, Hilary Rhoda, Kenya Kinski-Jones, Lindsey Wixson and Famke Janssen, Rihanna, Georgia Jagger, Allison Williams and Jessica Chastain among many others.
What skincare advice do you give your clients? Petrochemicals like parabens, phthalates, and ethoxylated surfactants (like polysorbate) are like ticking time bombs, so the message is clear: go pure, safe and clean, but at the same time don't waste your time with products that don't address your skin concerns- acne, hyperpigmentation, wrinkles, lack of elasticity, rosacea or whatever bothers you. We pioneered our high-performance, natural skincare line as an alternative to high-tech products that are effective, but filled with dangerous petrochemicals, and the kind of low-performing natural products you find in health food stores. No one, apart from us and a handful of our more enlightened Hollywood clients, really cared about being natural or organic when we launched our line, but I think as the concept of wellness has become more popular, there is a new appreciation for my work, which has always been safe, non-invasive and holistic, yet scientifically advanced enough to deliver fast and reliable results in an HDTV and Selfie era.
Do you ever give clients nutritional advice? I can't help myself! Before becoming a facialist, I was a makeup artist, and even back then I tried to persuade models to trade in their fast food for green juice (way before Juice Press!). I'm also a certified yoga instructor, so I would also try to inspire them to practice. I still bump into colleagues from my fashion days who thank me for introducing them to their first bowl of quinoa. I explain to my clients why wheat and dairy are not on my food list, why they should watch their chocolate intake and why they should avoid certain nuts in order to keep beautiful, clear skin. They can prolong the results of my facials by avoiding sodium-filled foods (which can lead to water retention and puffiness) and high-glycemic-index carbs, which can grow you a double chin if you are predisposed genetically. The best advice is to pay attention to your body, see if you break out. Science is great, but even better when combined with intuition, experience and self-awareness.
Any key supplements we should be taking for young-looking skin? There is a nutrient in dairy and meat called carnitine, an amino acid derivative that is very important for energy metabolism. It transports fat into the mitochondria (the cellular energy "power plant") so they can be oxidized ("burned") to produce energy. We feel that part of the aging process is the "chronic fatigue" that the cells experience, so we developed a supplement with this key nutrient called CarniLift. With sufficient energy (ATP in western terminology, Qi in Traditional Chinese Medicine), everything works better.
Do you cook? When I have time I love to be creative with food. My husband (a nutritionist) and I were early adopters of the raw-food movement back in the '90s, and we make some mouthwatering, raw, sugar-free desserts with coconut, avocado, carob, raw honey, dried fruit, etc. All in moderation, of course.
If you're going out, where to? We don't have time to eat out very often, so we are saved every week by the uber-talented culinary nutritionist Tricia Williams, and her team. They provide highly customized (based on your nutritional needs, allergies, etc.) gourmet delivery meals. If we do go out for lunch during the week, we go somewhere close like City Bakery on 18th street, or Union Fare on 17th. For dinner, we love Jean-Georges Vongerichten's ABC Cocina, or, for quick, casual bite on the way back to Brooklyn, we sometimes head to Seamore's in Nolita.
Favorite pick-me-up? Doctor Green Juice at Juice Press, a mixture of apple, pineapple, kale, lemon and ginger that keeps me going.
What other gurus or wellness professional do you send your clients to? Detox is very important, especially for people who are a bit slower to get on the clean-diet bandwagon. When people ask me for help, I recommend a green-juice cleanse, alkalizing foods and a series of colonics. Mera Chritis has been doing colon hydrotherapy for 20 years, and is something of a miracle worker. She practices the gravity method, and in addition to filtered water, incorporates organic coffee, chlorophyll, herbs and essential oils in her sessions. For acupuncture, I recommend Paul Kempisty. He is very knowledgeable, but also has a great sense of humor.
What do you do to unwind after tending people's pores all day? Going for a walk with Lucy, my Chihuahua, in Brooklyn, where I live, is relaxing. I also meditate with our teacher, Joan Suval, who shows us how to witness and therefore be more in the present, as opposed to dwelling on past memories or future expectations. When you get the hang of it, meditation is much easier. On the weekends I sometimes go to Ananda Ashram in upstate New York. Ananda means bliss in Sanskrit.
What kind of workout are you into at the moment? As I mentioned, I'm a certified yoga teacher, and while I don't teach, I do practice every day. I also love Pilates and go to Nicole at The Pilates Boutique weekly, and occasionally I get to do a SoulCycle session with the amazing Laurie Cole.
What is the first thing you do when you wake up? Do you have a beauty regimen? I'm not TOO high maintenance. I have a little ritual in which I sip green tea while I wash my face with my divine-smelling Amla Purifying Cleanser, apply Enzyme Exfoliant and then Absolute Purity Toner. Then I layer on a bit of Firming Serum underneath the Face Resculpting cream.For help tightening my jaw-line, neck, hips and thighs, I use my Neck and Body Resculpting Serum. Finally, I slather Shakti Face and Body Resculpting all over. One thing I don't yet have in my line is a good sunblock, as it's not easy to make a natural sunblock that actually works. So I'm always trying out different ones. My current favorite is COTZ SPF 58.
If you were stuck on a deserted island and could only have one product, what would it be? It would have to be the first product I launched, the Firming Serum. I love it because it absorbs fast and leaves a silky feel. It lifts, firms and contours and gives you a healthy glow, unlike some creams and oils that leave you greasy and shiny. Plus it contains the super-antioxidant Egcg from green tea, resveratrol and anthocyanins from bilberry extract that help ward off UV damage, helpful when stuck on a sunny, deserted island! To quote Diane Von Furstenberg, (she's been coming to me for nearly 20 years), "it gives life to the skin and really works."
What travel product do you recommend for jet-set types? Many of my clients travel to hot, sunny places where their skin needs hydration, protection, cooling and calming. My Complexion Savior mask is powered by Gemceuticals (cosmeceuticals derived from precious stones), in this case malachite extract, which can enhance the skin's own defense mechanism by boosting levels of the "master antioxidant" glutathione. Formulated in a base of organic aloe vera, this mask is like a drink for your skin that plumps, hydrates and evens it out. Many of my clients keep it in their carry-ons and apply it during long flights.
What are your favorite fashionable guilty pleasures? I do love fashion and luxury but thankfully, I'm not obsessed! I did receive a beautiful Givenchy bag last Christmas from my client Riccardo Tisci, and I recently bought a pair of ultra-chic shoes designed by another client, Tabitha Simmons. They were surprisingly comfortable, thank goodness.
Whose skin are you dying to fix? I truly believe everybody is beautiful and "fixing" someone implies that something is wrong or "broken." My philosophy is to enhance everybody's beauty, but I have to admit I do catch myself looking through a lens where I look at someone, and quickly assess how I can improve certain things. I don't tell them what I see, but of course I encourage them to come see me!