Gwyneth, Madonna and Me
Can you really change your God-given shape? Celebrity trainer Tracy Anderson says yes. Sixty-three hours of sweat equity later, I'm a believer.
---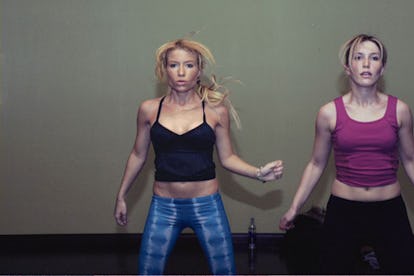 When Tracy Anderson tries to convince me to do something—say, give up yogurt or kick my leg over a metal bar that's almost as tall as I am­—she invokes her two most famous clients as though they were the gospel. "Madonna would never do dairy," she tells me at our first meeting. "I'm giving you Gwyneth's legs right now," she promises another day, when I am on the verge of collapsing on top of an aerobic step.
Stretching with trainers Vanessa Kiely and Courtney Ortiz. CLICK HERE to read about Jamie's workout with Gwyneth.
Since I am among the millions acquainted with the now frequent sight of Gwyneth Paltrow's bare upper thighs, this prospect has me elated. But unlike Paltrow, I am not the willowy sort—more like pushing five feet three and pear-shaped—and my primary form of exercise is a monthly yoga class. That is, until I meet Anderson, 34, the hottest celebrity trainer since Radu, with a gym in Los Angeles and a brand-new location opening in New York this spring (Paltrow is a partner in the latter), three DVDs and a growing list of A-list clients (Penélope Cruz and Sarah Jessica Parker exercise with her staffers).
Anderson is convinced that after seven weeks of 90-minutes-a-day, six-days-a-week workouts with her, I'll be a different person. Naturally, doing any type of activity for that long would yield some result, but Anderson's method has become famous not just for trimming bodies but also for transforming them. In January I sign up to become an "Android" in the hopes of answering a question that has elicited much debate in the W offices: Can you change your body type? Sure, you can lose weight and tighten up, but can you alter your genetic destiny?
On the first day, Anderson—who arrives looking like Malibu Fitness Barbie, complete with sparkly purple outfit, honey-blond ringlets and a small entourage—starts by taking my weight (127 pounds) and measurements (see sidebar). She pushes in my hips and lifts up my butt with her hands, like a sculptor who can envision the finished piece underneath all that clay. Scrutinizing my bum, she says, "All this has to be gone."
To achieve her vision, Anderson creates a digital image of my body with a custom computer program and plays with it as a retoucher would; then, with her sister, Kyley Hooper, who works for her, she devises a series of movements that will yield the desired results. At her TriBeCa studio, every client will undergo a similar analysis. (Initiation fees run from $787.50 to $1,500, depending on the length of membership, and the $900 monthly dues include unlimited classes and semiprivate sessions. Anderson defends the steep fees, saying, "It would cost someone that to have a private trainer." Despite reports of low sign-up rates, she adds that, as of press time, only 20 out of 600 spots remain.)
Holding on tight to the bands.
"Arm dancing" with three-pound weights.
Anderson's approach, in a nutshell, is about targeting what she calls the "accessory muscles" that line large muscle groups like biceps and quadriceps to achieve an effect that makes your limbs lean and your body teeny-tiny. "They're the beauty muscles," she says. Anderson perks them up with "thousands and thousands" of moves that get progressively more difficult to perform.
During the next few weeks, I put the theory into practice with Anderson and three of her trainers. The first hour of my workout is spent toning and reshaping, while the last 30 minutes are reserved for cardio. Anderson's recipe for my arms begins with pumps and punches while I hold tension bands that are strung from the ceiling, and ends with "arm dancing," which involves whipping my limbs in every imaginable direction. There are variations on the sit-up and leg kick that I never imagined possible, and just as I start to feel like I've mastered a few, I do them with one-and-a-half-pound ankle weights, while balancing on my side or atop industrial-­looking silver bars, 40 reps at a time. Anderson believes in adding repetitions or destabilizing the body while performing an exercise to make it more difficult, rather than increasing resistance, which she believes bulks up muscles.
She claims that, with these moves, she's re-­engineering my body by pulling muscle closer to the bone and bringing fat to the surface (where, she says, cardio can eliminate it more easily), but Jordan Metzl, sports medicine physician for the Radio City Rockettes, is skeptical. "You can definitely change your fat-to-muscle ratio," he says. "But the body is built in layers that are fixed. It's not like quicksand."
Anderson's preferred form of cardio is dance. As she hands me off to Courtney Ortiz, a 20-year-old dancer who prefers to work out barefoot, she says, "This is Jamie. She's not a dancer. So you have to teach her like it's Kinderdance." Ouch—but she's right. It takes me six weeks to master skipping and hopping, and my knees and heels hurt so much that I spend two weeks performing the dances on a mini trampoline. Four weeks in, after observing me doing several combinations, Anderson informs me that I know the dances, but that I'm not performing them at an explosive, nonstop level. I must act like 70,000 people are paying $400 apiece to watch me. This is how Paltrow, alongside whom I find myself chasséing one February morning, does it. (I can attest that her dance moves are as annoyingly perfect as her body is.)
Showing off at the halfway point.
Dancing with Kiely and Ortiz on the final day.
Of course, Madonna's sinewy arms are not the result of chowing on charcuterie plates and soufflés between her workouts and concerts, so my experiment has a dietary component. A serious one. Each week is different—for some, Anderson insists that I lug around glass jars of green juice and kale salad to fashion shows, and on others, she has me on a daily regimen of two Think Thin bars, one piece of grilled fish and a side of spinach. During the times when I am allowed to—gasp—eat in a restaurant, I am instructed to tell waiters that I am allergic to oil, though I can never bring myself to actually do that. There are more lost weekends and carb-heavy rebellions than I'd like to admit, such as the nine-course tasting menu at Italian hot spot Falai that I indulge in at the beginning of week six.
In time, I get used to the tough workouts—but never the complications that come with them: the attendant travel time, the gym bag stuffed with carefully preportioned meals and cosmetics, the inability to schedule breakfast meetings. Then again, the changes I see almost immediately are motivating: major arm and ab definition, a shocking flattening at the top of my chest and the sudden absence of "armpit fat." Friends and coworkers comment that I look narrower and that my butt is lifted (according to the measurements, it really did shape-shift, clocking in at four inches higher). Though the numbers on the scale don't change drastically (from 127 to 123), the measurements are astonishing—10 different calculations that add up to a loss of 40.5 inches. On the last day, Anderson measures my hips five times to make sure she's not seeing things. My body did change—dramatically—but my body type stayed intact. Surprisingly, this turns out to be a happy result: I am still curvy, but my curves have unprecedented tone and proportion.
Anderson, whose determination throughout the experiment is unflagging (one morning she greets me by exclaiming, "I've been stressing out about your butt!"), wants more time to see what she can really do. She concedes that while "it might not be the most dramatic result for you, for the rest of your life, we just did such important work."
I end the experience feeling triumphant, but aware of a cruel reality: In order to improve and then maintain my results, I must continue, forever and ever. "That's the trickery of it," Anderson says. If I stop now, she warns, the lifted and toned limbs will be back to blah in two weeks. But because my career doesn't depend on my having a sample-size bod, I fully intend to return to my normal diet, one in which brown rice is not the devil, and to reacquaint myself with lazy Saturday mornings in bed. After all, such are the benefits of the non-red-carpet life. But I have also decided to continue the workouts with Anderson's trainers four days a week—a huge step up from my monthly session of yoga. It's this change that is perhaps most shocking to my friends, my family and myself—a change that no tape measure can track.