Travis Scott, New Helmut Lang Collaborator, Really Likes When Women Wear Men's Clothes
The 24-year-old rapper Travis Scott created at 19-piece menswear collection for the brand Helmut Lang.
---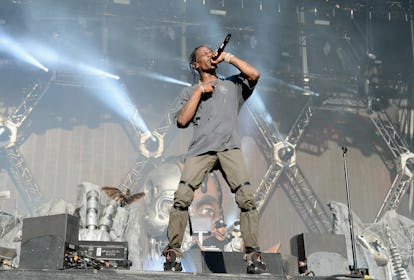 Kevin Mazur
In a time of celebrity fashion line-induced fatigue, Travis Scott is—to quote his most popular song—the antidote.
Today, the rapper is releasing a limited-edition menswear capsule collection with Helmut Lang, a partnership that is a both a refreshing surprise, and something that makes complete sense.
"I've been a fan of Helmut Lang for like fifteen years," says the 24-year-old, whose real name is Jacques Webster. "Everything was just always fresh. I remember my mom bought me one of their shirts for Easter, so that I could wear Helmut Lang for Easter. That was my first piece. And she had a ton of Helmut Lang, so I'd always see it. I just knew that I liked it."
The capsule, which was inspired by Scott's hometown of Houston, Texas, includes nineteen pieces, ranging from t-shirts to outerwear. "This collection is about simplicity and ready to wear," he explains. "I was really interested in graphics and the story of that, as well as the silhouettes and colors. I didn't know any other way to treat it, so I was treating it like a merch process: 'Take this and make it long, add straps to some places.' Even the shoes are dope! I barely wear designer shoes, but these just remind me of a sneaker, and we tucked the tongue down. I fuck with them so hard."
Although his collection, which will be available on HelmutLang.com and at Barneys New York, is technically menswear, Scott says he's keeping a look out for women to make it their own. "Girls. All different type of girls," he answers when asked about his dream client. "I want to see how they rock the jacket or something. I always like how girls wear men's clothes."
Despite his passion, Scott considers himself an outsider to the fashion community–a status that he is perfectly fine with. "I don't look at myself as a designer; I'm focused on music. There are people who take fashion at different levels, but personally, I'm just a kid with it. I'm always up for collaborating with brands and people who actually design, but doing your own line is a whole other beast. I don't think I could deal with the criticism," he says, laughing. "It's not something that's on my brain all day. I just like clothes."
Scott credits everything from Pharrell's layered chains and the rise of skinny jeans—"I remember when [they were] popping off, and I was like, 'Oh!"—to piquing his interest in fashion. Since dropping his first mixtape, Owl Pharaoh, in 2013, he's done projects with Diamond Supply Co., a Manhattan streetwear company, and London-based label Maharishi, as well as designed his own tour merchandise.
Recently, the rapper took in Louis Vuitton's menswear show in Paris, where the brand's long-rumored collaboration with Supreme was revealed. "Kim Jones is fucking crazy!," says Scott as his official review of the collaboration. "He invited me and was like, 'Man, I have this ill shit coming, you need to see it.' When it came out, I was like 'Whoa,' I was blown back."
Jones, it's your move.
Watch Bryan Cranston Perform Drake's Hotline Bling