Trials of a Fashion-loving Vegan-in-training
I'm not a real vegan. On the occasional days I eat fish, I'm not even a vegetarian. But that doesn't stop me from considering myself an animal-lover, especially when I see the donation charges from...
---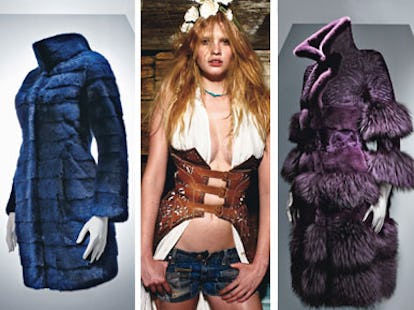 I'm not a real vegan. On the occasional days I eat fish, I'm not even a vegetarian. But that doesn't stop me from considering myself an animal-lover, especially when I see the donation charges from the Humane Society, World Wildlife Fund and Farm Sanctuary strewn across my Amex statements.
But here's the real dilemma for someone like me, who clocks in at a fashion magazine every day and also happens to be utterly fashion-obsessed: Steering clear of meat is a walk in the park compared to finding a decent bag, boots or shoes that don't involve leather, suede or some other cuddly-critter byproduct. In fact, the more committed I become to this little project, the more I realize how challenging it is.
That's why, for me, it's been more of a gradual drift into the world of cruelty-free accessories over the past few years than a wholesale regime change. For starters, I've accrued several amazing leather handbags over the years, and there's no way I'm going to just toss them. Then there's the fact that we run plenty of fur and leather in W magazine, so if I got my knickers in a twist every time a piece of copy crossed my desk with the words "chinchilla" or "calfskin" in it, I'd be completely miserable.
It's in this same I'm-getting-there spirit that I recently decided to dip a toe into covering vegan-friendly fashion and accessories. (See "Best Vegan-friendly Accessories") Although real vegans would never consider buying something from a designer who made anything with animal products, I knew we had to draw our own lines in the sand — to approach this market on an item-by-item, rather than house-by-house, basis. For instance, Marc Jacobs has sold a zillion leather bags in his lifetime, but also happens to offer a great sequined tote bag in his lineup this season. The upshot? I don't shun the tote bag.
Bags from Goyard and Tod's, not 100% leather-free.
Until there's a better selection of vegan accessories and fashion out there, it's hard to be a purist. Because the reality is that much of the pleather, plastic and other man-made stuff is pretty awful. I know because I shop for it for myself all the time. Although I've had some luck recently (ranging from a cozy $50 pair of faux fur slippers from Planet Shoes to $600 Beyond Skin hemp boots), I've also spent money on vegan stuff that I ended up hating. The quality just wasn't there. That's why I've also recently nabbed a nylon bag from Tod's, a coated canvas tote from Goyard and a linen Speedy from Vuitton, all of which have—sorry guys—trim or handles made of leather.
To assuage my leather-trim guilt, I called Kathy Freston for moral support. Freston, a New York social figure who's married to former Viacom chief Tom Freston and hangs out with the likes of Donna Karan and Wendi Deng Murdoch, is an author and self-help entrepeneur who's one of the chicest vegans I know. (Her latest book is The Quantum Wellness Cleanse: A 21-Day Essential Guide to Healing Your Body, Mind, and Spirit.) Freston told me she advocates "leaning into" change. Baby steps, essentially, like steering clear of meat for one day a week before taking the plunge into vegetarianism. Immediately, I felt better. "It's not easy," she commiserated. "These luxury goods are an addiction. So when I stopped buying leather, I knew I needed to start thinking about shopping in a different way, like a sport. Anywhere I went, even to the street vendors in New York, if I could find some cool non-leather thing, it became fun for me."
By buying non-leather items from non-vegan fashion houses, Freston hopes to encourage designers to step up the cruelty-free offerings. "It's just like restaurants," she says. "I almost prefer to go to mainstream places because I think it's good that they get requests for vegetarian and vegan meals. The more they get positive feedback on that, the more items they'll add to their menus. And I think it's the same with fashion houses."
Having said all that, Freston still has some vegan faves, like shoes by Mink and Beyond Skin, and bags by Matt & Nat. And in addition to her beloved pleather shrines Target and Payless (where she really does shop), Freston mentioned that she frequently shops at a store on Robertson Boulevard in L.A. called Vionnet. The next day, I was on the phone with owner Delia Seaman. A vegetarian for 20 years, Seaman says that "99 percent" of her wares contain no animal byproducts. "It's not so much that our clients were asking for vegan stuff," she admits. "But when we tell them about it, they like it that much more." And here's the best part: She says it's getting easier and easier to find chic accessories. "Even five years ago, we were always pointed in the direction of this super-dowdy, Birkenstock-y stuff. But in the last year or two, there have been a lot of great options. And it's really well-made, which has always been an issue with the vegan market." Music to my animal-loving ears.
Leather-free bags, both by Deux Lux, sold at Vionnet
**
Fur photos by Jason Pietra; leather corset photo by Mario Sorrenti; Freston and Deng by Steve Eichner.