Troye Sivan Says He's Still in the Market for a "Signature" Look
Aside from his bleached-blond hair, of course.
---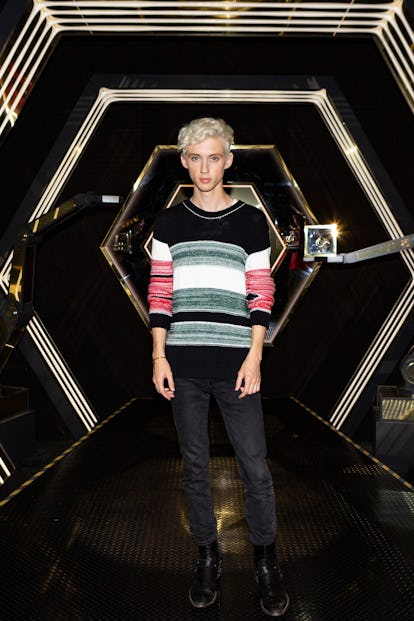 BFA/Billy Farrell/David X Prutting
"I keep trying my best to refine it," Troye Sivan told me on Thursday night. We were at the Cartier Fifth Avenue Mansion, in New York, for the launch of the Precious Garage installation, and the singer was ruminating on his evolving personal style. "I think attention to detail and not being afraid to keep things simple—and to just do that really well—is something that I've tried to take away," he went on, before making sure to add just how he incorporates jewelry into his look. It was an event for the jeweler's new iterations of its Juste un Clou and Écrou de Cartier collections, after all. "A big [accessory] for me was my nose ring," said Sivan, who wore a casual, multicolor striped sweater, black jeans and boots, and a gold Cartier Juste un Clou bracelet on his wrist. "I feel like my face doesn't look like my face if I don't have it in. That was a big shift for me in my style."
All around us, black and gold wheels, car-engine parts, wrenches, and sleek nuts and bolts lined the walls to simulate the feeling of being inside an opulent boutique garage—or at least one according to the artist Desi Santiago, who dreamed up the installation. Meanwhile, Sofia Coppola, Lily Collins, and Zoe Saldana milled around the manse, before Lykke Li performed for the crowd.
In case you haven't heard, Sivan is also going Hollywood. This fall, he will join Lucas Hedges and Nicole Kidman on the big screen in Boy Erased, Joel Edgerton's film about young teens sent to gay conversion therapy. "I think that this movie is going to be incredibly important, and it's got something to say," Sivan told me, addressing the subject of the film, which he felt was handled "sensitively and with care." He also spoke warmly of Hedges, the actor he spent the most time with on set. "Lucas is someone who is so clearly at the top of everyone's minds as this new leading man," Sivan said. "But you don't feel any sort of ego at all when you're hanging out with him…. I want him to know how absolutely incredible that is, and I hope he does," he continued.
Of course, Sivan is no stranger to collaborating with other stars—Ariana Grande among them. "Ariana and I just have so much fun when we're together," Sivan said, referring to his music video for "Dance to This," in which he and Grande perform a duet before a nonchalant crowd at a nondescript performance hall while wearing boxy, oversize suit jackets. "I started thinking about how cool it would be if we, like, really normcored it out," Sivan said of the '80s fashion in the video.
As for his personal fashion sensibility, it's still a work in progress, even though he already has one style signature: his platinum hair. "I'm, like, frying it off every time I get it bleached," Sivan exclaimed. "I wholeheartedly recommend it. It's, like, a complete lifestyle shift. It sounds cheesy, but you feel like a different person—at least for the first week!"
Related: Boy Erased Trailer: Nicole Kidman as the Misguided Mom of a Gay Son Will Break Your Heart